Upland game & turkey
Hunting upland game species in Utah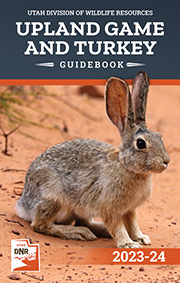 The Utah DWR Upland Game and Turkey Guidebook summarizes the laws and rules that govern upland game and turkey hunting in Utah. The guidebook is designed to be a quick reference for upland game and turkey hunting regulations. You can use the references in the guidebook to search for the detailed statute or rule.
Previous editions
View guidebook updates
— Important changes and corrections made after the guidebook was printed.
Updates
Page 32: The "Changes to trail camera and night-vision device rules" informational box was updated to include the full Utah code and administrative rules citations that now apply: Utah code § 23A-5-307 and Utah Admin. Rules R657-5-7, R657-33-9 and R657-10-9.
The digital edition of this guidebook has been updated with these changes.
Upland game
Buy permits or apply to hunt drawings
HIP Registration number
Upland game bird band recovery form
Walk-in Access
Rules & regulations
Upland game slams
Commercial hunting areas
Youth upland game hunts
Utah's Trial Hunting Program
Maps
Turkeys
Grouse
Pheasants
Pen-reared gamebirds
Chukars
Quail
White-tailed ptarmigans
Rabbits & hares
Sandhill cranes
Crows