Upland game youth and beginner hunts
Each fall, the DWR organizes upland game hunts for youth and beginning hunters who either graduate from Hunter Education or participate in Utah's Trial Hunting Program. Upcoming hunt details and registration links are given below.
Only youth 17 years old or younger may register for youth hunts (see page 14 of the Utah Upland Game and Turkey Guidebook for more information). Youth and beginning hunters of all ages may register for beginner hunts.
Besides those listed in the guidebook, there may be additional youth and beginner hunts offered in areas across the state. Once they are scheduled, those opportunities will be listed below.
Youth hunters are also permitted to hunt all regular seasons open to adults.
Statewide youth-only seasons

Pheasant: Oct. 29–Nov. 3, 2022
California and Gambel's quail: Oct. 29–31, 2022
Wild turkey youth hunt (general-season permit): April 28–30, 2023
Pheasant hunts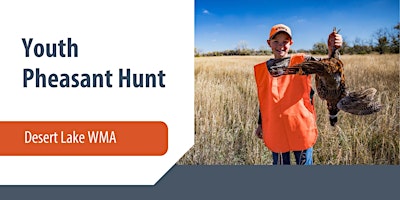 Calling all youth hunters! Join the Utah Division of Wildlife Resources for a guided pheasant hunt at the Desert Lake WMA.
Location
Desert Lake Waterfowl Management Area
South Desert Lake Dr.
Elmo, UT 84521

Date & time
Saturday, Oct. 29
9 a.m. to 1 p.m.
About this event
The Utah Division of Wildlife Resources is hosting a pheasant hunt for youth at the Desert Lake Waterfowl Management Area. Birds and hunting dogs will be provided for this hunt so that novice youth hunters will have an increased opportunity to harvest pheasants successfully.
Requirements:
Youth participants must be 17 years of age or younger on July 31, 2022.
The hunt is limited to 17 youth hunters. Hunters must register in advance to attend.
Youth hunters must verify they have completed hunter education or have a trial hunting program number and a valid hunting or combination license.
Participants must have a parent or guardian at least 21 years old accompanying them.
All participants must have a ticket and sign the waiver form provided. This includes adults attending to supervise youth, observers/helpers staying at the event to provide transportation, dog handlers and all youth who will be hunting. No one will be permitted at the event unless they have a ticket and have agreed to the online waiver.
Be prepared:
Please arrive at 8:30 to check in, attend the safety briefing and disperse before shooting begins.
Participants are expected to bring their own firearms, ammunition and safety equipment. Steel shot is required at the Desert Lake WMA.
Please review and download to your phone the 2022–23 Utah Upland Game & Turkey Guidebook for bag and possession limits.
What to expect:
Everyone going afield must wear hunter orange on their head and body.
Dogs will be provided, but participants are welcome to bring their own hunting dogs if desired. Do not bring dogs that are not well-trained for upland game hunting. If dogs create an unsafe or poor hunting environment, they must be restrained or removed from the location by their handler.
You will be emailed a survey within a week after your hunt occurs. Please check your email to provide your much-appreciated feedback.
Directions:
From the town of Price, take State Route 10 south to State Route 155 towards Elmo (this turnoff is about 11 miles south of the U.S. Highway 191 interchange in Price). Continue on for two miles, then bear left on W. Elmo Road. In Elmo, turn right on Center Street for one block, then left on Main Street. Continue for one mile. Turn right on S. Desert Lake Drive and continue for one mile to the Desert Lake WMA kiosk. Signs will direct you to the meeting point.
Event Contact:
Aaron Bott at 435-609-9589 or This email address is being protected from spambots. You need JavaScript enabled to view it..
---