Hunting and pursuing cougars in Utah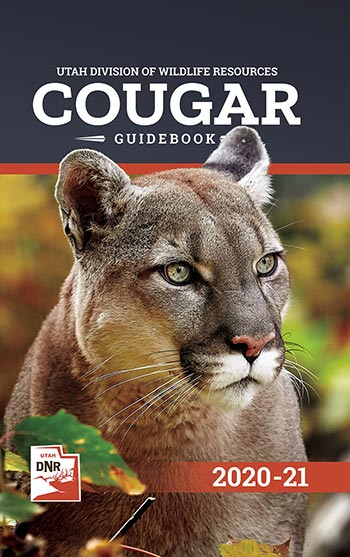 The Utah DWR Cougar Guidebook summarizes the laws and rules that govern cougar hunting and pursuing in Utah. The guidebook is designed to be a quick, convenient reference for cougar hunting and pursuing regulations. You can use the references in the guidebook to search for the detailed statute or administrative rule that underpins the guidebook summary.
Previous editions
View guidebook updates
— Important changes and corrections made after the guidebook was printed.
Notice of additional hunting season
Change to the 2020–2021 Utah Cougar Proclamation of the Wildlife Board for the Taking of Cougar. This order opens a spot-and-stalk cougar hunting season for fall 2021 with the following restrictions:
The cougar permit is restricted to spot-and-stalk hunting only; dogs may not be used to pursue or harvest a cougar under this permit.
Season dates shall open on Aug. 1, 2021 and close on Dec. 31, 2021.
A hunter may use any legal weapon to harvest a cougar with a spot-and-stalk permit.
Spot-and-stalk cougar permits may be purchased for a fee of $30 at any Utah Division of Wildlife Resources office, license agent or online.
A hunter may only purchase one spot and stalk cougar permit and may only harvest one cougar with the permit.
A hunter may acquire one additional cougar permit of any kind (e.g., over the counter or limited entry) in addition to a spot-and-stalk cougar permit.
The spot-and-stalk cougar permit is valid on any unit listed in the current Cougar Guidebook approved by the Utah Wildlife Board.
The three-day waiting period to begin hunting is waived for this spot-and-stalk cougar permit.
A hunter must report and check in any cougar harvested to a Utah Division of Wildlife Resources office within 72 hours of harvest.
Cougars harvested during this spot-and-stalk season, using a spot-and-stalk permit, will not be counted toward unit harvest objectives.
Hunters must follow all other laws governing license and permit eligibility and the take of cougar. This change is necessary to comply with statutory requirements to provide additional cougar hunting opportunities during fall big game hunting seasons and to take actions that support mule deer population recovery. This change is effective immediately.
Hunting maps
Harvest-objective permits
Harvest-objective permits are available over-the-counter. Before each hunting trip, make sure you verify that the unit is still open.
Cougar orientation course
Cougar harvest information
Cougar drawing results
Cougar management plan
Other cougar information