Community fisheries
A fun and easy way to spend time with family and friends
The DWR is committed to developing more community fisheries — places one can walk, bike or bus to, then catch a fish or two.
Community fisheries offer a setting for parents and kids to talk, enhance family interaction, and keep busy Utahns in touch with the natural world. Fishing can provide families with opportunities to get away from their day-to-day problems and share time together.
Kids benefit from fishing immensely, since they can participate solo or with others. It's a sport that builds self-esteem and confidence while enhancing problem-solving and decision-making skills.
Interested in teaching others to fish? Learn more about our free Angler Education Program and get access to our manuals, supplemental materials and evaluation forms.
Youth fishing clubs
Many cities in Utah that have community fisheries also have a youth fishing club. Youth fishing clubs are open to youth 8 years old and older. Sign-ups usually begin at city recreation departments in early March, and clubs fill up fast.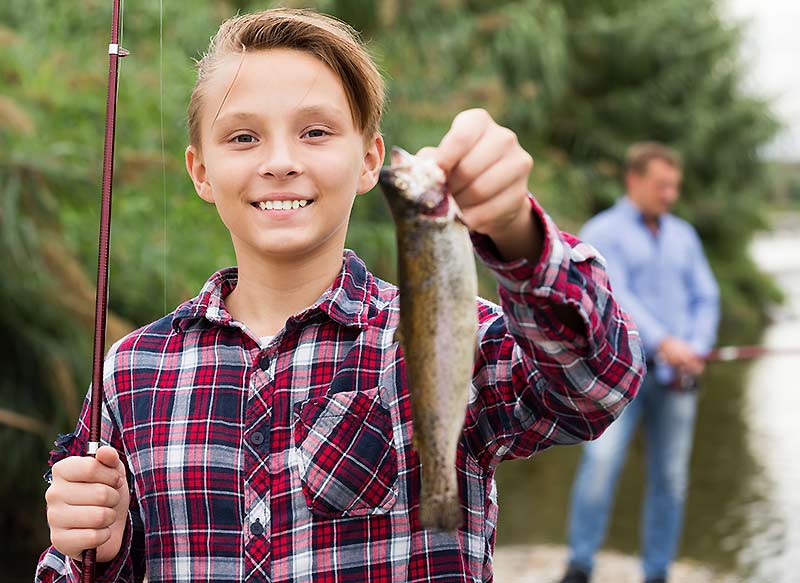 Getty Images
Clubs generally meet once a week for six weeks. The DWR has provided the communities with an angler education curriculum designed to teach any beginner how to fish and pass on the enthusiasm and skills to be a lifelong anger. It covers all of the basic skills needed to be a successful angler.
Communities with a youth fishing club are listed below. If you would like to volunteer, simply contact the representative in the community where you would like to participate.
We will update this page during the late winter and early spring as youth fishing clubs begin to form, so keep checking back.
Jump to: A | B | C | D | E | F | G | H | I | J | K | L | M | N | O | P | Q | R | S | T | U | V | W | X | Y | Z
Clearfield
Steed Pond
Volunteer fishing instructors needed (little experience required)
Contact: Clearfield Recreation, 801-525-2795
Training location: Clearfield City Hall, City Council Room (55 S State St, Clearfield UT 84015)
Clinton
Clinton Pond
Volunteer fishing instructors needed (little experience required)
Contact: Clinton Recreation, 801-614-0780
Training location: Clinton City Recreation Building (1651 W 2300 N, Clinton, UT 84116)
Draper
Sunset Pond
Volunteer fishing instructors needed (little experience required)
Contact: Wayland, 801-556-0318
Training location: Draper City Hall (1020 E Pioneer Rd, Draper, UT 84020)
Farmington
Farmington Pond
Volunteer fishing instructors needed (little experience required)
Contact: Bryan, 801-451-0953
Training location: Farmington Pond (750 N 75 W, Farmington, UT 84025)
Farr West
Smith Park Family Pond
Volunteer fishing instructors needed (little experience required)
Contact: Mick Holmes (

This email address is being protected from spambots. You need JavaScript enabled to view it.

) or Lyle Earl (

This email address is being protected from spambots. You need JavaScript enabled to view it.

)
Training location: Smith Park Family Pond (2500 W 4000 N, Farr West, UT 84404)
Herriman
The Cove
Volunteer fishing instructors needed (little experience required)
Contact: Laura, 801-446-5323
Training location: Butterfield Park (6212 W 14200 S, Herriman, UT 84096)
Highland
Highland Glen Park Pond
Volunteer fishing instructors needed (little experience required)
Contact: Corrine, 801-772-4507
Training location: Highland City Hall (5400 W 10800 N, Highland, UT 84003)
Kaysville
Utah Botanical Center
Volunteer fishing instructors needed (little experience required)
Contact: Mark, 435-797-8060 or

This email address is being protected from spambots. You need JavaScript enabled to view it.

Training location: Utah Botanical Center — Wetland Discovery Point (920 S 50 W, Kaysville, UT 84037)
Layton
Andy Adams Reservoir
Volunteer fishing instructors needed (little experience required)
Contact: Layton City, 801-336-3900
Training location: Andy Adams Reservoir (1799 E 1000 N, Layton, UT 84040)
Murray
Willow Pond
Volunteer fishing instructors needed (little experience required)
Contact: Cory, 801-264-2509
Training location: Murray Recreation Office (296 E Murray Park Ln, Murray, UT 84107)
Nephi
Burraston Ponds
Volunteer fishing instructors needed (little experience required)
Contact: TJ, 435-962-0045
Training location: Nephi Recreation Center (475 E 800 N, Nephi, UT 84648)
Ogden
Glassman's Pond
Volunteer fishing instructors needed (little experience required)
Contact: Ogden Recreation, 801-629-8253
Training location: Ogden Recreation Office (1875 Monroe Blvd, Ogden, UT 84401)
Orem
Vivian Park Pond
Volunteer fishing instructors needed (little experience required)
Contact: Kyle, 801-229-7158
Training location: Orem Family Fitness Center (575 W Center St, Orem, UT 84057)
Park City
Deer Valley Lakes
Volunteer fishing instructors needed (little experience required)
Contact: Tate, 435-615-5418
Training location: Park City Municipal Athletic and Rec. Center (1200 Little Kate Rd, Park City, UT 84060)
Payson
Spring Lake
Volunteer fishing instructors needed (little experience required)
Contact: Aubri, 801-465-6031
Training location: Payson High School (1050 S Main St, Payson, UT 84651)
Pleasant Grove
Manilla Park Pond
Volunteer fishing instructors needed (little experience required)
Contact: Linda, 801-785-6172
Training location: Pleasant Grove Recreation Center (547 S Locust Ave, Pleasant Grove, UT 84062)
Roy
Meadow Creek Pond
Volunteer fishing instructors needed (little experience required)
Contact: Roy City Recreation, 801-774-1048
Training location: Roy City Recreation Office (2150 4700 S St, Roy, UT 84067)
Salem
Salem Pond
Volunteer fishing instructors needed (little experience required)
Contact: Coleman, 385-283-2628
Training location: Salem Recreation Office (60 N 100 E, Salem, UT 84653)
Sandy
Sandy Urban Fishery
Volunteer fishing instructors needed (little experience required)
Contact: Macy, 801-568-2905
Training location: Sandy Parks and Rec. (440 E 8680 S, Sandy, UT 84070)
Santaquin
Pole Canyon Pond
Volunteer fishing instructors needed (little experience required)
Contact: Shauna, 801-754-5805
Training location: 45 W 100 S, Santaquin, UT 84655
Saratoga Springs
TBD
Volunteer fishing instructors needed (little experience required)
Contact: Heston, 801-766-9793
Training location: Saratoga Springs Rec. (1307 N Commerce Dr, Suite 200, Saratoga Springs, UT 84045)
Spanish Fork
Canyon View Pond & Spanish Oaks Reservoir
Volunteer fishing instructors needed (little experience required)
Contact: Kyle, 801-804-4604
Training location: Spanish Fork Recreation Office (775 N Main St, Spanish Fork, UT 84660)
Springville
Wayne Bartholomew Family Park Pond
Volunteer fishing instructors needed (little experience required)
Contact: Richard, 801-489-2735
Training location: Springville Recreation (443 S 200 E, Springville, UT 84663)
Syracuse
Jensen Pond
Volunteer fishing instructors needed (little experience required)
Contact: Syracuse Recreation, 801-614-9660
Training location: Jensen Nature Park Building (3176 S Bluff Rd, Syracuse, UT 84075)
Wasatch Mountain State Park (Midway)
Wasatch Mt. State Park
Volunteer fishing instructors needed (little experience required)
Contact: Steve, 801-891-0844
Training location: Wasatch Mountain State Park Visitor Center (1281 Warm Springs Rd, Midway, UT 84049)
Washington City
Razor Ridge Pond
Volunteer fishing instructors needed (little experience required)
Contact: Washington Community Center, 435-656-6360
Training location: Washington City Hall (111 N 100 E, Washington, UT 84780)
Wellsville
Wellsville Reservoir
Volunteer fishing instructors needed (little experience required)
Contact: Wellsville City,

This email address is being protected from spambots. You need JavaScript enabled to view it.

Training location: Wellsville Reservoir (100 E 500 S, Wellsville, UT 84339)
West Haven
Meadow Creek Pond
Volunteer fishing instructors needed (little experience required)
Contact: James Abbott (

This email address is being protected from spambots. You need JavaScript enabled to view it.

or 801-731-8882)
Training location: Meadow Creek Pond (Meadow Creek Village Park, Roy, UT 84067)