Hunting waterfowl in Utah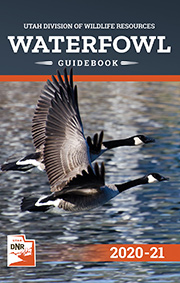 2020–21 Waterfowl Guidebook
The current Utah Waterfowl Guidebook summarizes the laws and rules that govern waterfowl hunting in Utah. The guidebook is a convenient quick-reference for waterfowl hunting regulations. For more complete information, read through the relevant state statutes and administrative rules.
View guidebook updates
— Important changes and corrections made after the guidebook was printed.
Corrections
Page 28: Added unit 9 to the bullet about airboat use at the Bear River Migratory Bird Refuge. That bullet now states, "Airboats are only permitted in the posted open areas of units 6, 7, 8, 9, 10 and the C blocks."
Duck harvest and population data reports
Swan hunting information
Hunting in national wildlife refuges
HIP Registration number
Waterfowl identification
Waterfowl hunting maps
Utah waterfowl mercury advisories
Utah Waterfowl Slam
Other information