Get your HIP registration number
If you hunt mourning doves, band-tailed pigeons, sandhill cranes, geese, ducks, coots or snipes, you are required to register for the Migratory Bird Harvest Information Program (HIP). There is no charge to register.
Hunting waterfowl in Utah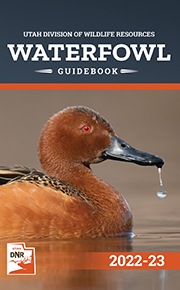 The Utah DWR Waterfowl Guidebook summarizes the laws and rules that govern waterfowl hunting in Utah. The guidebook is a quick, convenient reference for waterfowl hunting regulations. For more complete information, read through the relevant state statutes and administrative rules.
Previous editions
View guidebook updates
— Important changes and corrections made after the guidebook was printed.
Corrections
Page 33: In the printed guidebook, there were date and page number errors in the final paragraph of the first column on page 33. Sept. 17 is the correct date for the youth waterfowl hunts at the Bear River and Ouray refuges, and Oct. 1 is the correct date for the youth waterfowl hunt at Fish Springs. Pages 28-29 should be referenced at the end of the paragraph. The online edition of this guidebook has been updated with these corrections.
Updates
Page 12: An update to the DWR online licensing process for editing permit applications and making group applications was made after the printed guidebook was distributed. The updated information includes information about these new application processes:
If you make a mistake in your online permit application, simply go to utah-hunt.com and click the View, Edit and Withdraw button at the bottom of the page. All edits must be made before 11 p.m. MDT on July 20, 2022.
You must have your confirmation number, customer ID and date of birth in order to edit your application. You will not be charged any additional fees, unless you completely withdraw your application.
Applying as a group: Up to four hunters — including a mix of residents and nonresidents — can apply together for swan permits by using a group code. Visit wildlife.utah.gov/group-applications for more information.
The online edition of the guidebook has been edited to reflect this update.
Hunt opener conditions
Duck harvest and population data reports
Swan hunting information
Hunting in national wildlife refuges
HIP Registration number
Waterfowl identification
Waterfowl management plans
Waterfowl hunting maps
Utah waterfowl mercury advisories
Utah Waterfowl Slam
Other information