Hunting & trapping furbearers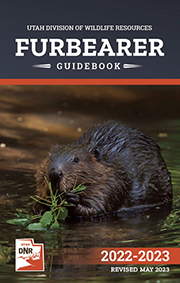 The Utah Furbearer Guidebook summarizes the laws and rules that govern furbearer hunting and trapping in Utah. The guidebook is designed to be a quick, convenient reference for furbearer hunting and trapping regulations. You can use the references in the guidebook to search for the detailed statute or administrative rule that underpins the guidebook summary.
Previous editions
View guidebook updates
— Important changes and corrections made after the guidebook was printed.
Updates
In March 2023, the Utah Legislature made several changes to the rules regarding cougar hunting and trapping. Beginning May 3, 2023, a person may hunt, pursue or trap cougars if they have a valid hunting or combination license, provided they comply with all rules set forth in Utah Admin. Rule R657-10 (taking cougar) and if trapping, follow rules contained in Utah Admin. Rule R657-11 (taking furbearers and trapping rule) and the revised Utah Furbearer Guidebook.
These changes — as well as updates to the state's trail camera regulations — have resulted in a substantial edit of the entire current Utah Furbearer Guidebook. Trappers and hunters who intend to harvest cougars should disregard the print version of the 2022–23 Utah Furbearer Guidebook and refer to the digital version, posted here. All other species requirements remain the same.
Regulation changes
Forms
Management plans & resources
Walk-in Access
Harvest information
Other information
Ask first! Please obtain written permission to hunt, fish or view wildlife on private lands.