Administration
Director of the Aquatic Animal Health and Research Center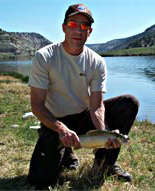 Wade Cavender is the program director for Utah's Aquatic Animal Health and Research Center (formerly Fisheries Experiment Station) and Assistant Aquatic Section Chief responsible for research, fish health and administrative services. Much of this work includes:
providing practical applied research services focused on native species recovery, sportfish management, fish culture methods and aquatic animal health,
providing a comprehensive program of fish health inspection and certification services for state fish hatcheries and free ranging fish populations and
working as a liaison between agency partners to assist in the development of policies and procedures related to coordinated research and aquatic animal health efforts throughout the Western United States.
Wade previously worked as Utah's Fish Health Specialist and laboratory manager for over 10 years and in that time has gained extensive experience managing bacteriology, virology, parasitology and molecular testing programs. As a certified Aquatic Animal Health Inspector and Fish Pathologist, he understands the importance and legal requirements associated with fish health inspections, pathogen surveillance and diagnostic responsibilities as they pertain to free ranging fish populations and fish culture programs.
Wade is a native of Ohio, where he earned his associate's degree in fish and wildlife management at Hocking College and his Bachelor of Science degree in aquaculture at the University of Idaho. His master's degree is also from the University of Idaho, where he conducted research on the development of quantitative polymerase chain reaction methods to detect the parasite that causes whirling disease. He also studied the parasites distribution within the Snake, Salmon and Clearwater Rivers of Idaho.
Contact Wade by This email address is being protected from spambots. You need JavaScript enabled to view it.. Phone: 435-720-2784
Office Manager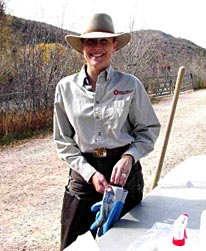 This position is staffed by Cathryn Smith. In addition to acting as office manager, Cathryn also serves as receptionist, financial specialist and librarian. Cathryn grew up in Cache Valley and has a wide variety of work skills and experiences, including being the former director of the Lee Kay Center.
Contact Cathryn by This email address is being protected from spambots. You need JavaScript enabled to view it..
Phone: 435-752-1066 ext. 200