Get your HIP registration number
If you hunt mourning doves, band-tailed pigeons, sandhill cranes, geese, ducks, coots or snipes, you are required to register for the Migratory Bird Harvest Information Program (HIP). There is no charge to register.
Hunting waterfowl in Utah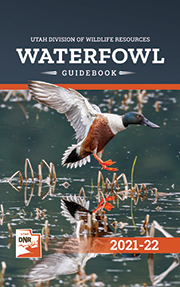 The Utah DWR Waterfowl Guidebook summarizes the laws and rules that govern waterfowl hunting in Utah. The guidebook is a quick, convenient reference for waterfowl hunting regulations. For more complete information, read through the relevant state statutes and administrative rules.
Previous editions
View guidebook updates
— Important changes and corrections made after the guidebook was printed.
Corrections
Page 36: For the Nov. 6 listing in the table, the symbol indicating the reopening of dark geese season in the Wasatch Front goose area was accidentally omitted. The season does start again on Nov. 6, and that symbol has been added in the updated online guidebook.
Hunt opener conditions
Duck harvest and population data reports
Swan hunting information
Hunting in national wildlife refuges
HIP Registration number
Waterfowl identification
Waterfowl hunting maps
Utah waterfowl mercury advisories
Utah Waterfowl Slam
Other information