Art
Native American Art
Pecking and painting (i.e., petroglyphs and pictographs, respectively) started occurring around the Great Salt Lake as the last Ice Age came to an end. About 12,000 years ago, the lakewater levels began receding and the native peoples became more nomadic, thus wanting to document their stories and presence in areas.
Around 1,500 years ago, the Desert Archaic style, which was dominated by circular and abstract designs, began to evolve into the Fremont style, which was more representational and realistic. After the highly nomadic Ute Indians made contact with the Spanish in the Southwestern areas of the present-day United States, modern horse figures began to overlay the Fremont style, marking this significant event in Utah Native American history.
The diversity of artistic styles represents the mixing of cultures around the Great Salt Lake. Many anthropologists consider the native art in this area to be of great significance due to religious, ceremonial and cultural references and insights.
Spiral Jetty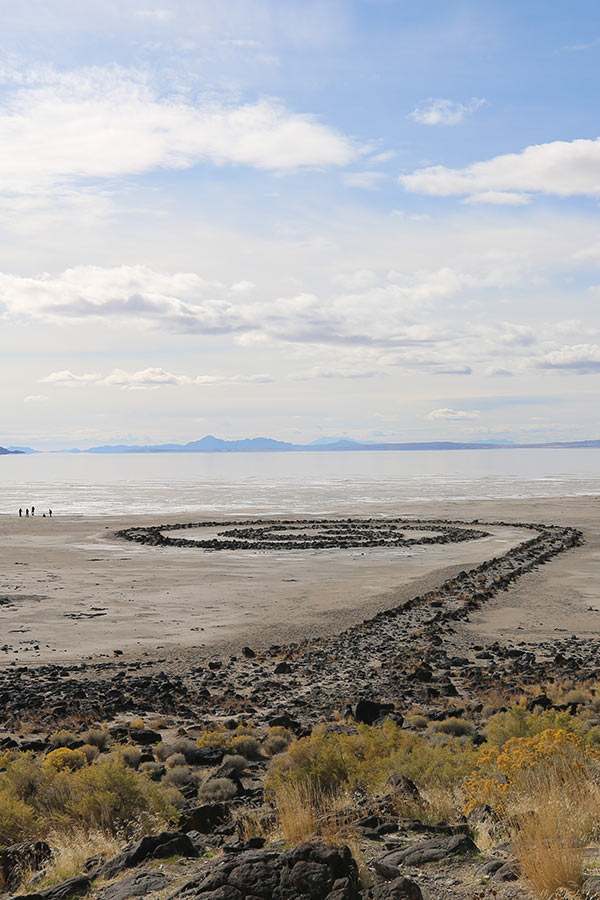 In 1970, American artist Robert Smithson visited the North Arm of the Great Salt Lake, commonly called Utah's "red lake," which he had been researching enthusiastically. Shortly thereafter, he undertook construction of what later came to be known as Spiral Jetty, a large-scale land art, or "Earthworks" project. Earthworks projects were a trend in the artistic community of the 1970s, as the world became more aware of environmental issues and artists wanted canvases that were not restrained by gallery walls and artificial light.
Built near Rozel Point over nine days and using 7,000 tons of basalt rock, Spiral Jetty is a 1,500-foot spiral of earth and rocks that is periodically covered and uncovered by the Great Salt Lake, depending on water levels in the North Arm. When it was first unveiled in April 1970, it was a very controversial work of art in conservative Utah.
Sadly, Smithson died in a plane crash three years later at age 35. His late wife, Nancy Holt, constructed another land art project, called Sun Tunnels, in northwestern Utah in 1976.
The Spiral Jetty site is currently owned and maintained by Dia Art Foundation.
Today's Art
As we move forward in the 21st century, we find that the Great Salt Lake is still an inspiration for many people. From paintings to sculptures and everything in between, people have been moved by not only the lake itself but by everything the lake encompasses — minerals, wildlife, habitat, etc.
Some of our favorite artists whose inspiration came from the lake include Rosalie Winard and Virginia Catherall. Rosalie captures the beauty of the wetland birds through the lens of a camera and offers several fine art prints. Her prints are showcased in a stunning black and white, allowing the beauty of each bird to speak for itself. Virginia is a knitting and textile artist. By using her skills in needlepoint, she offers her audience a chance to wear a little part of the Great Salt Lake.