Activities
Create your own brine shrimp ecosphere
This brochure contains instructions on how you can create your own brine shrimp ecosphere, and watch them hatch and grow. Also included are fun facts and activities for kids to learn about these fascinating creatures.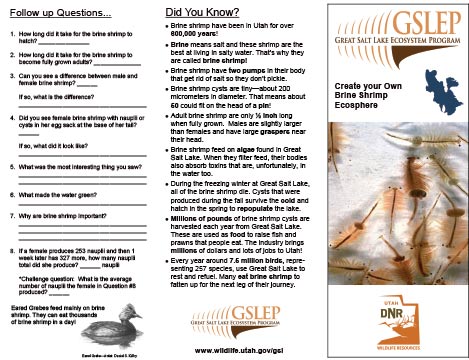 Download the brochure (PDF — 701.33 KB)
Welcome to the Great Salt Lake: Activity and Educational Book
Story and design by Hilary Whitcomb
This 12-page PDF book provides kids with activities and information about Great Salt Lake history, geography, and ecology. The book includes a wordsearch, a maze, a crossword puzzle, a fun story about the adventures of Andy Avoceti and cool facts about brine shrimp, birds and the food web.
The book version is designed to fit on three double-sided, 8.5" × 11" pages. Each page of the PDF includes two book pages. Just make sure your printer can print on both sides and that the page orientation is set to "Landscape." You may also need to set Page Scaling to "Fit to printable area." Or, if you prefer, you can download the consecutive page version, which places one book page on each 8.5" × 11" page.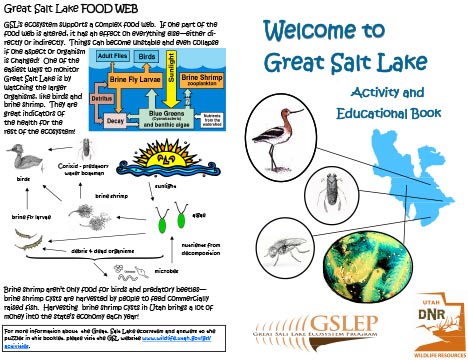 Download the book version (PDF — 1.9 MB)
Download the consecutive page version (PDF — 1.9 MB)
Answer key and bibliography
This key contains the answers for the crossword puzzle and wordsearch in the Welcome to Great Salt Lake: Activity and Educational Book. The key also lists the references used for the book's bird facts.