New officer, big case
My first poaching investigation took an unexpected turn
By McKay Braley
DWR conservation officer
I was ready to call it a day after hours of checking anglers on Strawberry Reservoir. I had officially been patrolling for three weeks, and I was learning my way around the reservoir. My field-training officer, Jake Greenwood, and I had snowmobiled across the ice for most of the day, and the sun was setting. Just as we packed in all of our gear, a call came over the radio.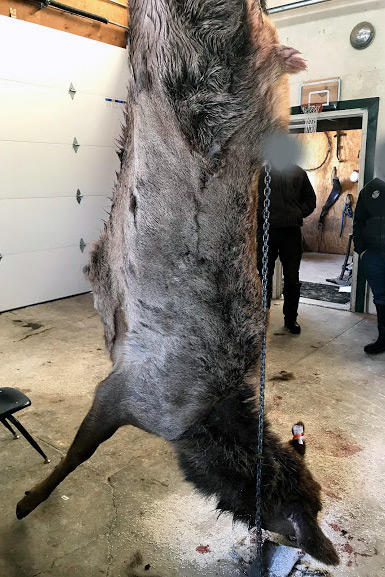 He answered the door and said, "I kinda expected you guys here sooner."
An individual reported that someone was shooting in a field near their home, and they were afraid the shooters had fired a rifle toward their home. I understood the importance of safe firearm handling and shared the concern of the homeowner.
By the time we arrived at the reporting party's house, it was dark. Wasatch County deputies had obtained names and phone numbers from the involved individuals. Deputies informed me that at least one cow elk had been killed. Knowing that I needed to follow up on the concerns of the homeowner, I contacted one of the individuals. (We'll call him John.) I scheduled to meet up with John the next day to confirm what had happened. I fell asleep that night unsure what to make of the situation.
The next day I felt anxious: This would be my first real interview with a potential subject, and I did not know what to expect. After talking with John, everything seemed on the "up and up." John had shot a cow elk in the middle of a field, and he showed me his tag. John claimed he had been there with his friend, but said he was the only one hunting. Everything was fine until both Officer Greenwood and I noticed that the tag was not valid for the area where he had shot the elk.
John frantically looked at his tag and said he thought he was in the right area. John had been friendly and cooperative with us, so at this point, I thought it would be an open-and-shut case. It appeared that John had not intentionally broken the law, which I thought we should consider. I told John I would get back to him as soon as we concluded our investigation.
Officer Greenwood and I then decided that it would be best to get photos of the crime scene. When we arrived to take photos, we noticed two groups of birds in the fields. Upon investigation, we found two elk gut piles. The plot thickened.
As a new officer, all kinds of potential scenarios ran through my head. Officer Greenwood helped me focus on the facts of the case.
A few days passed, and after interviews with John's friends and the landowner, someone finally dropped a name. The person who'd been with John on the property — we'll call him Chad — had illegally killed the other cow elk. When I called John to ask why he hadn't mentioned that Chad had killed an elk too, he said believed it was in his best interest only to answer questions directly at this point in the investigation.
I showed up at Chad's house a few days after the initial incident. Chad answered the door and said, "I kinda expected you guys here sooner," as he lowered his head. The quarters of the elk were in his shed. It turned out that Chad didn't have a hunting permit for cow elk whatsoever. He said that he was caught up in the moment and just needed to shoot one.
As part of the investigation, I checked on hunting histories for John and Chad. Both men had hunted elk on various units for several years, and both should have been well aware of the hunting boundaries.
In extreme, deliberate poaching incidents, we can charge offenders with wanton destruction of protected wildlife. In this case, both men should have known that their actions were illegal, and Chad shot an elk without a permit. After considering the evidence, we charged John and Chad with wanton destruction of protected wildlife and shooting too close to a residence.
Wasatch County District Court required both men to pay restitution for the cow elk, and they will be put through a separate administrative process by the DWR. During that process, they will potentially face suspension of their big game hunting rights.
The homeowner who called and reported the incident has been submitted for a monetary reward. Depending on the information and the case, we will sometimes issue a financial reward or a reward permit.
I shared this story because the general public's role in these cases is critical. Without the help of observant witnesses — who are willing to contact us — we would miss many wildlife violations. Utah conservation officers cover an average of 2,000 miles per patrol district, and it's impossible for us to be everywhere.
This particular case might have gone unnoticed if it weren't for the diligence of a concerned homeowner. If you suspect a wildlife violation is happening, don't approach or confront the person. Please call the Turn-in-a-Poacher hotline at 1-800-662-3337 or submit a report online.