Walleye on the dinner plate
A delicious walleye recipe in honor of walleye season
By Crystal Ross
DWR social media coordinator
Spring means all kinds of walleye activity around these parts, and we're pretty excited about it. Our aquatic biologists are currently in the middle of spawning operations out at Willard Bay, preparing to grow millions of sterile walleye to plant into waters throughout the state.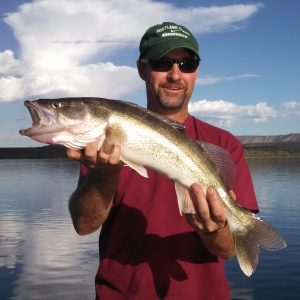 Walleye are predatory fish that are fun to catch and taste delicious.
(And the more walleye we have, the more opportunities we have to catch and eat them!)
Why we spawn walleye
I went and observed the spawning process last week, and it's interesting to say the least. We gather adult walleye now — when they're ripe and ready — express the eggs and milt, mix 'em up and then place the eggs into a pressure chamber. The pressurization is what makes the fish sterile.
We want to continue to increase walleye fishing opportunities for anglers, but we need to be able to control their numbers in order to protect native and endangered fish. Stocking sterile walleye is a win/win.
Learn to catch walleye
As we work to get more walleye into the water, we also want to help improve your catch rates, and maybe recruit a few new walleye anglers. We're teaming up with the Blue Ribbon Fisheries Advisory Council and the Rocky Mountain Anglers to host a free seminar that'll teach attendees the best tricks of the trade for catching walleye in Utah.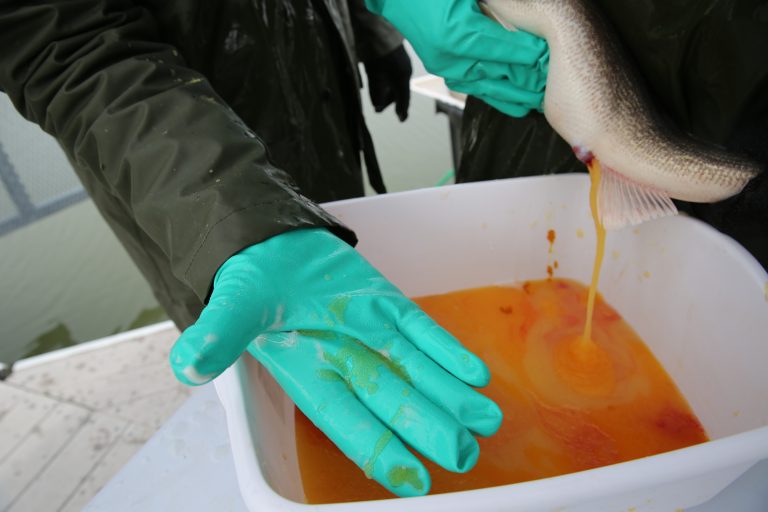 A close-up look at some of the millions of eggs we're collecting from walleye.
Whether you're new to fishing, or you're a seasoned angler, you'll learn something useful at the April 10, 2019 seminar (We're sorry, but the event date has passed.). Grab a spot before it fills up. And don't forget to check the latest fishing reports to see where the bite is hot.
Favorite walleye recipe
Walleye are predatory fish that are fun to catch and taste delicious. I talked with our aquatic section chief, Drew Cushing (an avid walleye angler), and asked if he'd share his favorite way to prepare the fish.
Deep-fried Walleye
About 12 ounces beer
2 eggs
2 cups pancake batter
1 teaspoon pepper
1 teaspoon salt
2 tablespoons chili powder
Peanut oil
Mix the dry ingredients together. Add the eggs. Add enough of the beer to achieve the same consistency you would need for cooking pancakes (the batter must stick to the fish). Let the batter sit for 10 minutes. Heat peanut oil (it won't burn at high heat) to medium-high on your stove at a depth to completely float the battered fillets. Roll the fish fillets in the batter and fry until the batter is a golden brown (1–2 minutes at most).
Enjoy!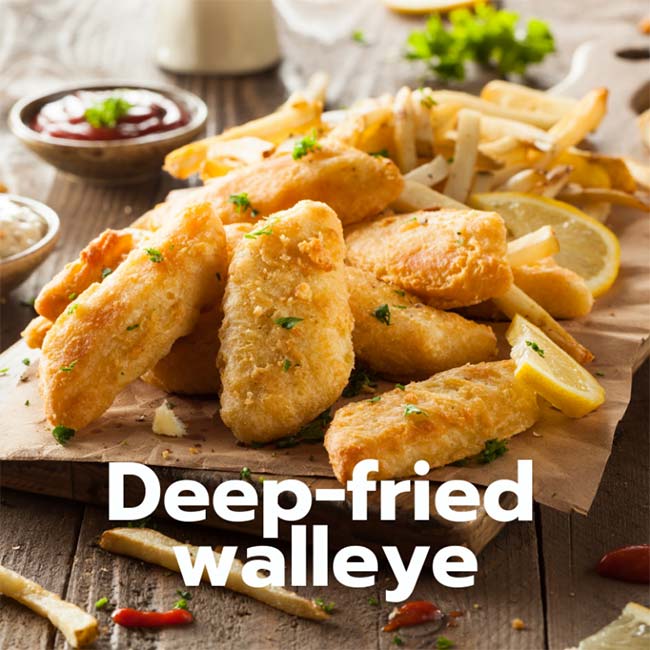 Walleye is very mild — their fillets are thick and the meat is white and tender. Try this as a fish-and-chips meal with coleslaw, or with a vegetable and a baked potato.