Hunting and pursuing cougars in Utah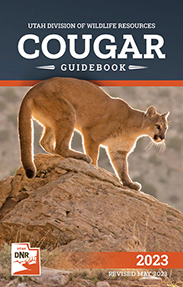 The Utah Cougar Guidebook summarizes the laws and rules that govern hunting and pursuing cougars in Utah. The Utah Wildlife Board approved a new timeframe for the cougar regulatory cycle, which allowed for alignment with the black bear timeframe.
Previous editions
View guidebook updates
— Important changes and corrections made after the guidebook was printed.
Updates
In March 2023, the Utah Legislature made several changes to the rules regarding cougar hunting. Beginning May 3, 2023, a person may hunt cougars with any legal weapon if they have a valid hunting or combination license, provided they comply with all rules set forth in Utah Admin. Rule R657-10 (taking cougar) and in the updated digital edition of the 2023 Utah Cougar Guidebook.
These changes — as well as updates to the state's trail camera regulations — have resulted in a substantial edit of the entire guidebook. Hunters should disregard the print version of the current guidebook and refer to the digital version, posted here.
The Utah Legislature also changed the cougar regulatory cycle to run from Jan. 1 to Dec. 31. This guidebook covers rules that go into effect May 3, 2023 and will run through Dec. 31, 2023. Print and digital editions of the 2024 Utah Cougar Guidebook will be available in December 2023.
Cougar hunting FAQ
Hunting maps
Cougar orientation course
Cougar harvest information
Other cougar information