A peek at the fishing forecast for this year
A DWR wildlife biologist discusses why he's looking forward to ice-off at local reservoirs.
Justin Hart is the DWR's Aquatic Program Manager in southeastern Utah. He helps coordinate the region's sport fish, native fish, and Aquatic Invasive Species Programs.
I have lived and worked in southeastern Utah for the last ten years. As life gets busier, I really appreciate the fishing opportunities I have close to home.
I've always enjoyed fishing, and when I take my young sons out on the water, catching a lot is important to us. When I go fishing alone or with friends, I like to frequent waters where I know I'll have chances to catch big fish. I'm perfectly happy catching only one fish all day, as long as that fish is a big one.
All winter I've been looking forward to the ice coming off at two reservoirs where I'll have a good chance of doing both—catching lots of big fish. This spring you'll find me at Scofield and Joes Valley reservoirs.
 Scofield Reservoir
I've always fished Scofield during my time living in southeastern Utah, but never have I looked forward to ice-off as much as this year. Over the last few years, several changes have occurred at this fishery in response to the discovery of Utah chub back in 2005.  Tiger trout stocking began in 2005, and in 2009 a slot limit was implemented and Bear Lake cutthroat trout stocking was initiated.
The results of these changes produced two state record tiger trout in February of this year.  A 15-pound tiger trout broke the state catch-and-keep record and a 27-inch fish broke the catch-and-release record. Recently, I wrote a 2012 fishing forecast for Scofield Reservoir.  This forecast will soon be posted on the Utah Division of Wildlife Resources website under the Blue Ribbon Fisheries section. One graph for that forecast really caught my eye: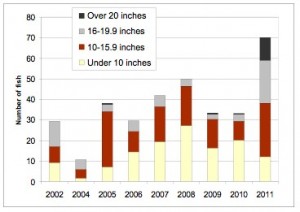 This graph shows all the trout we collected in gillnets at Scofield Reservoir from 2002 to 2011. Those fish are split into categories based on sizes relevant to angler preferences.
Look at the grey and black bars for 2011 compared to previous years. As you can see, the number of fish 16 inches and up makes up nearly half of the total number we collected. Look at the number of fish measuring 20 inches and up!
We collected a 13-pound tiger trout in the nets last fall. It wasn't surprising to see state record-sized fish caught this winter. You also won't be surprised to see me out there this spring with a rod in my hand. I think I'll leave the fly rod at home and use one of my medium-action rods with a large crankbait or a large tube jig. If my sons are with me, we'll likely use some chub meat.
Joes Valley Reservoir
I fish Joes Valley Reservoir every spring. I've been spoiled having caught big fish nearly every year; that's what keeps me coming back. I love to take my sons out there.
We usually rig up some dime to quarter-sized chunks of chub meat and fish them under a bobber or right on the bottom from shore. The action for smaller splake is usually nonstop; it's great for kids. We've caught big fish this way, but I usually rig one rod up with a bigger piece or even a whole chub.
Last spring my nephew from Kansas came out. It was a miserably cold and windy day, and the fishing wasn't particularly good. I promised him a big fish and I was beginning to get worried. Right before we were about to give up he hooked into a nice splake.
The fish weighed in at only a couple pounds, but it was the biggest fish he'd ever caught.  On the trip home, his iPhone nearly caught fire from sending the photo to everyone he knew.
I've taken a lot of people out there in the spring, and many of them end up with the fish of a lifetime. Spring is simply a great time to fish out there. Shore angling can produce trophy fish and it doesn't take any special gear to do it—just a bit of persistence and patience.
This year is particularly exciting because of the newly added tiger muskellunge. We started stocking tiger muskies back in 2009. The fish this year should be over 30 inches. I can't wait to try for some big splake then switch gears and try my luck at muskies. I'll likely have a go at some large spinners, crankbaits or jigs.  See you out there!