Mud Creek stream restoration project
A Scofield Reservoir tributary gets a much-needed overhaul.
Justin Hart is the DWR's Aquatic Program Manager in southeastern Utah. He helps coordinate the region's sport fish, native fish, and Aquatic Invasive Species Programs.
SCOFIELD RESERVOIR is a premier fishing and recreation destination, and the primary source of culinary water for much of Carbon County. Since its earliest days however, the reservoir has experienced pollution from too much phosphorus. The reservoir is located in a phosphorus rich watershed, so some phosphorus loading is expected and natural. However, land management practices in the drainage have increased phosphorus loading to unnaturally high levels through erosion and sedimentation. These high concentrations result in large summer blooms of the cyanobacteria Aphanizomenon, occasional fish kills, and inclusion of the reservoir on the state's list of most impaired waters.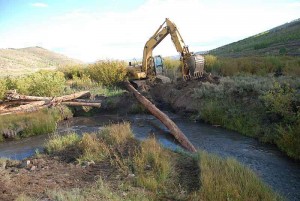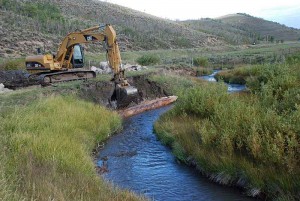 In 2010, the Utah Division of Wildlife Resources partnered with the Utah Department of Environmental Quality, the U.S. Environmental Protection Agency, and the Carbon County Recreation and Transportation Special Service District to restore Mud Creek, one of the main tributaries to Scofield Reservoir. Approximately one mile of the stream length was reshaped and in-stream structures added to reduce erosion and sediment load to the reservoir. The goal of the project was to reduce sedimentation to the reservoir to help improve water quality and to provide enhanced cutthroat trout spawning habitat.
Restoration of the stream was accomplished by the Wildlife Resources construction crew and fisheries biologists using track hoes, dump trucks and front end loaders. Dozens of in-stream structures were put into place during the effort. These structures included rock and log vanes, rootwads, rock grade controls, and fish hotels (artificial undercuts created with large logs) to redirect flow away from eroding banks and to provide fish habitat. In areas where erosion had caused sheer banks, the bank was reshaped to a more gradual slope and planted with willow cuttings to prevent future erosion. One horseshoe bend in the stream that had formed from erosion was cut off and the stream re-routed into a more natural channel. Finally, the whole area was re-seeded with a native seed mixture and a wooden fence was installed to protect the riparian area. Overall, the project took about two months to complete and cost nearly $180,000. The cost of the project was split between federal money and state habitat restoration funds.
Hopefully, this project is just the first step in restoring the stream and improving the water quality in the reservoir. The benefits of a restored stream will be seen by the boaters, anglers and cabin owners at the reservoir as well as everyone in Carbon County that relies on Scofield Reservoir for culinary water.
Paul Birdsey also contributed to this article.