Give the gift of fishing
Research shows that anglers are happier and more successful
Robin is the DWR's marketing coordinator and spends much of her time working to get — and keep — people excited about fishing. She is also heavily involved with legislative issues important to the DWR.
IF YOU WANT to put a little more fa-la-la in your holiday and mistletoe isn't doing the trick, maybe it's time to try something else. Trout, perhaps?
Anglers are a lot of things, but did you know that people who fish are also more successful in relationships? If you read my blog this spring, you saw the latest research* results. Here's a quick recap:
Boaters and anglers are significantly more satisfied with their marriages, relationships and friendships than non-boaters and anglers.
Boaters and anglers are significantly more satisfied with their mental health than non-boaters and anglers.
Boaters and anglers perceive themselves as more successful than non-boaters and anglers perceive themselves.
Boaters and anglers report that their best ideas come to them while they are fishing.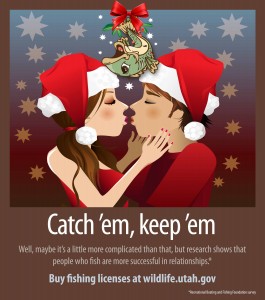 With that in mind, I ask you to consider your holiday to-do list. If you're anything like me, you have a list of things to do and gifts to buy that could turn a pleasant person into a Scrooge. I'm always trying to find the right gift for the people on my list, but rarely do I run across the perfect (and affordable) item — the thing they really want. Sure, my dad smiles from ear to ear when he unwraps yet another box of aftershave and a new package of handkerchiefs, and my friends enjoy gift cards to the local movie theater. But somehow, I don't think these qualify as the perfect gift.
Wouldn't it be nice to give your loved ones and friends something they really wanted this year — something that would make them happier and more successful? You could hear those magical words, "that is just what I wanted!" Well, here's the perfect gift: For just $26, you can give those special people on your list a fishing license. It is good all year, lasts longer than a bottle of aftershave and is much less expensive than taking them to a movie. Best of all, you don't have to run all over town to finish your shopping!
*In December 2007, the Recreational Boating and Fishing Foundation (RBFF) conducted an online survey of 3,000 people, ages 25–54, who had fished or boated within the past three years. Statistical testing was done at a 95-percent confidence level.