Ash trout
Cook at home or, ideally, over a warm campfire.
By Liz Moore
DWR Senior GIS Analyst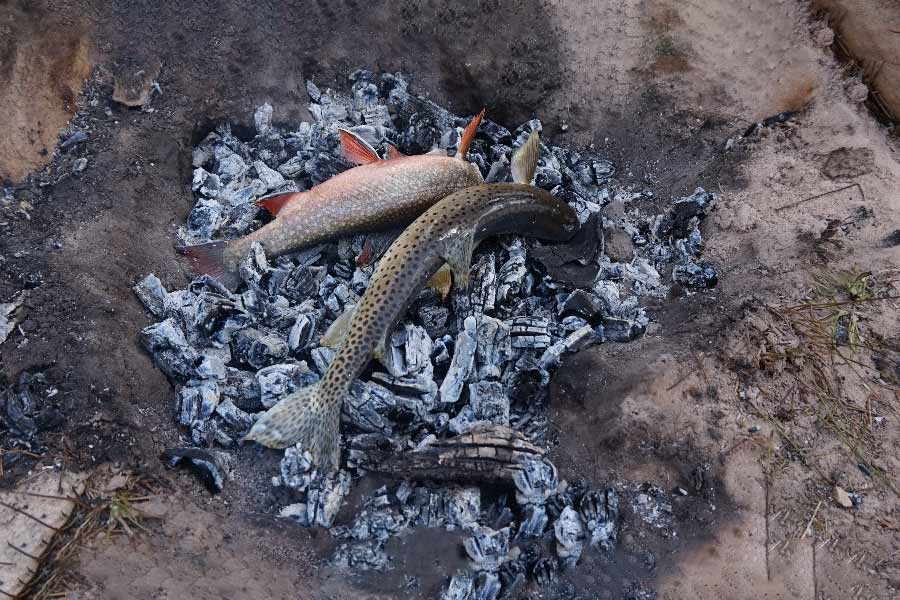 Cooking trout can be an ordeal in the backcountry. This recipe minimizes fish goo, and is simple, delicious and easily achievable after a long day's hike.
Ingredients
1–2 trout per person (based on your catch)
4–5 wild chanterelle mushrooms (if in season; optional)
10–12 fresh sagebrush leaves (Artemisia tridentata will do just fine)
Salt and pepper, as desired
Your favorite backpacking spice (optional)
Directions
Step 1:
First, gut your trout. There's no need to remove the head.
Step 2:
Rinse out the cavity of each fish, and place inside the cavity 1–2 chanterelles and a small bundle (i.e., 3–4 leaves) of sagebrush.
Step 3:
Place the stuffed trout on hot coals. Live fire is more likely to produce waste and will be more difficult to recover the fish from, but you can use it in a pinch if you are excessively hungry! When you hear popping noises from the skin cracking, flip over the trout. Depending on the size of the fish and the amount of hot coals, each trout will need 3–7 minutes per side.
Step 4:
Once each trout is fully cooked, remove it from the fire. Keep the chanterelles inside, but remove the sagebrush, if you wish. You'll know the trout is finished when the inside of the cavity is hot throughout and you burn your fingers when you try to remove the sagebrush.
Step 5:
Pull off the skin, if desired, and sprinkle on salt, pepper and your favorite backpacking spice.
Step 6:
Pull off the meat from the bones with your fingers, and enjoy!