Give the gift of outdoor adventure
Eight easy gift ideas for friends and family
By Crystal Ross
DWR social media coordinator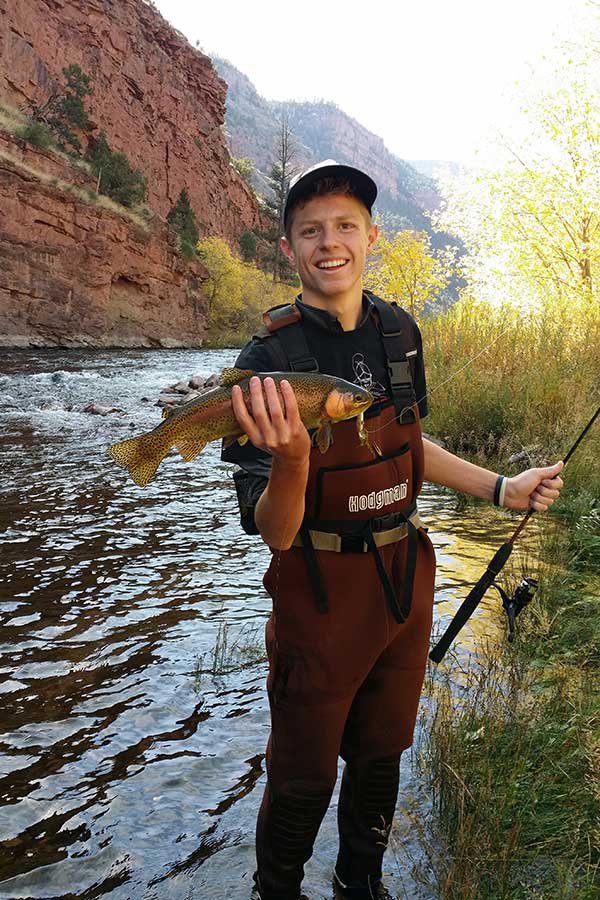 I'm a big fan of choosing "presence" over presents during the holiday season. I'm an even bigger fan of the outdoors. If you're like me and you're in search of Christmas gifts for the outdoor adventurers in your life, here's an idea: Skip the stuff and give the gift of an experience instead. This is Utah — a place with endless opportunities to be present and make memories outside!
In no specific order, here are seven easy gift ideas for the outdoorsy people in your life:
Fishing license: Utah is home to world-class fishing, so why not purchase a fishing license for those on your nice list? Fishing is fun and easy to learn, and there's no shortage of places where you can land a lunker any time of year.

If your adventurer already has a Utah fishing license, good news: You can purchase them an extension so they won't have to hassle with it when it expires. Learn more about buying licenses as gifts. And see a list of angler-specific gifts that might help you supplement the goodies in the stockings you're trying to stuff.
Utah Cutthroat Slam registration: Purchasing a Utah Cutthroat Slam registration as a gift gives the anglers in your life the chance at an exciting new challenge. Catch each of Utah's four native trout in their historic ranges and earn a fancy medallion and certificate. The funds raised are used to help with native cutthroat trout conservation in Utah. After you've purchased the registration for your loved one, sign up for it yourself — the Slam is an ideal multi-person escapade. Register and learn more about it.
Hunting license: A hunting license is affordable and easy to buy, and it'll provide your outdoorsy friends with all kinds of chances to connect with nature. From ducks in the marshes to deer in the high country — not to mention chukars and rabbits in the wintertime — there's abundant wildlife and exciting hunting opportunities all over the state. Combination licenses — which allow the license holder to fish and hunt small game — are also available. Learn more about purchasing licenses as gifts.
Shooting range punch pass: The Division's shooting centers — Lee Kay Public Shooting Range and Cache Valley Public Shooting Range — offer punch passes! Whether the outdoor lover on your list likes to shoot archery, blast clays or hit targets with their rifle, a pass to one of our shooting centers will hit the mark in providing hours of fun. Learn more about the shooting centers, what they offer and how to get in touch with the staff.
Utah State Parks annual pass: Here's a holiday gift you can't (ahem) pass up. A Utah State Parks annual pass allows day-use access to all of Utah's 44 state parks! When you purchase a pass as a gift, you're giving the recipient access to some of the most magical places in the state — from the glittering blue waters of Bear Lake to the stunning red rock of Snow Canyon, and everything in between! Utah's state parks are perfect places to embark on camping, fishing, wildlife-watching, biking, hiking and boating ventures.

Elk viewing at Hardware Ranch WMA: Pack sack lunches, wear layers, bring binoculars and prepare for a wild day at the Hardware Ranch Wildlife Management Area! There won't be sleigh rides through the herd this winter, but you can still head up and see the wild elk in the meadow. Starting Dec. 4, the visitor center will be open on weekends until Feb. 14, and two viewing areas outside the center will provide great views of the elk every day of the week. (If you go to the visitor center when it's open, you'll get a scenic, 180-degree view of the meadow where the elk hang out, as well as a map.)

Many families (including mine) have made this experience a winter tradition.

It's quite amazing to see these animals in person.

The drive up Blacksmith Fork Canyon Road is beautiful, and the air is crisp. Download this free, printable bingo card to encourage kids to explore the outdoor wonders around them. And be sure to take your binos and look for other wildlife in the area! We always see turkeys, bald eagles and sometimes moose. Learn more about Hardware Ranch.

Wildlife license plate: Okay, so this gift idea is an actual item rather than an experience, but I mention it because I'm sure any outdoors enthusiast would love to sport one of the five featured wildlife license plates on their vehicle. Revenue generated from license plates supports fish and wildlife conservation work in Utah. Learn more about how to get one.

2021 Calendar of Utah Geology: Bonus stocking stuffer! Purchase this calendar for $5.95 and your friends and family will be inspired by the many local geological marvels inside. The featured photos were taken by Utah Geological Survey employees in some of Utah's most interesting and unique locations. Oh, and for added thematic flair, be sure to write "I hope your Christmas is gneiss" on the tag.
I hope this roundup gives some of you gift givers the ideas you've been looking for. It's already helped me wrap up my list!