Visiting Hardware WMA
The Wildlife Education Center at Hardware WMA is closed in the spring, summer and fall, but will reopen for the winter next December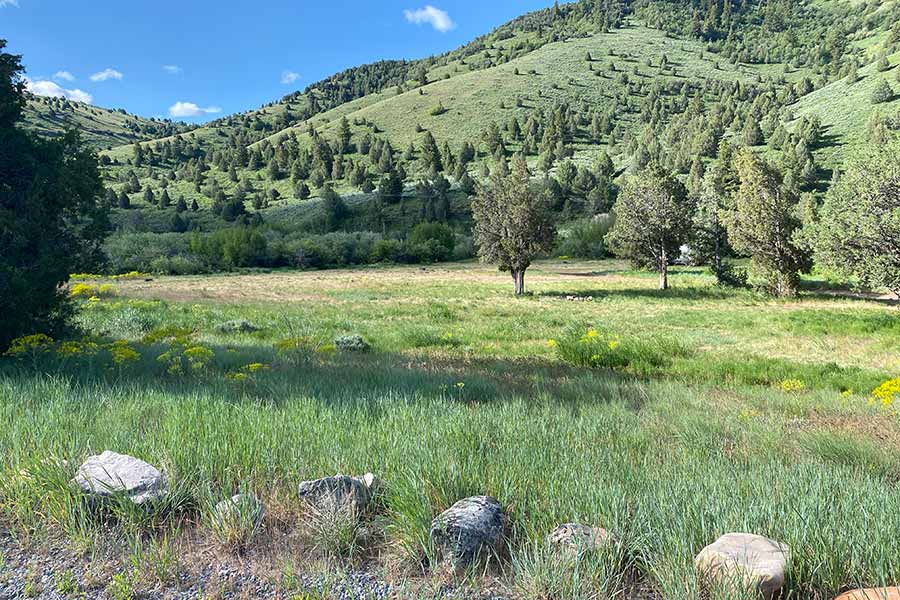 Access to hiking, wildlife viewing and other self-directed recreational activities at Hardware Wildlife Management Area is available year-round, and visiting Hardware WMA is free. Important: There is no fuel or food sold at the WMA, so plan ahead. There is also no cellular service in this area.
Year-round activities at Hardware WMA
During the spring, summer and fall, Hardware WMA provides great opportunities for wildlife viewing, hiking and other outdoor recreation. Licensed anglers can catch several trout species in the nearly 15 miles of streams and rivers on the WMA (anglers 12 years of age and older must have a valid Utah fishing or combination license).
Elk viewing is most popular in the winter.
Where are the restrooms?
There is a pit toilet located in the gravel parking lot near the Hardware WMA trailhead. (The pit toilet and trailhead area are maintained by the Utah Division of State Parks.)
Camping
In an effort to decrease damage and to make habitat better for deer, elk and other wildlife, the DWR is implementing the following major camping changes at Hardware WMA, starting in 2023: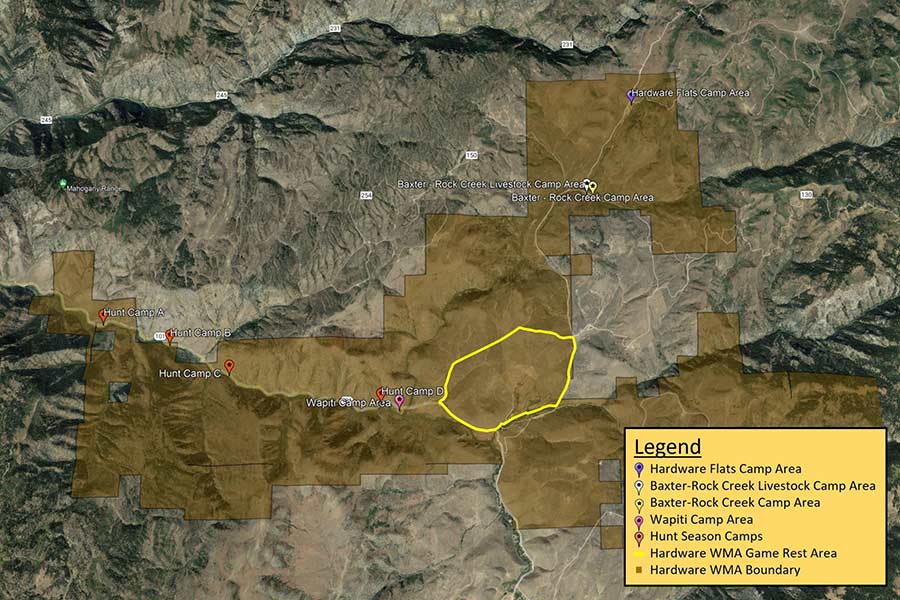 Camping is now limited to five camping areas:

Wapiti (May 26–Dec. 31)
Baxter-Rock Creek (May 26–Dec. 31)
Baxter-Rock Creek Livestock (May 26–Dec. 31)
Hardware Flats (Aug. 1–Dec. 31)
Four small hunting season camp areas (hunt camps A–D) along state Route 101 (Aug. 1–Dec. 31)

Effective immediately, these five areas are the only places where people can camp on the Hardware WMA.

A camping season has been established at the WMA, also effective immediately. In the Wapiti, Baxter-Rock Creek and Baxter-Rock Creek Livestock camp areas, camping will open the Friday of Memorial Day weekend (which is May 26 this year). The camping season in the Hardware Flats Camp Area and the SR-101 hunting season camps starts Aug. 1. The season in all five areas closes on Dec. 31.
Directions
Hardware WMA is located 15 miles east of Hyrum, Utah in Blacksmith Fork Canyon.
The road to Hardware — state Route 101/Blacksmith Fork Canyon Road — is a paved state highway that is regularly plowed in the winter. With careful driving, you usually won't need a four-wheel-drive vehicle to reach the WMA. Use caution, though, and pay close attention to weather conditions when you plan your trip or enter the canyon.
Coming from Logan, Utah
Travel south on state Route 165 to Hyrum, then east on state Route 101 to Hardware WMA. Signs along the way will direct you to the WMA. Check weather and road conditions before heading out, as snowstorms make the paved road very slippery through Blacksmith Fork Canyon.
Coming from the south
Travel north on Interstate Highway 15 to the Brigham City/Logan exit. This exit puts you on U.S. Highway 89/91.
Follow U.S. 89/91 about 17 miles, traveling through Sardine Canyon into Cache Valley.
After you go through Sardine Canyon, turn right (east) at the Wellsville light (by the Burger King). This puts you on state Route 101 — you should see white state Route 101 signs.
Follow the state Route 101 signs and the Hardware WMA signs through the city of Hyrum and up Blacksmith Fork Canyon. Hardware WMA is at the end of the road, about 18 miles up the canyon and 22 miles from the light in Wellsville.
Detailed directions through Hyrum City, starting at the Wellsville traffic light
Turn right at the Wellsville/Burger King traffic light. (This is the junction with state Route 101.)
Go east until you reach 400 West and then turn right.
Follow this road, heading south, until you reach a 4-way stop. Then turn left onto Main Street.
Travel east on Main Street until you reach the light on 800 East.
Continue east through the light and enter Blacksmith Fork Canyon.
Drive up the canyon about 18 miles; this takes 30–45 minutes, depending on road conditions.
Hardware WMA is at the end of the paved state road.
Contact Hardware WMA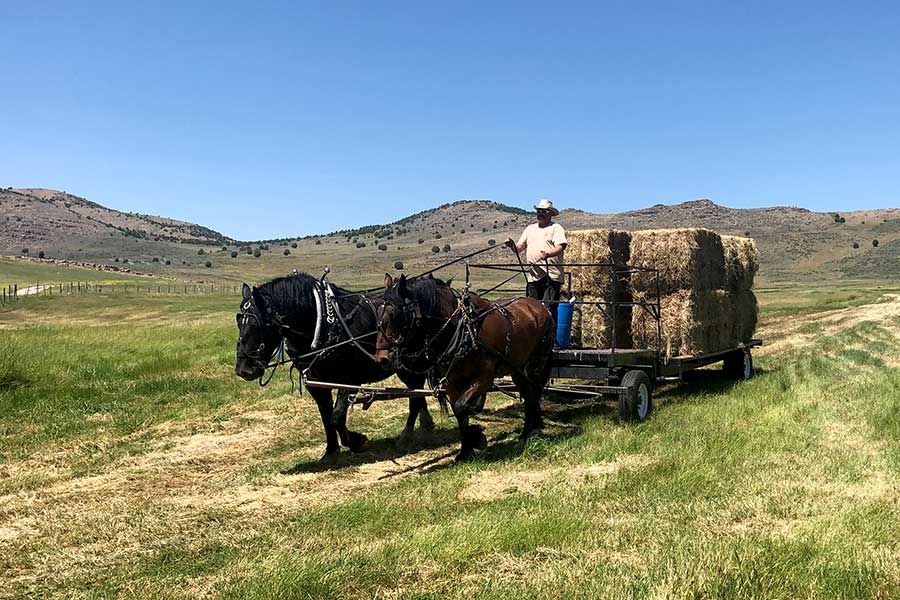 Phone: 435-753-6206 (Hardware WMA staff work irregular hours in the spring, summer and fall, and are often in the field out of phone service. If you need immediate assistance, call the DWR Northern Region office at 801-476-2740.)