Winter fun at Steinaker, Starvation and Flaming Gorge reservoirs
Jessica Horton
DWR Social Media Coordinator
Everyone is familiar with Utah's iconic shape and the "bite" taken out of the upper-right corner. But have you hooked a bite there while fishing yet? If not, we encourage you to visit Utah's great northeast this winter for ice fishing, outdoor recreation and more.
Before you venture onto the ice:
Steinaker Reservoir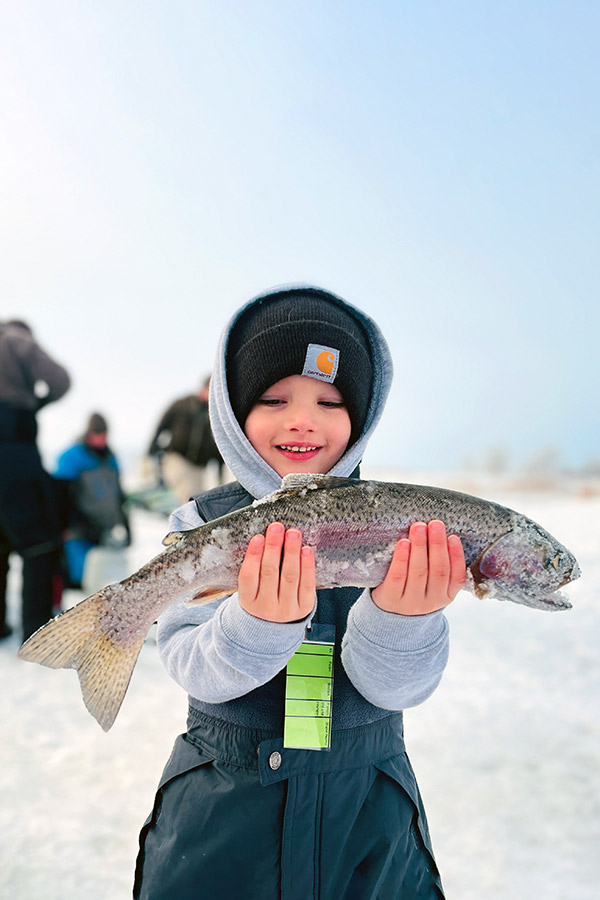 Steinaker State Park is a great place to start your ice fishing trip! The reservoir is a fun spot to fish for rainbow trout and bluegill, and it's a waterbody you can usually count on to freeze over for great ice fishing from late December through early March.
Steinaker Reservoir became a Blue Ribbon Fishery in 2006. When the reservoir was drained for necessary dam repairs in 2018, it was removed from the BRF list. We've been working hard to reestablish the fishery in the years since the dam work was completed and reservoir refilled. Those efforts are going well, and anglers are finding that the fishing at Steinaker has been steadily improving. The Blue Ribbon Council will likely reevaluate this waterbody in the next couple of years to see if it has returned to the level of quality to be relisted.
Starvation Reservoir
Another terrific northeastern Utah ice fishing hot (er, cold?) spot is Starvation Reservoir. This Blue Ribbon Fishery is located just a 10-minute drive west of Duschene. In addition to active fishing through the ice, visitors to the lake will see gorgeous views of the south slope of the Uinta Mountains.
During ice fishing season, anglers can typically catch rainbow trout, walleye and yellow perch. Due to an overabundance of younger walleye in this waterbody, we are encouraging anglers to harvest any 10- to 16-inch walleye they catch (regulations apply).

Planning to stay in the area overnight?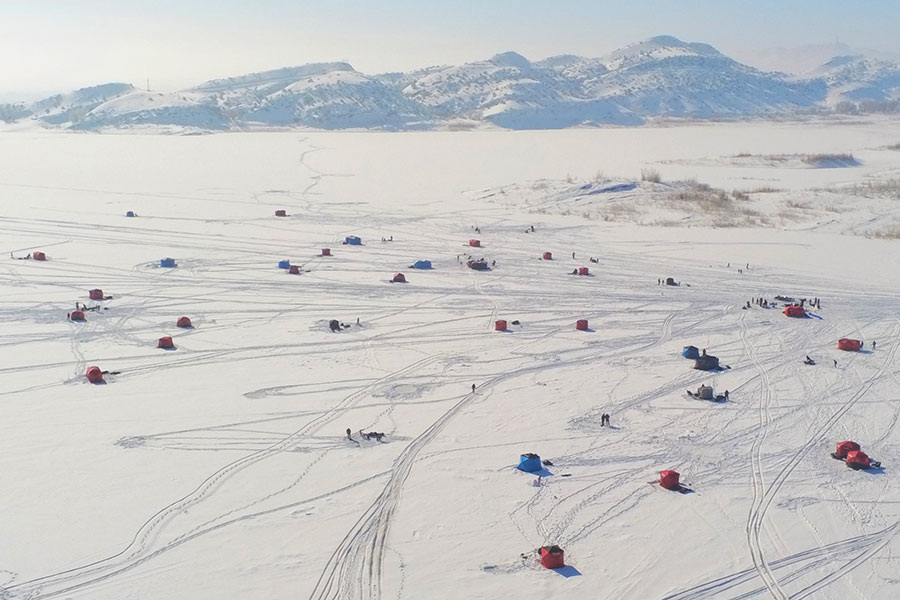 Both Fred Hayes State Park at Starvation Reservoir and Steinaker State Park have heated rental cabins that can be reserved during the winter by contacting the parks directly. This is perfect for families who would like a convenient and rustic spot to retreat to after a day of fishing on the ice.
Also, both waterbodies are a short drive from Vernal, which has year-round lodging and restaurant options.
Winter is a great time to visit this beautiful part of the state while both temps and crowds are low. Speaking of which, one of Utah's premier prehistoric destinations is about a 90-minute drive away...
Side trip: Dinosaur National Monument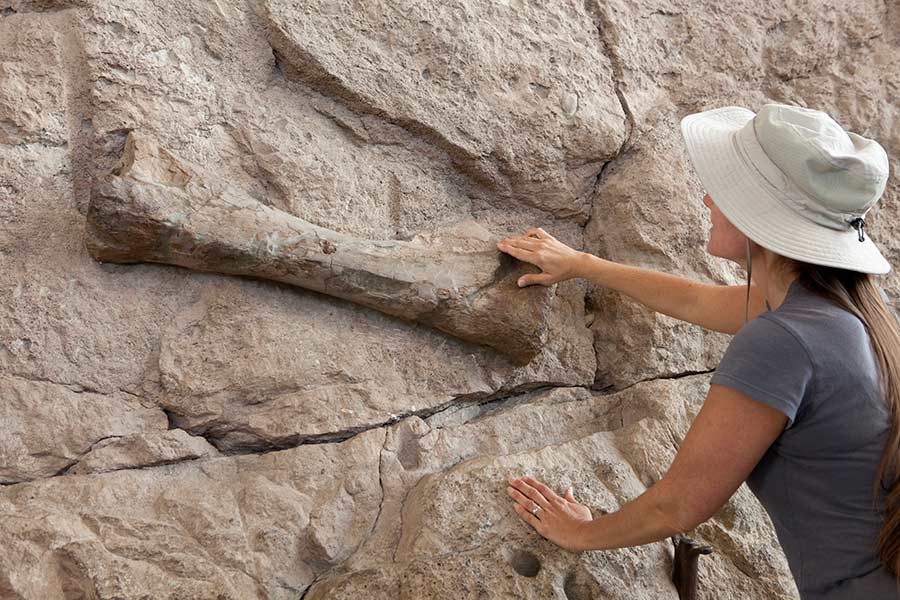 Did you know the northeastern pocket of Utah is often called "Dinosaurland" due to the large number of fossils discovered in the area? Learn more about this area of Utah and Colorado where dinos once roamed by visiting the 210,000-acre Dinosaur National Monument.
Due to the prehistoric ecology of this area millions of years ago, there's a large concentration of fossils recording the hundreds of different species that lived in the region. Many intact fossils are embedded in a rock face where they can be viewed by visitors at the Quarry Exhibit Hall, a space built over the fossilized remains.
Flaming Gorge Reservoir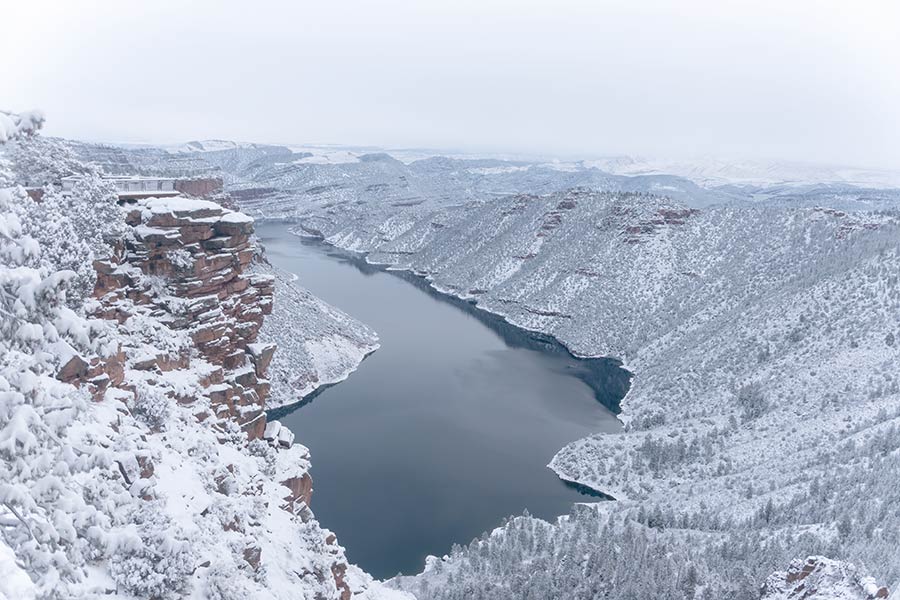 Flaming Gorge, more like Flaming Gorge-ous! Puns aside, this waterbody is a must-do for anglers traveling to the Utah/Wyoming border for some phenomenal fishing. Yet another Blue Ribbon Fishery, Flaming Gorge Reservoir is known for its large lake trout, and due to an overabundance of this species, we encourage anglers to harvest the smaller ones under 25 inches (regulations apply). Beyond lake trout, this waterbody also contains populations of rainbow trout and cutthroat trout.
Remember that all invasive burbot — which are most active and easily caught during the winter months — must be killed at Flaming Gorge. By delicious coincidence, they also make for great table fare.
The area around the reservoir has plenty of camping and recreation opportunities in and around the U.S. Forest Service-run Flaming Gorge National Recreation Area, which encompasses the gorge's famed waters and distinctively hued canyons.
Green River (Flaming Gorge Dam to the Colorado border)
You may not automatically think of winter as the perfect time to head out to the Green River for some fly fishing, but you'd be surprised. Once bundled up in your warmest gear and waders, you'll find that the often-crowded stretch of the Green River that runs through northeast Utah is relatively clear of people during this season — but full of fish!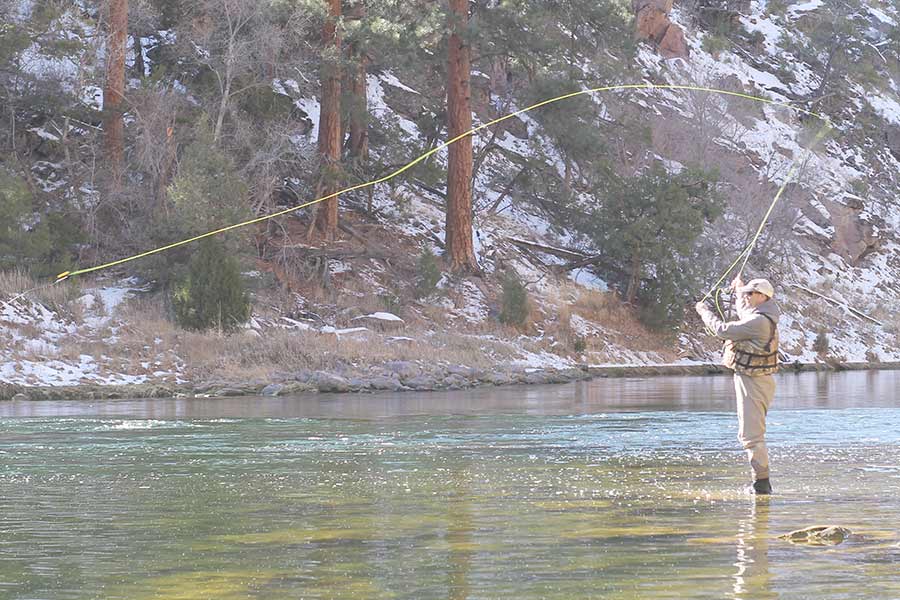 Even though it's cold out, the fish are still biting on the Utah segment of the Green River running from Flaming Gorge Dam to the Colorado border. Try fishing with nymphs or streamers, which typically result in decent catch rates, especially during water flow increases. This Blue Ribbon river is a premier trout fishery, so you will likely catch brown or rainbow trout, as well as mountain whitefish. Don't let the cold temps deter you from this unique fly-fishing opportunity!
Want more? More spots to try ice fishing throughout the state and tips for ice-fishing success
How was your trip?
Part of how we work to improve fisheries — and help anglers have a fun and successful experience — is by making sure our waterbodies are great places for anglers to spend time in Utah's outdoors. Post a review of your most recent fishing trip to the Fish Utah interactive map!