10 close-to-home ice fishing spots to visit this winter with the whole family
Salt Lake City — If you don't ski or snowboard, winter in Utah can feel never-ending. But another great way to get outdoors is heading to a nearby lake for an afternoon or weekend of ice fishing.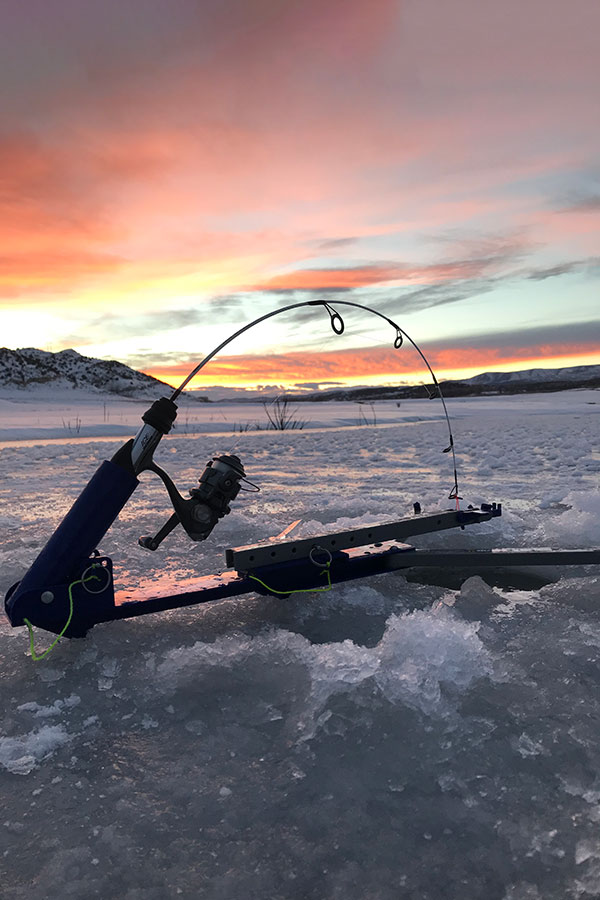 There are a lot of options in Utah when it comes to ice fishing. If you are busy and looking for a place close to home where you can take the whole family for an afternoon of ice fishing, here are some great options throughout the state:
Close to Salt Lake City (within a two-hour drive)
Echo Reservoir, Summit County (offers perch and trout)
Rockport Reservoir, Summit County (offers perch and trout)
Pineview Reservoir, Weber County (offers perch and crappie)
Mantua Reservoir, Box Elder County (offers perch, trout and bluegill)
Scofield Reservoir, Carbon and Utah counties (offers trout)
Strawberry Reservoir, Wasatch County (offers trout and kokanee salmon)
Uinta Basin
Flaming Gorge Reservoir, Daggett County (offers trout and burbot — the best ice is typically farther north, toward the Wyoming state line)
Starvation Reservoir, Duchesne County (offers perch, trout and walleye)
Southern Utah
Fish Lake, Sevier County (offers perch and trout)
Panguitch Lake, Garfield County (offers trout)
"Winter is a good time to go fishing because ice gives everyone the opportunity to walk to the best areas — the places where the fish are hanging out," Utah Division of Wildlife Resources Sportfish Coordinator Randy Oplinger said. "It evens the playing field because you can access places that during the summer are only available if you have a boat. Fish are also hungry and active in the winter, and that can make them easier to catch."
Fishing for perch and bluegill, in particular, can be pretty great during the winter months, allowing you to catch a lot of fish quickly. This helps in providing a great experience for kids.
"Ice fishing also provides a fun time socializing more than other times of the year," Oplinger said. "During the summer if you are fly fishing on a river, you typically want more space. But with ice fishing, you can all gather around holes and drink hot chocolate together and chat while you are fishing."
Equipment for ice fishing
Ice fishing is also a great family activity because the equipment needs are fairly minimal compared to other styles of fishing. Here is what you need:
A Utah fishing license, if you are 12 years of age or older
Warm clothing (dressing in layers is recommended)
Enough food and water to last during your outing
An ice auger (these cost roughly $70 for a hand auger)
A scoop to remove the ice from your hole (these only cost about $4 or you can even use a slotted kitchen spoon)
Fishing rods (roughly $20 each)
Ice lures ($3 to $5 each — it's typically good to have a few options per person)
Bait such as waxworms or mealworms ($3 to $5 per trip — make sure to check the 2023 Utah Fishing Guidebook to ensure bait is allowed at the waterbody you are fishing)
Bobbers to help you detect a fish strike ($3 to $5 each, enough for one per fishing rod)
A sled to haul all the equipment out onto the ice
Camping chairs or a bucket to sit on
An ice fishing tent is useful when it's really cold or snowing but is not necessary
An electronic fish finder
Tips to help you be successful while ice fishing
While many fish species still fight as hard under the ice as they do in open water, some species have a more subtle strike, so you have to carefully watch the tip of your rod to know if you're getting bites. Adding a device called a spring bobber to the end of your fishing rod can help you detect these subtle bites.
You can catch many fish species through the ice, and any time of day can be good for ice fishing. The most difficult part of ice fishing is finding the fish.
"I recommend looking for structures in or near the water," Oplinger said. "For example, fishing off points usually works well. You also have to figure out the depth where the fish are hanging out in the water. My suggestion is to start fishing about a foot off the bottom of the lake. If you don't get any strikes after 10 minutes, then move up about 5 feet. Continue that until you locate where the fish are hanging out. Make sure you know how far you are off the bottom so you can return to the depth once you discover where they are hanging out. Often perch and bluegill hang out near the bottom. Trout are less consistent and can be at a variety of depths."
If you are new to the sport, consider attending an upcoming ice fishing seminar on Thursday, Jan. 19 at 6:30 p.m. at the DWR Springville Office at 1115 N. Main Street in Springville. DWR personnel and Strawberry Bay Marina staff will be providing ice fishing tips and specific information about fishing at Strawberry Reservoir this time of year. While the event is free, you are encouraged to register in advance on Eventbrite.
You can also visit the Fish Utah map on the DWR website for additional tips and fishing updates for specific waterbodies.
Safety recommendations
If you are visiting a waterbody at a state park, you can see an update on the current ice conditions on the Utah State Parks website. A general safety recommendation is to not step on the ice unless it is at least 4 inches thick — this typically applies to clear, freshly formed ice; bubbly or slush-covered ice is less safe.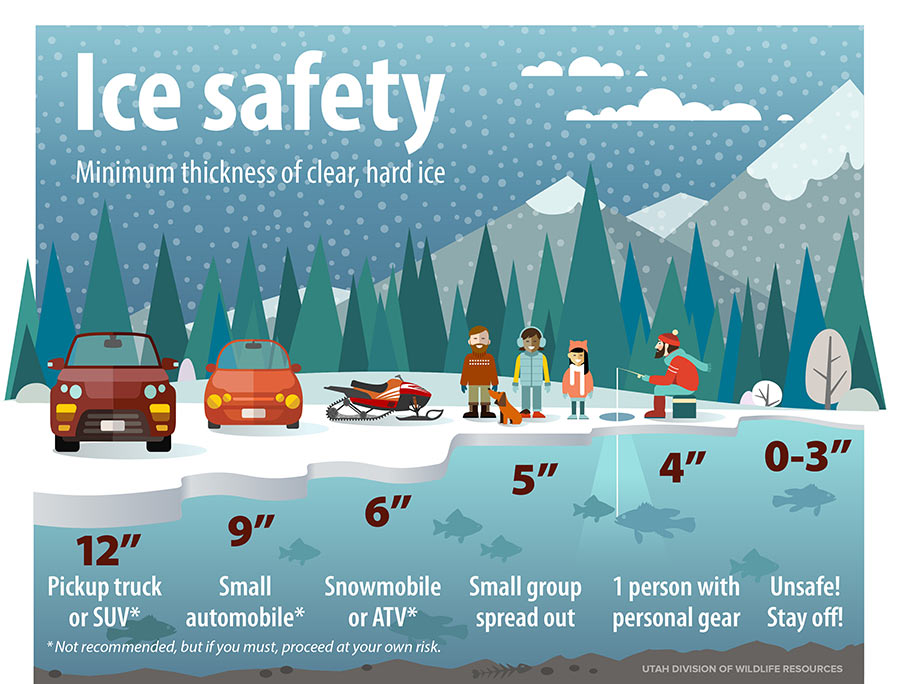 It's important to also keep in mind that ice thickness can vary across a lake. If you see the ice is 4 inches thick in one spot, don't assume it's 4 inches thick across the entire lake. Be sure to drill test holes into the ice as you venture onto it. You should also avoid putting large groups of people and equipment in a small area — spread the weight out.
"As an extra precaution, you can also purchase ice safety picks, which can help you get out of a lake if you fall through the ice," Oplinger said. "I'd also recommend taking a rope and a friend or family member with you, if possible. It's always a good idea to have someone else with you when ice fishing."
Find more ice safety tips on the Utah State Parks website.