A swell day fishing on the San Rafael
In search of roundtail on the fly in southeastern Utah
By Dan Keller
Native Aquatics Biologist
DWR Southeastern Region
It is a scene any tried-and-true angler will find familiar: it's the night before a long-awaited fishing trip and I'm digging through an assortment of tackle boxes, organizing flies and lures, and wondering what offerings will work best. I consider my options and anticipate challenges. What fly should I start with, and what's my backup if plan A fails to produce fish? What critical equipment do I need to make sure to pack?
While it's not as much fun as catching fish, I enjoy this kind of planning. I have learned over the years that the extra effort spent preparing in advance often produces the result anglers all want on the water: more fish tugging on the line. My hands are busy packing gear while my brain races around thinking about the weather forecast, flows, water conditions and the whole laundry list of other details to consider when planning a fishing trip. The anticipation of things to come adds to the excitement.
Finally, my task is complete. I (hopefully) have everything I need neatly packed into one backpack, ready for a day hiking along the San Rafael River fishing for roundtail.
So, what's a roundtail?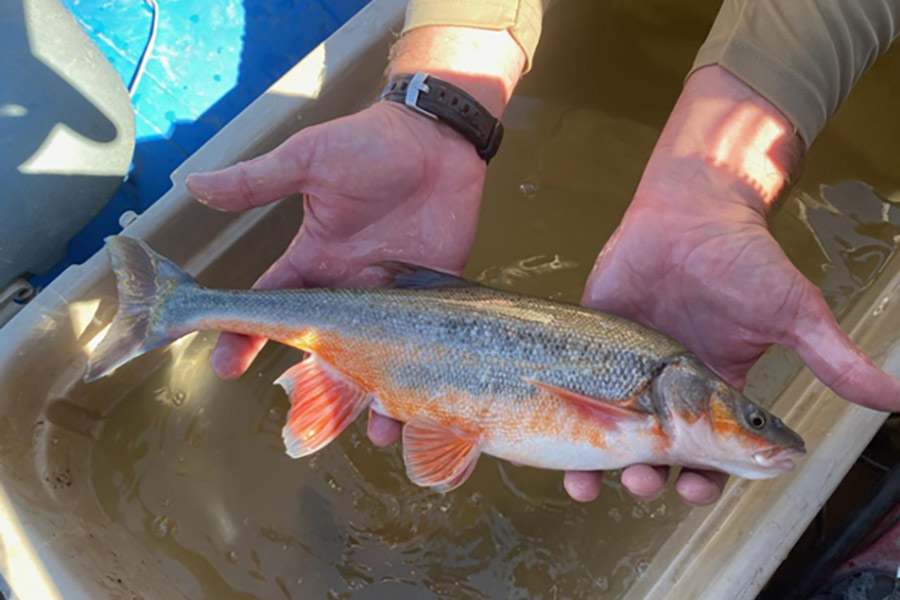 A healthy roundtail caught in southeastern Utah
Some of you may be thinking, "What in the world is a roundtail?" Roundtail (also known as roundtail chub) are fish native to the Colorado River drainage. In Utah, they are found in the Green and Colorado rivers and several tributaries. Roundtail are in the minnow family, but unlike the tiny fish you might expect, they can grow up to 18 inches long and larger roundtail are piscivores (eat other fish).
Why am I so excited to fish for this lesser-known Utah native? For starters, I am a native aquatics biologist employed by the Utah Division of Wildlife Resources (DWR). I have spent more than a decade researching roundtail and other native fish species in southeastern Utah. Having handled literally thousands of roundtail during field surveys, I know a considerable amount about this fish species.
To figure out how Utah's roundtail and other fish are faring, DWR staff pull large seine nets to collect young fish or use electricity to temporarily stun larger fish. After netting, we collect data on individual fish (such as length and weight) to assess their overall health. Sometimes we even implant an internal passive integrated transponder (PIT) tag to track their movements. We do this kind of tracking to answer important questions such as: what habitat do they prefer? Where do they migrate and spawn? What are the factors controlling survival? Answering these types of questions allows us to implement fish habitat improvement projects and mitigate factors that negatively affect fish populations.
However, in all my years and all the various ways I have captured roundtail for research purposes, I have never caught one on a rod and reel. I set my alarm and go to sleep with the hope that tomorrow that will change.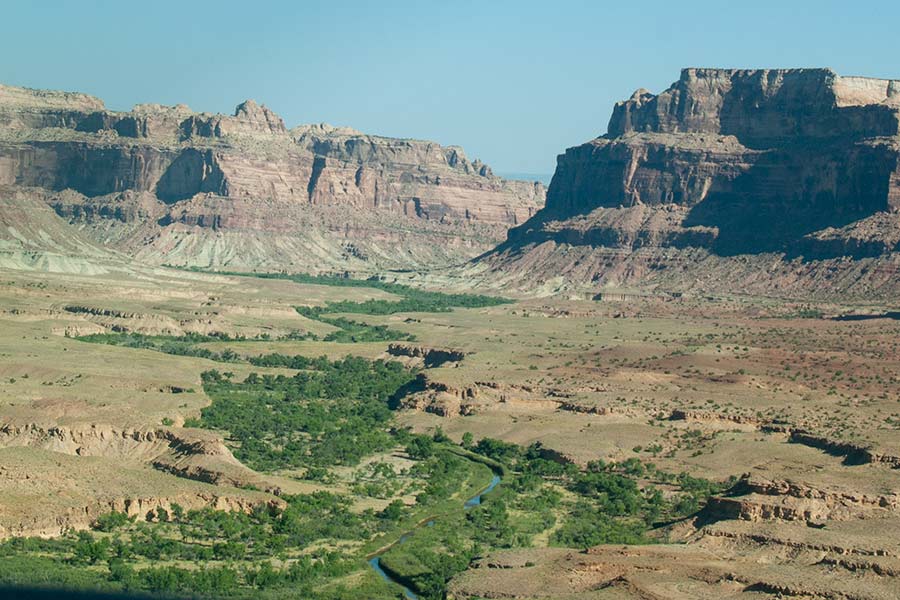 The San Rafael River
Hit and miss with hoppers
In the morning, I meet up with a few co-workers along state Highway 10 and we drive down to the Swinging Bridge. If you're familiar with the San Rafael Swell, you already know that this area offers fantastic outdoor recreation such as biking, canyoneering, horseback riding, ATV riding and rock art viewing, to name a few popular activities. Although there are plenty of blogs and websites dedicated to those types of adventures, it's rare to find posts specifically about fishing roundtail on the San Rafael River. I hope that will change, since roundtail are plentiful in the upper San Rafael River above state Highway 24 and many other rivers in Utah.
Roundtail are a bit of an aquatic underdog. Until recently, the DWR did not promote fishing for them because population declines had resulted in roundtail receiving a protected status in Utah and other western states. Additionally, for a long time roundtail and other native fish had an uninformed label as "trash fish," which has been debunked in recent years as avid anglers have really enjoyed catching them. As mentioned previously, they can grow to a respectable size (18 inches) and in the spring turn a vibrant orange color in preparation for the spawning season.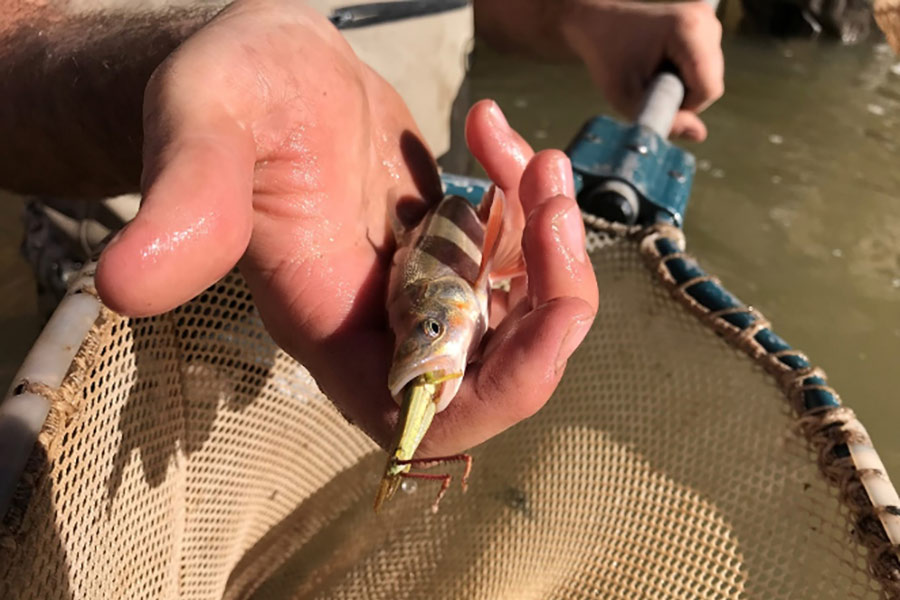 This roundtail bit off more than it could chew!
During my pre-trip preparations, I was sure to pack several grasshoppers. I love fishing with "hoppers" because they are easy to see in the water and often produce some fierce strikes. Roundtail are drift feeders and similar to trout they readily take flies and lures. On a previous work trip, I'd netted a roundtail that had eyes bigger than its stomach and had a large hopper stuck in its throat, so I figured that a grasshopper fly would be a good place to start.
My fishing companions all had the same idea and started throwing dry flies into the pools and riffles, hopeful to see a roundtail rise up from the desert river.
Roundtail on the fly
Our objective was not only to catch fish. We wanted to document the trip so we could share the story of and promote roundtail. While anglers can currently catch and release roundtail, we hope that in the near future the DWR can work with anglers and the Wildlife Board to change regulations to classify roundtail as a sportfish. This change would allow for new fishing opportunities in underutilized rivers across Utah. We also aim to educate anglers about Utah's native fish and increase appreciation for the roundtail species and the habitats it occupies.
As you would expect with these lofty goals, there were plenty of cameras at the ready waiting to document the first catch of the day. We started out taking turns fishing the best-looking spots while the others in our group eagerly awaited, ready to capture images of the action.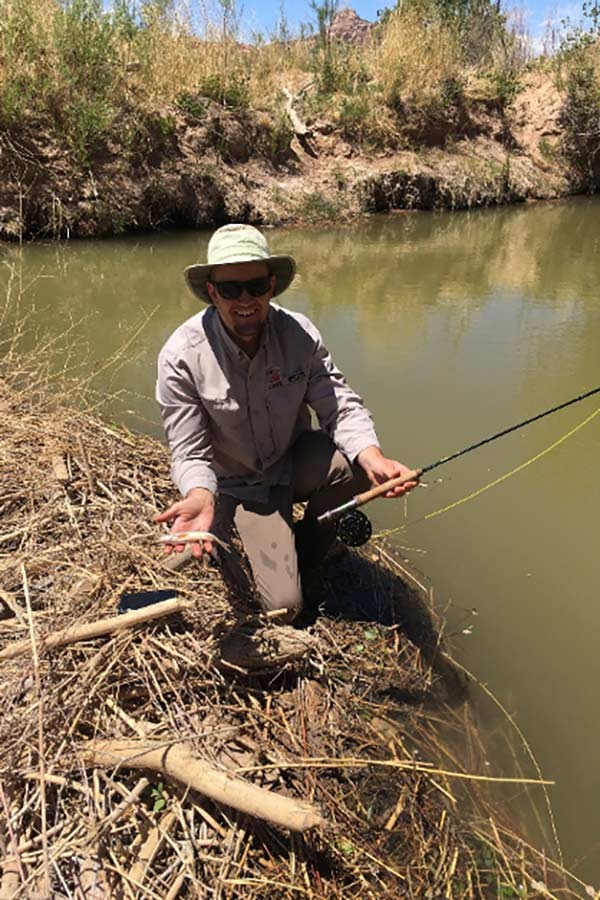 Dan Keller fishing for roundtail on the San Rafael River
For a while nothing happened. No hits. It was late May and perhaps too early for dry flies, so it did not take long for Phil Tuttle — DWR Southern Region Outreach Manager and avid fly angler — to say, "The fish aren't looking up." We switched to wet flies and continued fishing.
I thought Paul Thompson would be the first to pull out a roundtail, and I was correct. Paul is the DWR's habitat section assistant chief and oversees the DWR Endangered Species Mitigation Fund, a program that directly benefits roundtail and other imperiled fish and wildlife. He's also an excellent fly angler and very knowledgeable about native fish. I heard Paul say something like, "Well, buggers work." Then I looked back to see a roundtail splashing around and a big smile on Paul's face. About every time I see Paul, he shows me pictures of his latest fishing trips and he has caught numerous trophy fish in Utah waters, all across the U.S. and beyond. His claim to first success at catching roundtail that day was just as sweet. The smiles on all of our faces were as genuine as Paul's, and our excitement shows in the photos.
We decided to break up into groups to fish different spots so we could cover more area. Phil and Paul headed above Swinging Bridge where they caught many roundtail; Paul sticking with a conehead black wooly bugger (size 8) and Phil using nymph patterns. I added a short leader to my hopper, tied on a beadhead nymph and headed down river determined to catch my first roundtail.
It didn't take long and I was rewarded with a colorful roundtail on my line.
We took a few quick pictures and returned the fish to the deep water backed up behind an impressive beaver dam that had also served as my fishing pier. My first roundtail was only about six or seven inches long. Not a "pole bender," although it did put up a scrappy fight. I would compare the experience to catching small cutthroat trout in their native range high up on a remote mountain stream. I love a secluded mountain stream as much as anyone does, but I also appreciate the beauty of a remote desert landscape. Desert rivers and native fish that are as unique and rare as the landscapes in which they reside.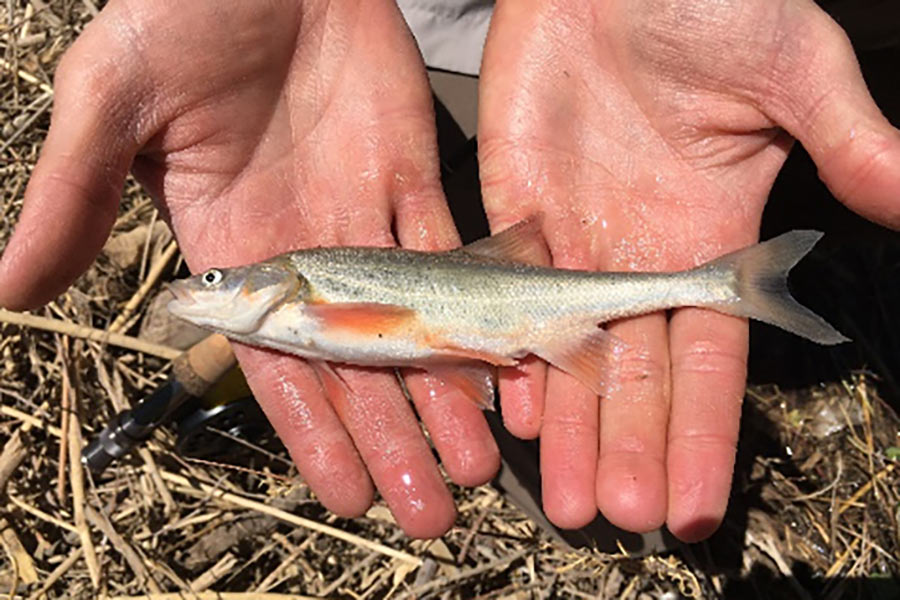 A small but mighty pretty fish
Roundtail probably will not be a fish you are going to put up on the wall and brag about (unless you hook one of those 18 inchers!) but they call to the angler in other ways and for different reasons.
I envision someday hiking into a desert canyon — perhaps the San Rafael, Escalante, Dolores, White or many other rivers in Utah — and making sure a 3-weight fly rod and box of flies is on my list of critical trip equipment. For me, the opportunity to catch a fish makes any adventure better. I hope that in the near future, those who seek roundtail will find an appreciation that I cannot fully put into words. To understand that sweet success, you'll have to go experience it for yourself.
Get involved!
Anglers may catch and release roundtail in accordance with current fishing regulations. Currently, roundtail are not a sportfish in Utah. The DWR welcomes public input regarding proposed regulation changes and encourages comments submitted to the Regional Advisory Council (RAC) and Wildlife Board in fall 2021. Networking will continue with anglers to incorporate public input into regulation proposals during winter 2021–22. DWR plans to further refine recommendations in April 2022 and conduct an angler survey in May 2022. We expect that the final proposal to determine roundtail fishing regulations and areas will be ready in September 2022.
DWR Habitat Section Assistant Chief Paul Thompson fly fishes for roundtail on the San Rafael River.