Update:
After receiving tips and information from the public, our conservation officer was able to determine that this moose was actually legally harvested but was unable to be located, resulting in a wounding loss. The hunter was unable to locate the moose because it became submerged deep in a beaver pond. It was reported weeks later when it floated to the surface. Thanks to the public for their help with this case!
DWR conservation officers seek information after bull moose shot, left to waste in Wasatch County
Springville — Utah Division of Wildlife Resources conservation officers are seeking information from the public about a bull moose that was shot and left to waste last month.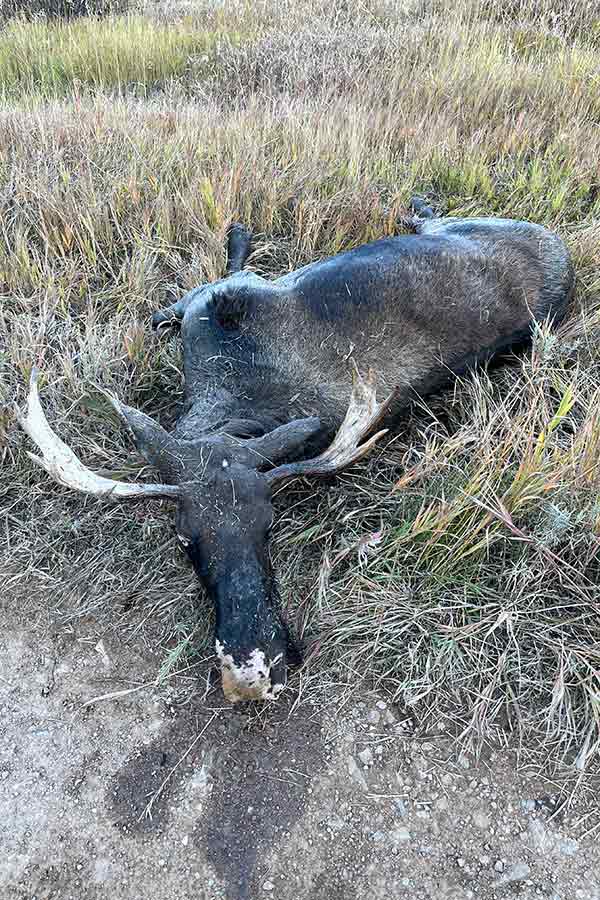 Officers received a report of a bull moose that was killed in the Strawberry River Drainage in Wasatch County. Investigators estimated that the incident occurred sometime between Oct. 7–12.
Upon further investigation, officers determined that the moose was killed by a bullet, which traveled through both front shoulders, rendering the moose incapable of traveling very far after being shot. There was a bull moose hunt taking place in the area during the same timeframe the moose is believed to have been shot. However, due to the location of the wound, officers believe the animal was killed and left to waste, rather than the hunter being unable to find the animal after shooting it.
Anyone with information regarding the illegal killing of this moose, or any other wildlife-related crimes in Utah, is encouraged to report it to DWR conservation officers in one of the following ways:
If you have information regarding this specific case, you can also contact DWR Officer Ethan Justinger at 385-450-0276. A reward may be available for information leading to the successful prosecution of those responsible, and requests for confidentiality are respected.
Every year, Utah conservation officers conduct numerous investigations into the illegal killing of wildlife. In 2022, officers confirmed a total of 1,283 wild animals and fish were illegally killed, valued over $609,000.
Officer Ethan Justinger


This email address is being protected from spambots. You need JavaScript enabled to view it.


385-450-0276