Strong partnerships, successful conservation
The 2020 Summer Meeting is months away, but it's not too soon to start planning.
The Western Association of Fish and Wildlife Agencies 2020 Summer Meeting in Park City, Utah, will bring together over 400 U.S. and Canadian fish and wildlife regulators to discuss shared biological, management, and land use issues. The event is geared toward fish and wildlife biologists, managers, administrators, and others in fish and wildlife-related fields including commissioners and directors from over 20 states, provinces and territories.
WAFWA 2020 Summer Meeting website
You're probably aware that Park City is a popular winter ski destination and hosts the Sundance Film Festival each January. Many of the 2002 Winter Olympics venues were in the Park City area.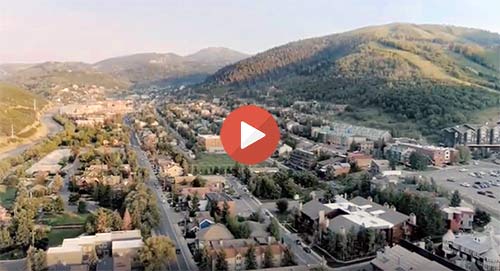 WAFWA 2020 promotional video
What you might not know about Park City is that it's also a popular summer destination with many restaurants, hotels and shopping experiences. Miles of trails in the surrounding mountains are perfect for hiking, photography and spotting wildlife. You'll also find great fishing and boating just a few short miles away.
At 7,000 feet above sea level, the mountain elevation keeps the Park City area cooler than the valleys below. July temperatures are typically warm but not hot or humid. Expect highs in the low 80s F and pleasantly cool evenings.
Overnight accommodations
The conference location is Canyons Village, approximately 3 miles from downtown Park City, Utah. There is ample public transportation between Canyons Village and Park City. Canyons Village includes lodging, dining and shopping, as well as plenty of recreational opportunities. The host hotel and location of the meetings and events is the Grand Summit Hotel. We have additional lodging at the Silverado Lodge, located a few hundred yards from The Grand Summit.
All rooms are subject to a room tax of 12.92%. Please call 888-416-6195 to make reservations and mention your affiliation with the Western Association of Fish & Wildlife Agencies. Reservations should be made by June 18 to be guaranteed the group rate.
Transportation
Attendees are responsible for their own transportation to and from the conference at the Canyons Village resort. The resort is quick 40 minutes east of the Salt Lake International Airport. There is no public transportation between the Salt Lake International Airport and Park City, but shuttle services and car rentals are available at the airport.
The Canyons Village resort is located near historic, downtown Park City. The robust public transit system in Park City is the best way to get around town.
More information
Chief Retreats
Chiefs will enjoy hiking, fishing, wildlife viewing, good food, local attractions and plenty of networking opportunities during the WAFWA 2020 chief retreats on July 11, 2020! See the Law Enforcement, Fisheries and Wildlife chief retreat agenda below.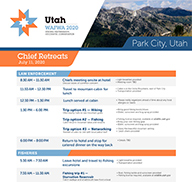 Guest Tours
Experience some of the sights, sounds and tastes that make Park City unique during the WAFWA 2020 guest tours! Field trip options include everything from thrilling zip coaster slides, river tubing and ghost tours, to whiskey-tasting, nature walks and music festivals. See the guest tour agenda for July 10–July 13, 2020, below.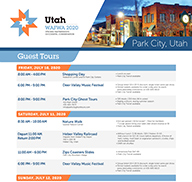 Bookmark this page, then return for additional information about the meeting during the coming weeks and months.