Spicy teriyaki goose jerky
A simple and delicious way to preserve wild goose
Darby Doyle
Communications Team Coordinator
DWR Conservation Outreach Section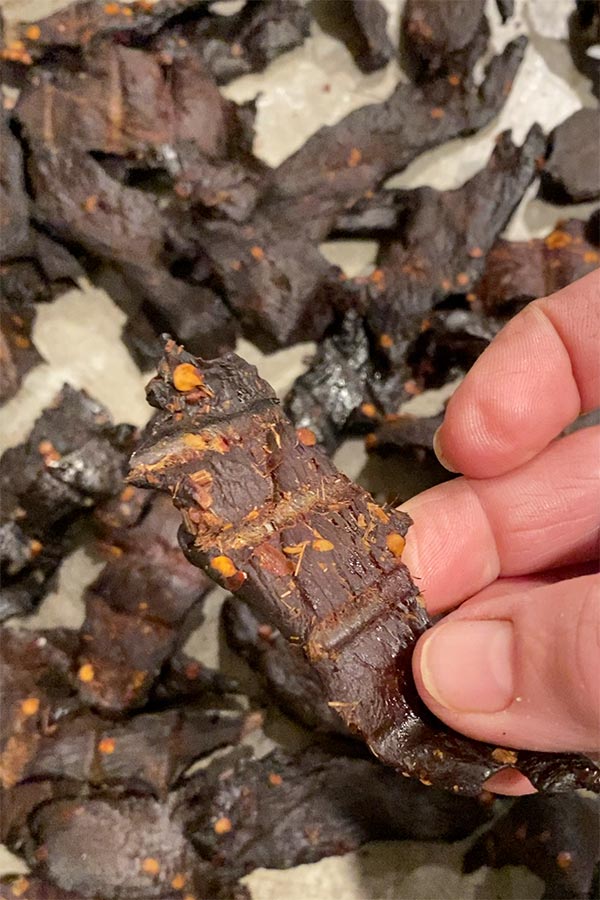 Wild goose is a dense, flavorful game meat, and it makes especially delicious jerky. This recipe was made with Canada goose, but any dark goose or other waterfowl works well with this flavor combination. Feel free to adjust the amount of red pepper flakes for your desired heat level.
Tips for making great goose (or other game meat) jerky
Trim off all fat and connective tissue; any fat left on the meat may become rancid.
Slightly freezing the meat (30 minutes or so) just before cutting will make it firm and easier to slice.
Slice across the grain for tender jerky, and with the grain for a more chewy texture.
Cut the strips into consistent thickness to ensure they dry evenly — aim for slices between ⅛- and ¼-inch thick.
Reserve any good-looking trim, ends and non-uniform slices for grinding or making chorizo!
Spicy teriyaki goose jerky
Makes about 8 ounces of jerky
Ingredients
2 pounds skinless goose breasts
1 cup soy sauce (not low sodium)
½ cup sake or mirin (optional)
3 tablespoons granulated sugar
3 tablespoons dark brown sugar
3 cloves garlic, minced
1 tablespoon finely grated fresh ginger
1 teaspoon spicy prepared mustard (such as Chinese or dijon)
2 tablespoons crushed red pepper flakes
Directions
For best results, use an electric food dehydrator that can reach a temperature of at least 160 degrees, or smoke jerky over mild hickory or fruitwood chips.
Step 1
Thoroughly clean and rinse the goose in very cold water. Trim off all of the fat, skin and any shot-damaged areas.
Step 2
For easy slicing, slightly freeze (about 30 minutes) the trimmed goose. Cut into even ⅛- to ¼-inch slices.
Step 3
Add all ingredients — except the goose — to a zip-top, gallon-size plastic bag. Seal the bag and shake well to make sure all of the ingredients are combined and the sugar is dissolved. Add the goose strips to the marinade, and press out as much air as possible from the bag before sealing.
Step 4
Place the bag of marinated goose in a large bowl (to catch any leaks or drips), and refrigerate for at least 10 hours or up to 24 hours. When you think of it, shake the bag to make sure the goose strips aren't sticking to each other and the marinade is evenly distributed.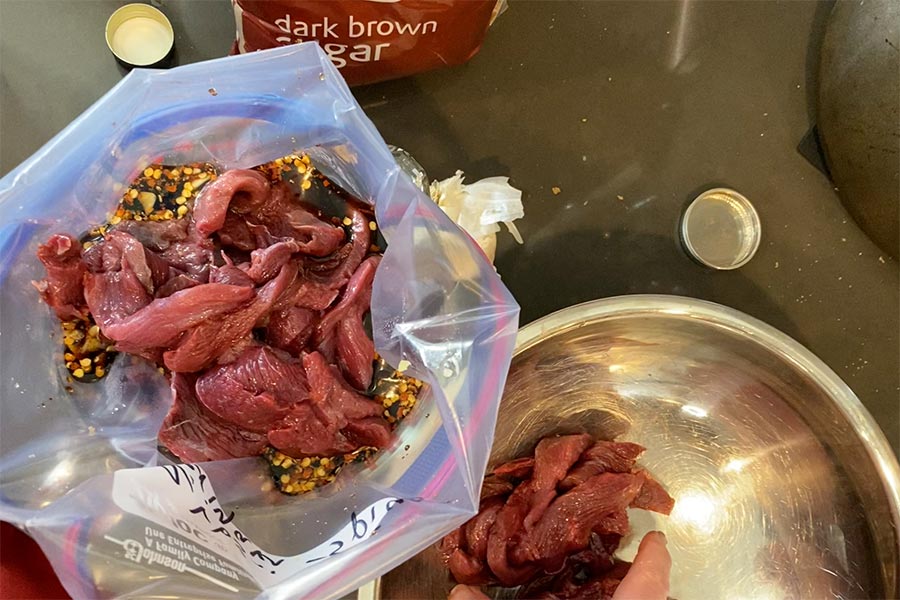 Step 5
Drain the goose in a colander and toss several times to drain off as much liquid as possible. Don't worry about marinade ingredients sticking to the meat — that just means more flavor!
Step 6
To make jerky using a food dehydrator: Divide jerky slices evenly onto about four trays, making sure that there's space between slices for good airflow. Turn on the dehydrator at the highest setting (usually 160–165 degrees), and dry the jerky for about four hours.
To make smoked jerky: Soak wood chips in water (I used a combination of cherry and hickory) for at least an hour before smoking. Divide jerky slices evenly over the smoker racks, making sure that there's space between slices for good airflow. Smoke at 165–175 degrees for about four hours.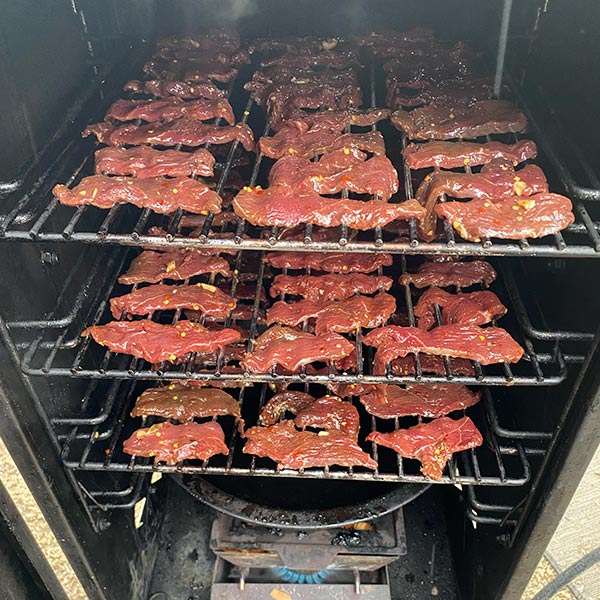 Step 7
After about four hours, check the jerky for doneness. It should register an internal temperature of 165 degrees on a meat thermometer, and the slices should be dry and firm, but still slightly bendable (not brittle). If you're not sure that your jerky has reached a safe internal temperature, after removing the jerky from the smoker or dehydrator, spread the slices evenly on a rimmed sheet tray and pop it in a 275 degree oven for 10 minutes.
Step 8
Cool jerky to room temperature before storing in air-tight lidded glass jars or plastic bags. Goose jerky should be shelf stable for about a month if stored in a cool, dry place. For more extended storage, refrigerate jerky in air-tight containers. For even longer preservation, freeze jerky in a zip-top freezer bag, pressing as much air out as possible, or divide into small portions in vacuum-sealed packages.