Breaded bullfrog legs
Some advice from my numerous "frogging" trips
By Ja Eggett
Lee Kay Public Shooting Range Facilities and Grounds Supervisor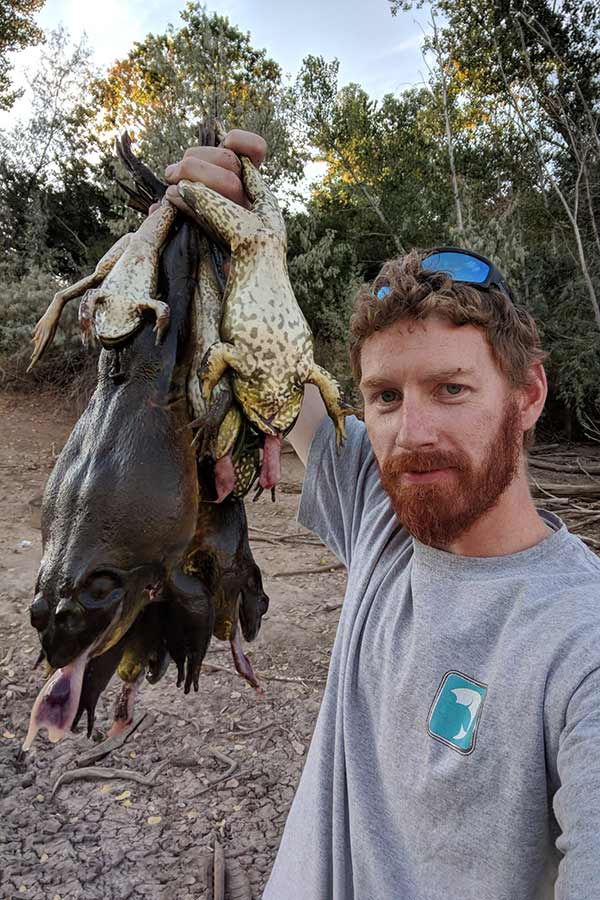 DWR employee James Abbott with his impressive frog catch.
It's the stuff that childhood daydreams are made of. Your buddy calls you up and says, "Hey, you wanna go catch some frogs?" That's exactly how my experience with bullfrogs in Utah started, only I wasn't a young boy. My son expressed interest in joining a youth group during a frog-catching activity, and we tagged along.
But the burning question is, how do they taste? I think they taste like chicken, but a little chewier. Others think they taste like fish. So, if you like chicken and fish like I do, you'll love the taste of frog legs.
Ingredients
A quick search on the web reveals a bunch of delicious bullfrog recipes. My recipe here is for breaded bullfrog legs — my favorite way to eat the best part of a bullfrog. The ingredients below are largely my preferences, and there's plenty of flexibility for things like the marinade you can use.
Bullfrogs (as many as you can catch!)
Buttermilk or other marinade (enough to submerge the frog legs)
Breading mix (enough to fully coat the legs), such as:

Fish fry batter
Beer batter
Shake 'n Bake

Cooking oil (enough for the legs to float)
Directions
Step 1: Skin the bullfrog's legs
Before you can do anything else, you must remove the skin from the frog's legs. This website provides good instructions and visuals for skinning. Basically, you cut the skin around the frog's waist and then pull the skin down from there, as if you were taking off frog trousers.
Step 2: Remove the legs
Once the frog has been skinned below the waist, use a sharp knife or shearing tool to cut off the feet and then cut off the set of legs from the waist down. Wash and clean the frog as necessary.
Step 3: Marinade
Submerge the frog legs in a bowl containing buttermilk or your desired marinade. Allow the legs to soak in the marinade for about five minutes.
Step 4: Breading
Spread your breading mix on a plate or cutting board. Remove the legs from the marinade and roll them several times in the breading mix.
Step 5: Fry
Pour cooking oil into a pot and heat it on a stove. You'll need enough oil so that the legs can float. The oil doesn't need to boil — just be hot enough to fry the legs. Place one set of legs at a time in the pot of oil and fry.
Step 6: Cool and serve
Once the frog legs are fried to your satisfaction, remove them from the pot and allow them to cool a bit. Don't leave the frog legs out for too long; I prefer to eat them warm.
Bon appétit!