When good algae goes bad
What you need to know about harmful algal blooms
By Chris Penne
DWR Northern Region Aquatic Manager
Warm weather in the summer months can cause an algal bloom at your favorite waterbody.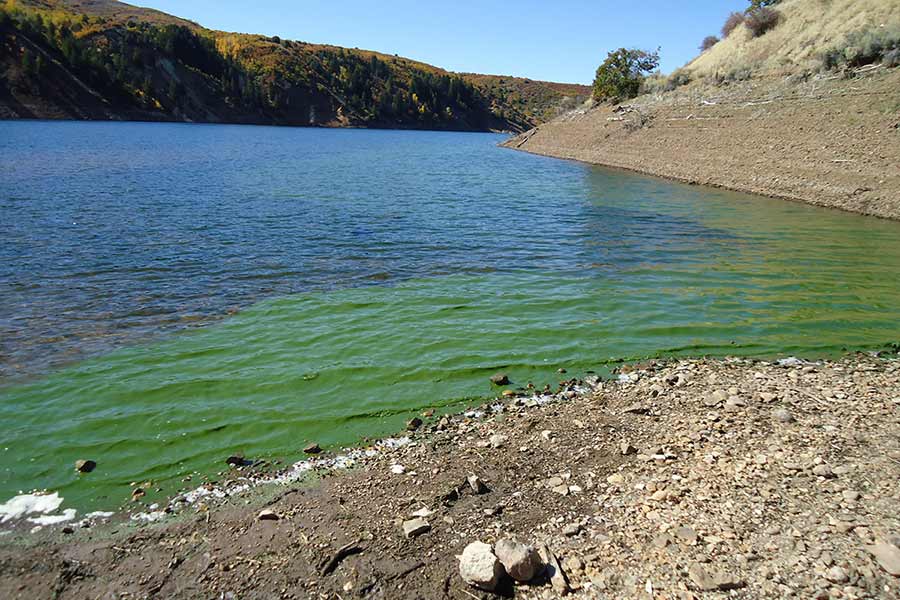 A distinctive bright-green algal bloom appeared at Jordanelle Reservoir in 2017. Photo credit: Utah Department of Environmental Quality
There are many kinds of algal blooms, but harmful algal blooms (HABs) are the ones you've probably heard the most about. HABs at several of Utah's fishing hotspots — including Utah Lake, Rockport Reservoir and Scofield Reservoir — are typically caused by blue-green algae known as cyanobacteria. (The prefix "cyano" means a dark blue-green color.)
At one time, it was rare to hear about HABs. How did we go from hearing almost nothing just four or five years ago to reading advisories every summer? And, what do HABs mean for recreation and fishing in Utah? Read on to learn more!
Some algae is good
As a biologist, the first thing I like to do when an organism is involved is learn all I can about it.
The term "algae" describes a diverse group of organisms capable of generating energy from sunlight, a process known as photosynthesis.
Unlike the plants many of us are familiar with, algae lack true roots, stems and leaves. Algae, and particularly cyanobacteria, are some of the oldest organisms on earth. Archaeologists have found fossils dating back 3.5 billion years.
Cyanobacteria is unicellular, meaning it consists of a single cell. These single-celled organisms are capable of forming large colonies, though. When they form into colonies, they can make the water look like pea soup.
While large blooms of cyanobacteria have caused notable disruptions to recreation in recent years, not all algae are bad. In fact, algae is critical to our existence. We wouldn't recognize our planet — or even be here — without it.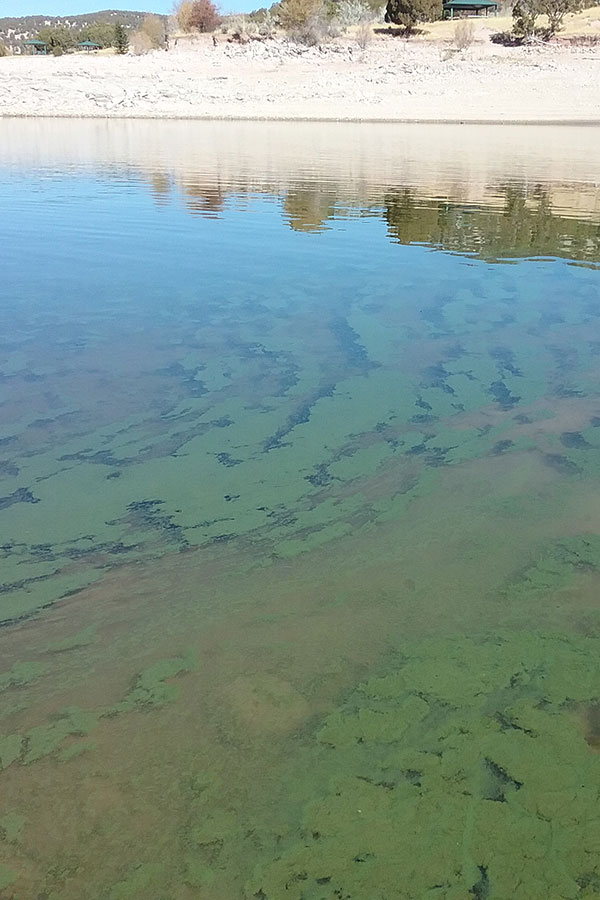 Warm weather in 2019 helped this algal bloom at Rockport Reservoir last into October. Photo credit: Utah Department of Environmental Quality
The oxygen atmosphere we have today was generated by ancient cyanobacteria. Even today, it is responsible for producing about half the world's oxygen. These little organisms are also the basis of the food web that produces the fish we love to view and catch.
Too much is bad
With that background, you might be thinking: without algae, I wouldn't be able to breathe clean air and oxygen, let alone exist. That's great! So, should I be concerned when I start to notice algae at my favorite water?
The short answer is no, you shouldn't be concerned. Algae is present in most Utah waters and has been for eons. Most of the time, it exists in low numbers that pose no danger to human health or safety. Algae actually benefit the water by providing it with oxygen and the cycling of nutrients.
The problems can arise when large blooms form. When this occurs, large natural die-offs of the cyanobacteria can release toxins called cyanotoxins. Health authorities test for these cyanotoxins because they can make humans and pets sick.
When cell accumulations or toxins reach a certain level, health authorities issue advisories and warnings recommending people and their pets temporarily avoid contact with the water.
Is the number of HABs on the rise?
Why do there appear to be so many more HABs these days? There's no single cause, but scientists have narrowed it down to three main reasons:
Increased awareness — Because incidents of animal and human illness caused by HABs have received increased attention in newspapers, electronic media and scientific literature, the public and scientific community are paying more attention to them. The increased attention has led researchers and government agencies to survey waters more often for HABs, leading to even more attention.
Cultural eutrophication — Cultural eutrophication is a fancy term scientists use when discussing how human development adds lots of extra nutrients to our waters. Just as indulging in too many nutrients isn't good for your health (think about that extra slice of pizza you had last night), the same goes for our waterways. Cyanobacteria like fertile waters, and all the excess nutrients people are adding to our waters are helping fuel the big algal blooms we're seeing more and more of. Thanks to the hard work of state, federal and private organizations, though, our waters are getting cleaner, and they should continue to improve. However, nutrient levels in many of our waters will likely never go back to pre-industrial levels.
Hotter weather — Cyanobacteria like it hot. That's why most of the warnings and advisories you see are during the warmest months of the year. This past decade was the hottest ever recorded. For cyanobacteria, that meant longer optimal growing conditions and temperatures that favored this form of algae over its cooler-weather competitors.
Staying safe
Even though HAB advisories and warnings are more common these days, there are several things you can do to make sure you have a safe and enjoyable time at your favorite water.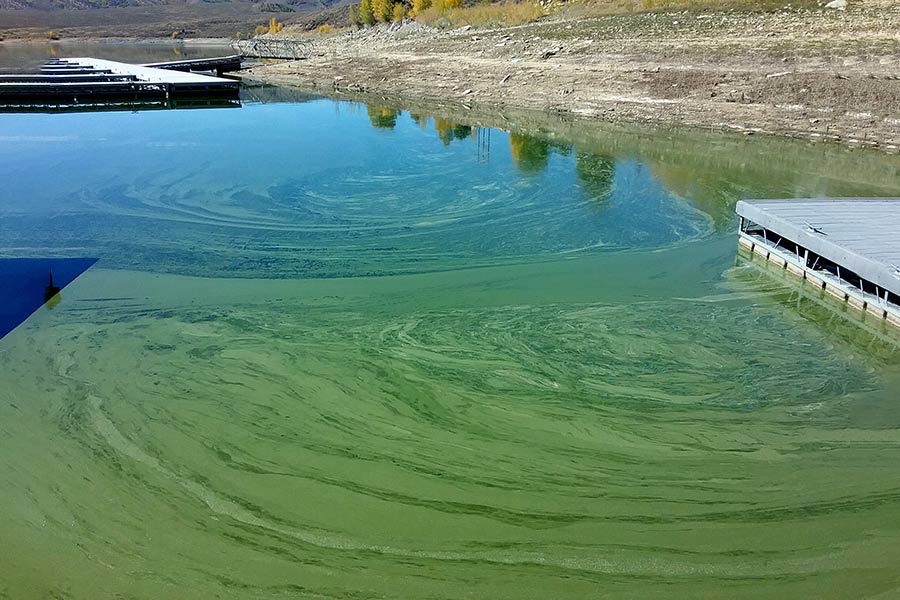 This 2018 algal bloom at Scofield Reservoir looked like pea soup and persisted into late September. Photo credit: Utah Department of Environmental Quality
Now that warmer weather has arrived, check the Utah Department of Environmental Quality's Harmful Algal Blooms home page often. The page offers an interactive map that shows where HABs have been documented and where advisories exist. (Note: Because of budget cuts in 2020, the Division of Water Quality's harmful algal bloom program is limited to monitoring 18 priority waterbodies across Utah. Sampling began on July 14, 2020.)
The Utah Division of Wildlife Resources highlights HAB-affected waters in its weekly fishing reports. You can receive the reports via email by subscribing to them or you can view them on the Fish Utah website.
The Utah Division of Parks and Recreation also updates its webpages to indicate which state parks, if any, have been impacted by a harmful algal bloom.
It's important to learn how to recognize a HAB. Harmful algal blooms often make the water look like pea soup, or green or blue paint. You might also see a layer of algae in the form of a mat or foam floating on the surface. If advisory signs are not posted, and you see what looks like a HAB, please avoid contact with the water and report it to the Report-a-Bloom hotline at 801-536-4123.
HABs and fish
Do HABs affect fish?
Let's get straight to the most important part first: Toxins from a HAB do not typically kill fish. Fish kills can still occur in waters where an HAB is happening, though, as oxygen demand from both the living and decomposing algae can deplete nearly all the oxygen in certain parts of a lake or reservoir.
Most of the time, though, fish will simply swim to clearer water. Or, if they don't have that option, they'll remain where the HAB is. This can make fish harder to catch. (Unfortunately, I'm not allowed to use that as an excuse for not catching fish!)
Are fish safe to eat?
One question we're often asked is whether it's safe to eat fish caught in a body of water where an HAB is occurring. To date, science hasn't provided a clear answer.
What we do know is that some toxins from HABs have been shown to accumulate in the livers and kidneys of fish and shellfish. Whether the accumulation of these toxins is dangerous in the same organs in humans is uncertain. On top of that, it's thought that the level of toxins will depend on the severity and duration of the HAB at the water where the fish is caught.
With that said, if you choose to eat fish from a water with an HAB, the only clear recommendations are to clean your fish thoroughly, eat them in moderation, avoid eating the guts and take care not to cut into the guts when filleting the fish.
Too much of a good thing
I hope this post has been helpful. Cyanobacteria is out there. While it can cause some problems and disruptions, it can also be a good thing.
But, as we all know, sometimes too much of a good thing can be bad. Stay safe out there, and have fun fishing and recreating in Utah this summer and fall!