When wildlife wanders into your neighborhood
How we capture and relocate large or predatory animals
By Darren DeBloois
DWR game mammals program coordinator
Over the past year, you've probably seen a news story or social media post that showed the DWR relocating bears, cougars or moose that wandered into neighborhoods. We live in Utah, which has a lot of wildlife — and a growing human population — so this happens from time to time.
Handling human-wildlife conflicts
We often get a lot of questions about these relocations. How do we capture the animals? What are the risks? And how do we decide when and where to relocate them?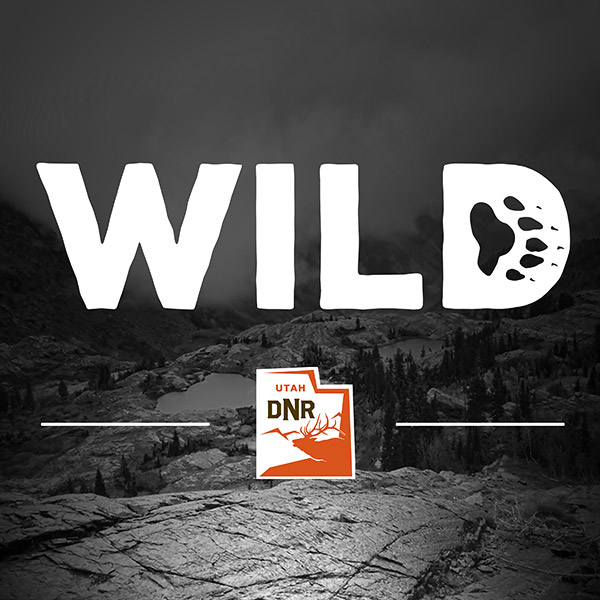 Listen to the first episode of our new "Wild" podcast where Darren DeBloois describes the process of capturing a black bear.
A large part of my job is working to maintain healthy wildlife populations, while also addressing conflicts that can arise between people and wild animals. These conflicts can take many forms.
Both deer and elk can cause damage to agricultural crops when they feed in fields, or they can damage haystacks or fences. Moose and bison might charge at any person or pet that gets too close. Cougars and bears sometimes kill and eat livestock or pets. In certain situations, all of these animals can pose a threat to human safety.
When my colleagues and I respond to wildlife-conflict calls, we can often address the issue without taking any action toward the animals involved. Most animals associate people with danger and will run off on their own.
Other times, we recommend actions that address the conflict at the location where it is occurring. For example, we may recommend a hunt to reduce elk populations in a particular area where elk are eating haystacks. Livestock producers also have ways to legally remove animals that are killing their animals.
On more rare occasions, we will take steps to capture and move an animal out of a situation where conflict with people is occurring.
A few years ago, when I was a district biologist in the northern part of the state, we had a lot of moose wandering into cities and towns. These large animals are usually very tolerant of people, but they can be provoked into attacking under certain circumstances. If the moose is a cow with young calves or a bull competing for mates — or if people just get too close — the situation can become dangerous very quickly.
In urban settings, these risks can be amplified. Many times, my phone would ring and we would be called to move a moose out of a situation where it was getting stressed and jeopardizing public safety.
When you receive these calls, you quickly organize a team to locate, anesthetize and relocate the animal. All three parts of these operations can be challenging.
Even a large animal like a moose is capable of hiding quietly in a suburban backyard and can defy detection for hours. Using a dart gun in these settings must be done judiciously — not automatically — and once an animal is drugged, plans for reacting to different complications must be in place.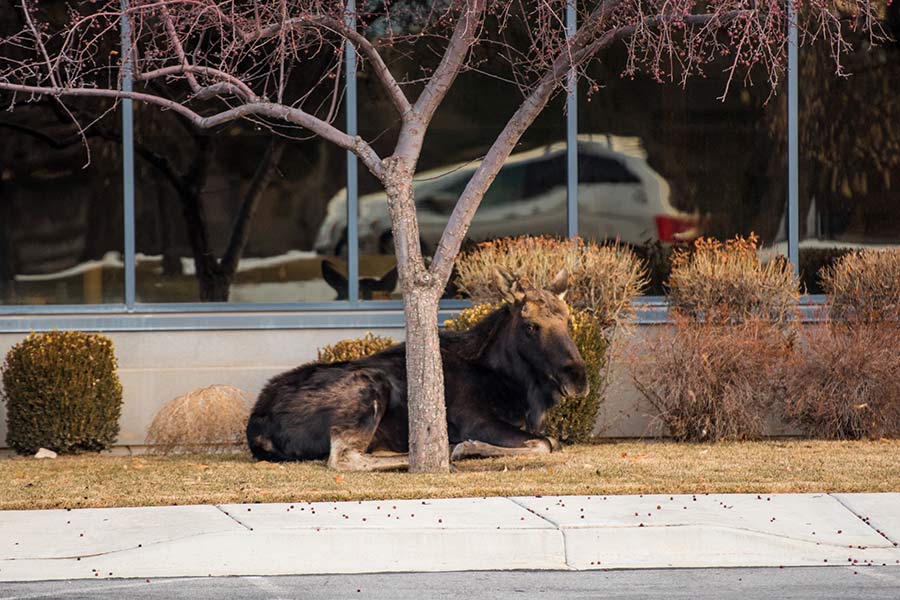 This moose should have picked a larger tree to hide behind.
Finally, relocating the animal requires several important considerations, especially if the animal is a large predator like a bear or a cougar.
Locating the animal
When a call first comes in about a wild animal in a city or neighborhood, we need to determine if the animal is still in the area, or if it has moved along. In more urban settings, the first call usually comes from a local police or sheriff's department.
In these situations, law enforcement officers are on scene and can let us know if the animal is present or not. If the animal is in sight, we gather a team to respond. Usually, several people head to the animal's location while others gather all the necessary equipment to handle and relocate it. This process can take a little while — sometimes up to an hour or so.
Once we all converge on the scene, we need to make sure we can locate the animal. I once looked for a couple of hours for a moose in North Ogden. It was right in the middle of a subdivision, but it used the dense oak brush to elude us. We finally found it a couple of streets away from the original reported location.
This is hard enough with a large moose, but it can be
much
more difficult with a smaller, more reclusive animal like a mountain lion. They naturally try to avoid detection while on the move.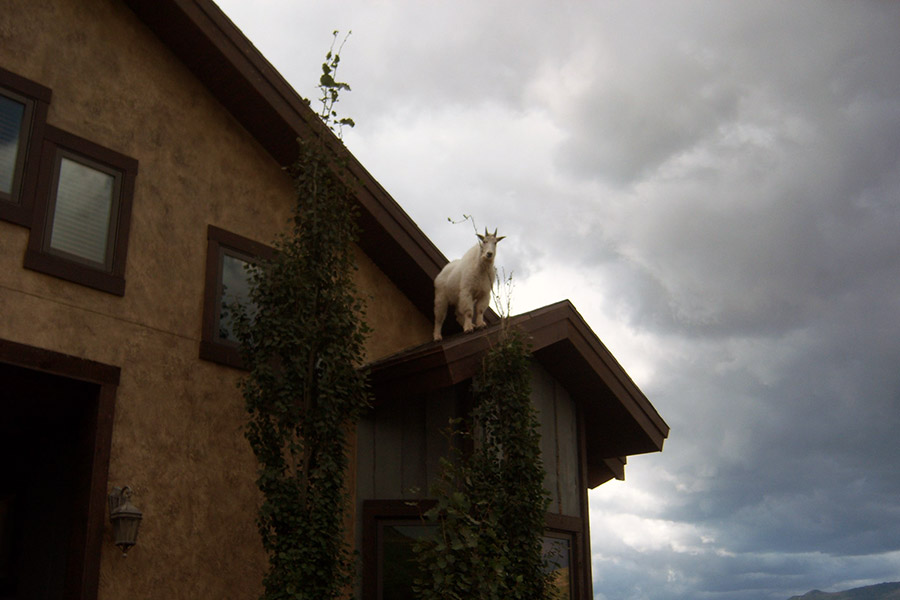 This house-climbing mountain goat was one of our more surprising calls.
Most of the time, though, finding the animals isn't difficult at all. We had one call about a mountain goat perched on top of a house. It was casually eating the leaves off a tall tree in the yard!
Once we locate the animal, we decide on the best course of action in light of the situation. Sometimes, the animal can just be moved out of an area by herding it to a more appropriate area. This works well for animals that wander into the edge of an inhabited area, like moose roaming near cabins in a mountain town.
Not all situations are that simple, though. If we decide we need to handle and move the animal, we make a plan to capture it.
Capturing the animal
We have many tools we can use to capture wildlife. The tools we use sometimes depend on the species, the location and the time of day. We don't want to see an animal run into a busy road, or have it dash away in the darkness while a tranquilizer takes effect.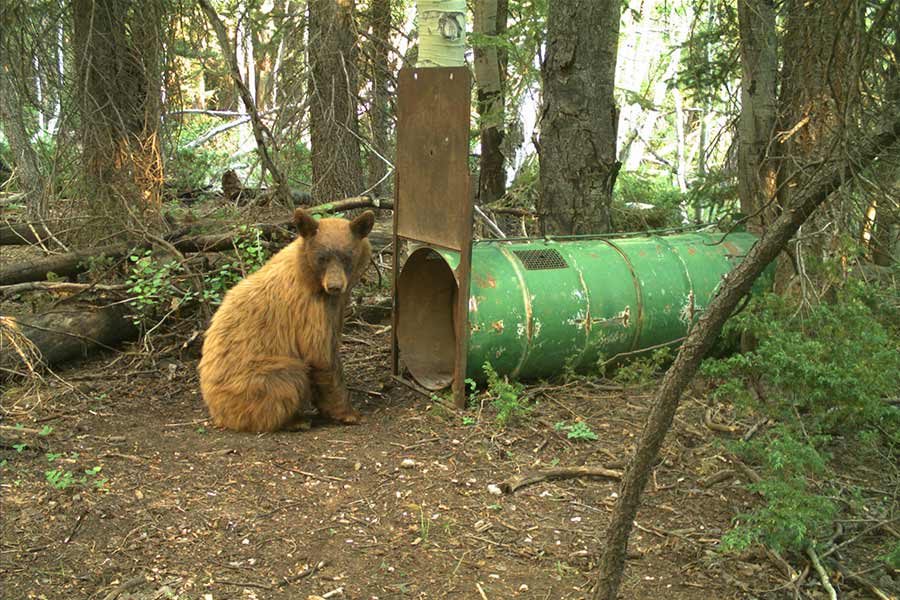 We often use baited barrel traps to capture black bears.
If the animal has been located, responds well to tranquilizing drugs and can be approached within a reasonable distance, we will often use a dart gun to immobilize and relocate it.
We also sometimes use traps to try to capture animals we can't find, especially if they repeatedly return to the same location. Every year, we use traps to capture bears that are hanging around campgrounds, looking for an easy meal.
Both the darting and trapping methods must be used carefully. We want to make sure that the public stays safe and the animal isn't injured during the process. Traps are marked with signs and are monitored regularly, and we take many of the same precautions using a dart gun that we would in using a firearm.
When using a dart gun, we ensure that we can make a safe shot and that the dart will be able to connect with the target animal.
Tranquilizer darts travel in a long arc when fired — more like an arrow than a bullet — so you need to make sure your dart has a clear path to the target. It can be very frustrating to have a dart strike a tree branch on its way to a moose.
It's also important that you hit the animal in the right spot. Hitting a large muscle delivers the best outcome, so we wait for the right area to come into view with a clear line of fire.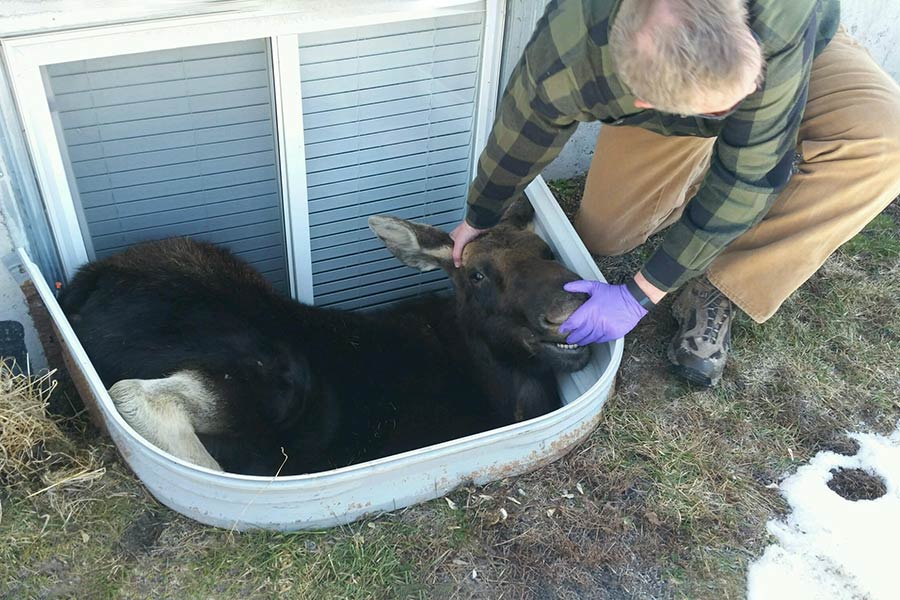 Some capture operations are a little trickier than others.
Once the dart hits the animal, it can take several minutes for the drugs to take effect in an ideal situation. During that time, the animal can move and run away, so we take that into account before we tranquilize an animal. We need to be able to find it after the drug knocks it out.
Drugged animals can definitely move into trouble. At one point during my career, it seemed like every moose we tranquilized wound up finding some sort of water to wander into.
And it's not just moose — my colleagues in southern Utah once tranquilized a young bear, only to have it flee into Lake Powell. The biologist had to jump in and save it from drowning before it could be revived and released.
We've also had one moose go to sleep on a trampoline and another that fell into a window well!
Once the animal is immobilized and asleep, we check it for injuries and assess its overall health. If an animal is sick or injured — and is not likely to survive if released into the wild — we will humanely euthanize it. Fortunately, those situations are rare, and most animals are in good enough shape to be released.
Releasing the animal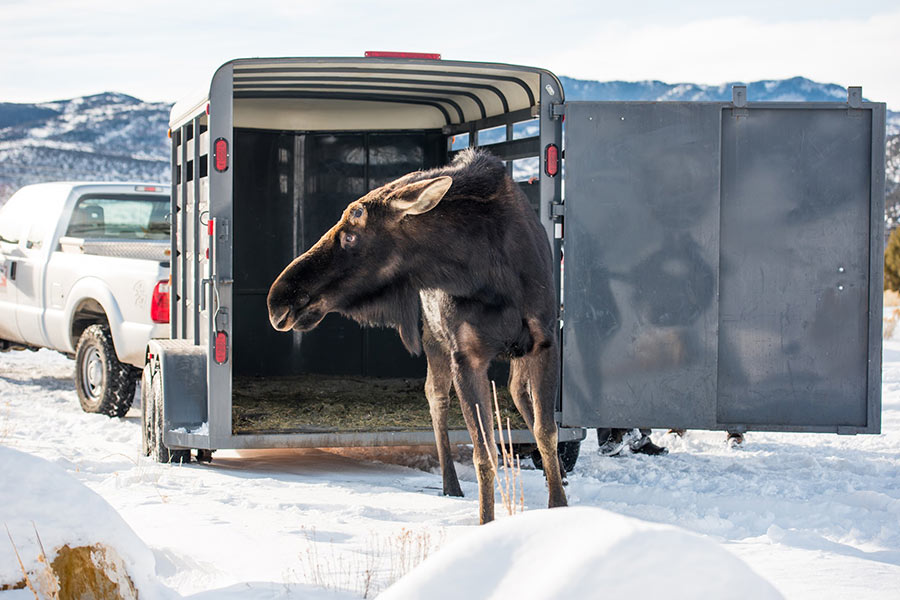 It's very satisfying to successfully return wildlife to their natural habitat.
Part of the process in capturing a wild animal is determining if the animal can be relocated. Biologists consult with each other on appropriate places to release animals. In most cases, animals that have shown up in the wrong place at the wrong time are captured and then relocated to remote areas.
Predators that are a repeated risk to human safety, have shown aggression toward humans or have preyed upon pets or livestock are not relocated. Those animals are humanely euthanized.
When relocating animals, we look for areas far enough away that the animals are unlikely to return. They must also have habitat appropriate for the animal and be remote enough that the animal isn't likely to become a problem for someone else.
Some animals, even when moved a long way to suitable habitat, can still move around quite a bit. We once moved a moose from the Park City area because he kept eating apples from a homeowner's tree. He was released in a remote location but showed up about a week later in North Ogden, eating apples from a different tree. He was captured a second time and released again in a different remote location. He was later seen in Idaho, living in a wild area and staying away from apples.
We also take hunting seasons into account when releasing animals. If a bull moose is to be released during a hunting season, we will typically remove his antlers so he has a chance to recover for a year before he becomes legal to harvest. Cougars and bears are marked so they can be quickly recognized, just in case they get into trouble again.
Helping wildlife stay wild
One of the main reasons I chose wildlife management as a career was the opportunity to work closely with wild animals. Over the years, I've had encounters with Utah's largest and most predatory species — often while removing them from cities and residential areas.
Resolving these types of wildlife conflicts has been interesting and very rewarding, especially when we successfully relocated animals to areas where they could remain wild.