Rebuilding Pelican Lake for future generations
Bringing back the big bass and bluegill
By Natalie Boren
DWR sportfish biologist in northeastern Utah
Looking back at the lake of my youth
I was around 7 years old the first time I really remember fishing Pelican Lake with my dad, mom and little brother. Our trips always started out early as we made the short drive from Vernal, heading south to the Pelican Lake boat ramp.
The excitement would build as we arrived at a perfectly calm lake with bulrush surrounding the shorelines and heard the calls of the yellow-headed blackbirds. Bugs were everywhere, but it didn't matter. You just wanted to jump in the boat and catch bluegill all day long!
As a kid, Pelican Lake was the most fun place you could fish in the whole world. I vividly remember days of catching so many bluegill and bass that my thumb was raw from taking them off the hook. I also remember catching bluegill so big that my little 7-year-old hand had to lip them because I could not physically get my hands around them — they were huge!
This was the Pelican Lake of my childhood and now, as a regional fisheries biologist in my hometown, it's my job to restore this fishery to its past glory. If you've ever fished the lake, you know what I'm aiming for — Pelican Lake of the '90s is a lofty goal — but I have a strong personal and professional interest in making it work.
Solving a carp problem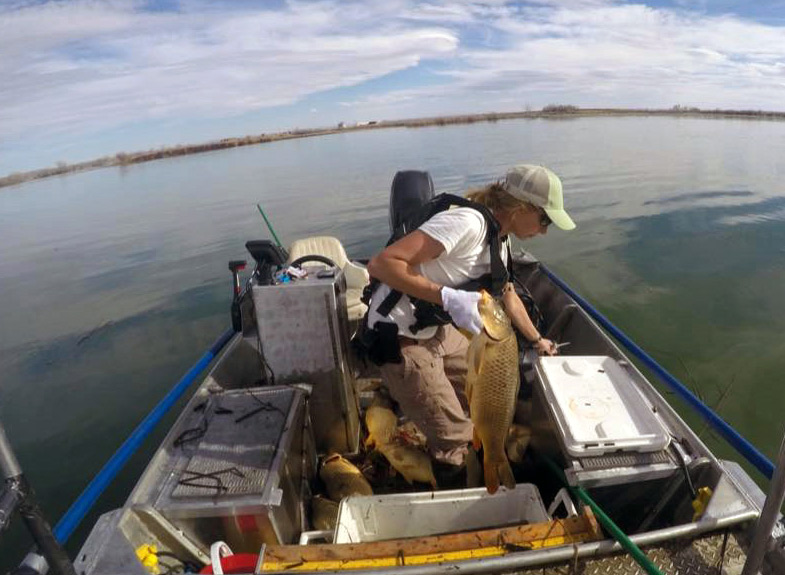 The dramatic increase in adult carp in the late 2000s slowly tipped the ecological scale.
Pelican Lake's decline can be linked to several major events in the late 2000s. Those events caused an influx of adult common carp to be swept into the lake's direct water source. Pelican always had a few carp swimming around, but this dramatic increase in adults slowly tipped the ecological scale. Predators in the lake could no longer keep up with carp reproduction. The carp were so abundant that water clarity steadily declined to the point of no return.
Regional managers — along with a newly formed management team for Pelican Lake — weighed all the options, and we ultimately decided we had to get rid of the carp. It took several years of planning while we waited for water levels to drop a point where nearly all the bulrush was out of the water.
Pushing the reset button
Then, we had a terrible water year in 2018. Reservoirs throughout the state were very low, and Pelican's irrigation releases finally allowed for a treatment. In October of 2018, we used rotenone to reset the Pelican Lake system. (As a fisheries biologist, my biggest wish is for a product that could target a single fish species and leave the rest for anglers to enjoy.) It's very difficult to have to reset an entire lake to remove an invasive species, but deep down I know it's essential if we want to grow mega-sized bluegill again.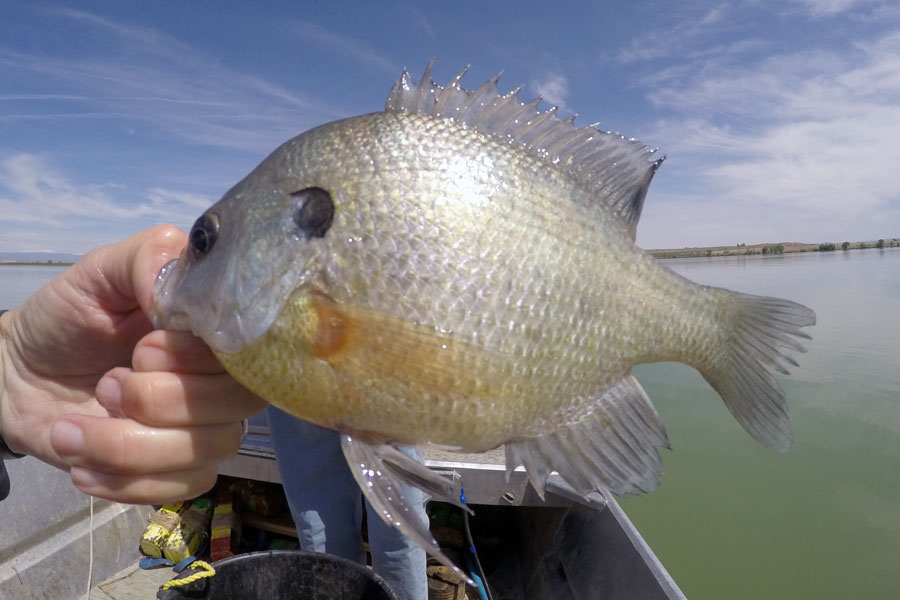 Anglers are already seeing some big bass and bluegill that were immediately stocked back into Pelican Lake
Many anglers don't realize just how much planning goes into a treatment and restocking/rebuilding plan like the one at Pelican Lake. We spent years trying to obtain disease-free certifications and then to collect and transfer adult bluegill and bass from a secure source to some privately owned salvage ponds. I am thankful every day for the amazing private landowners who help our team with projects like this! This partnership has allowed us to have a disease-free brood stock of high-quality largemouth bass and bluegill. And because of this partnership, anglers are already seeing some big bass and bluegill that were immediately stocked back into Pelican Lake.
These fish have already spawned successfully in 2019, producing a very strong crop of both young-of-the-year bluegill and largemouth bass. In addition to these adult fish, Pelican will get about 80,000 purchased bluegill (3-4 inches long) in September of 2019. As we work to establish bluegill this year, we will also be purchasing a large batch of largemouth bass (15,000-20,000 fish) that will be stocked in the spring of 2020.
Giving it time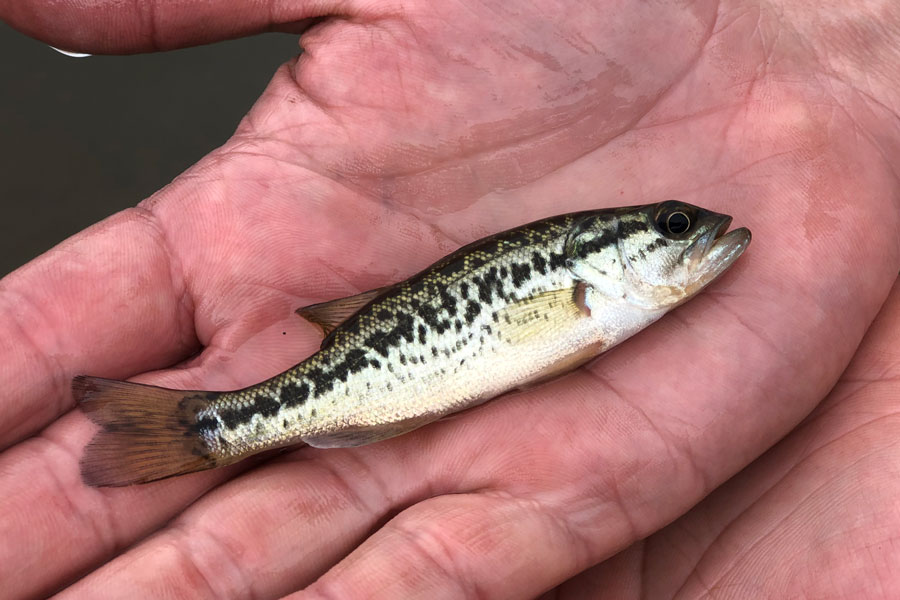 Give it a few years and this place will be an outstanding fishery again!
Anglers should be getting excited — I sure am — but I also know that as hard as I am working to rebuild this fishery, it will still take time. Time to get overall numbers back up, time for these bluegill and bass to grow, and then more time for them to add that famous Pelican Lake girth. Give it a few years and this place will be an outstanding fishery again!
With that in mind, please be patient and give Pelican Lake's fish populations the space and time they need to recover. Next spring, when bluegill and bass are spawning — and you want so badly to catch them right off the spawning beds — we encourage you to let them spawn and guard their fry.
Pelican Lake can be incredible again, and I'm confident it will be. Everything is back in place: clear water for sight-feeding fish, abundant aquatic plant growth, huge numbers of aquatic insects in the weed beds, crayfish, minnows and snails. The water clarity in most of the lake (inlet area excluded) is back to around 10 feet or more. This is something I haven't seen since I was a teenager, and it is critical to success at Pelican Lake.
Removing the sediment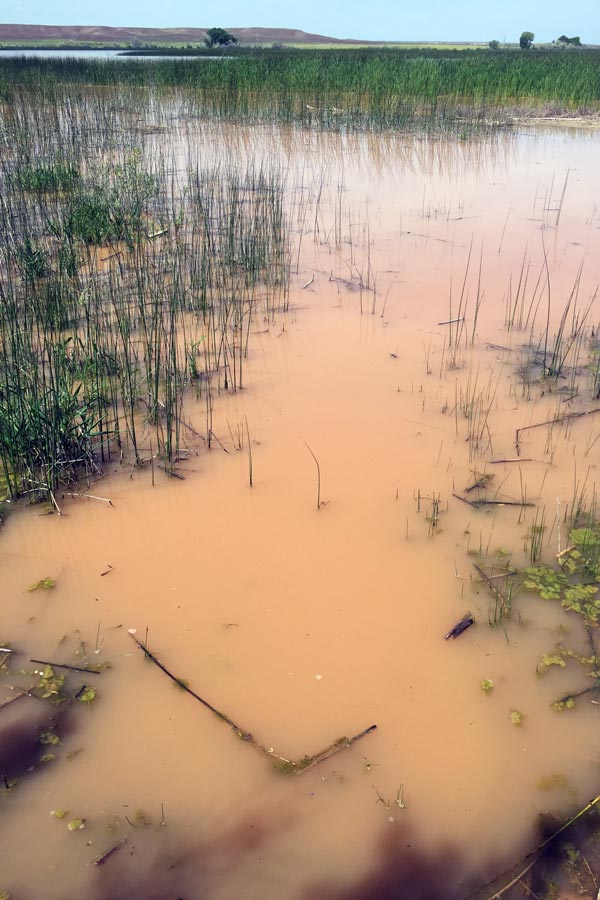 We have also been working on practical, achievable solutions to reduce sediment loads.
There's one other major issue we have been tackling at the lake. Sediment has been moving into the lake via inflow from the canal system. For decades, thousands of cubic yards of sediment have been washed downstream, ending up in Pelican Lake's northwest corner. Acres of once-open water are now inaccessible, full of thick bulrush and red sediment.
As we worked to remove carp — one cause of the water clarity problem — we have also been working on practical, achievable solutions to reduce sediment loads into Pelican. If we don't do something about the sedimentation, our children will not have a Pelican Lake to fish. It will continue to fill in and become the same wetland marsh the north side of the lake has become.
We are currently working on a multi-phase project — including a sediment catch basin — that will allow us to remove some of this sediment before it reaches the lake. We are also partnering with several landowners to make improvements to the canal that will protect it from severe erosion and increasingly common flash flood events.
The rebuilding and restoration of Pelican Lake has been a complex process, involving many Division staff, dedicated anglers, private landowners and time. It has taken years to get to this point, involving countless hours of failed funding attempts and finally one success to be able to start Phase I of the sediment project.
Looking ahead to the future
So, as someone who holds Pelican Lake near and dear to my heart, I will continue to work toward success for this project. I will keep your children and mine at the forefront of achieving our goals for success at Pelican Lake. I look forward to keeping you updated on its progress and hope to see you enjoying the lake with your family, children and friends, just as I did throughout my blessed childhood.
And as a final note, I just want to thank my dad — you always took me fishing, showed me how spectacular our world is and taught me to appreciate everything I work so hard for. I wouldn't be where I am without you!