Backcountry fishing at its finest
The romance of adventure in Utah's high country
By Alex Hansen
DWR Northeast Region outdoor recreation specialist
For many years now, my brother has been asking me why I put so much work into wilderness hunting and fishing trips. Each time I invite him along on a backcountry trip he says he can hunt and fish from home.
Why would he want to deal with pack animals and ride a horse for six hours to sleep in a tent?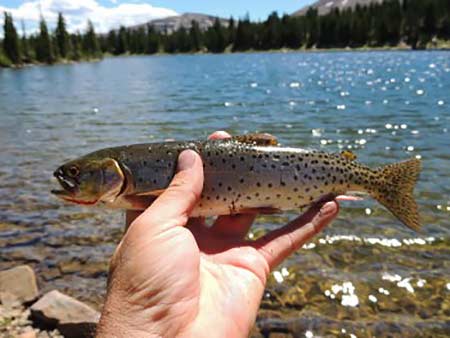 A cutthroat trout out of Lightning Lake.
My wife often tells me that I am anything but romantic but in a way I suppose there is nothing as romantic as heading into the high country with pack train in tow looking for a new adventure.
My romance with backcountry recreation began shortly after I married the rancher's daughter in 2001. She grew up anticipating the annual pack trip into the High Uintas Wilderness Area each summer with her family. After having experienced a few summer fishing trips with the in-laws my interest in wilderness hunting peaked.
Still young and naive I skipped a week of college classes, borrowed a couple horses from my wife's family and invited myself on a wilderness elk hunt with a neighbor. Now, several years later and hopefully a little more experienced, I have recently returned from a summer trip and am planning a return for the archery elk hunt.
To answer the oft-repeated question of my brother, I suppose the best way to describe my obsession with backcountry recreation is adventure. Pure and simple, from the time you leave the trailhead until you return anything can happen; ranging from pack wrecks to setting your sights on a great buck or bull as well as some of the best fishing in the state.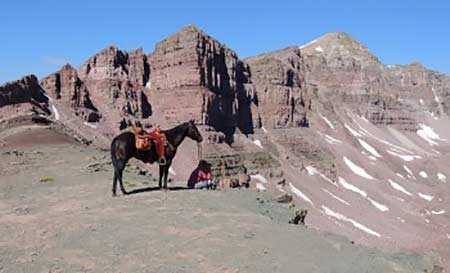 The top of Dead Horse pass.
The best advice I can dispense after many mishaps and successes is this: plan for everything you think might happen and pack no more than you absolutely need, this includes your sleeping bag. My brother in-law actually left his at home on a very rainy October elk hunt, and to this day he gives me a hard time for not sharing mine.
Which reminds me, the second best advice I can share is to make sure you get along well with your travelling companions. Things don't always go well and a sense on humor is crucial.
I would like to invite you to think about making your own adventures in the backcountry, though not all at once, I might add, because there is nothing better than feeling that you are fishing an untouched lake or moving in on an elk bugle that actually came from an elk. Perhaps you want to begin as I did with a summer fishing trip. To help prepare you for fishing the high Uintas, allow me to report on my trip.
During the four days of the trip my companions and I fished a total of four lakes. I tried several different tactics including wet and dries on a fly rod, spinners and fly and bubble rigs. The beauty of fishing so far from the beaten path is this: the fish see very limited pressure and will take nearly anything that draws their attention, although they can be finicky at times. For the best results, fish in the morning or evening, however I have had great success mid-afternoon, especially during the fall hunts.
Day one: We hit the Rock Creek trailhead below Upper Stillwater Reservoir first thing in the morning, packed up and made the 14-mile trip into the head of Fall Creek. The ride was pleasant and rather uneventful; uneventful is a good thing on a pack trip. When we made it to the basin we decided to camp by Ledge Lake (not too close since the U.S. Forest Service requires camps to be at least 200 feet away from any water source).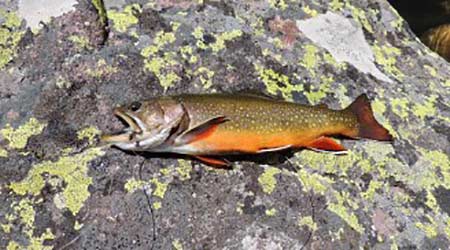 A brook trout out of Helen Lake.
After setting up camp and securing the horses we walked to the lake to wet some line and tackle. I elected to use my fly rod, this proved to be a small mistake since the only bit of open shoreline free of tree and brush was wet meadow (I was wearing riding boots not waders).
After catching a very nice spruce I moved to the wet meadow where I did Mr. Pitt proud (A River Runs Through It) by landing a nice brook trout. The other guys were doing much better with lures but my pride told me I was practicing a purer form of art (or some such nonsense) so I stuck it out with the fly rod teasing fish and catching vegetation. As a side note, a float tube and or a good pair of chest waders could make fly fishing more productive if you have room to bring them along.
Day two: We parked the pack animals and took the riding horses west toward the head of the Rock Creek Drainage. This leg of the journey took us over a portion of the Highline Trail where we experienced phenomenal scenery all the way to Helen Lake. Here we pulled off the trail where we settled in for some fishing and a trail lunch. After a slow start with a variety of spinners one of the guys tried a gold Jake's Spin-A-Lure with red dots that worked very well. I didn't have one, (I will explain this later) so I decided to try fly-fishing again. The lakeshore at Helen is pretty open and the fish were taking bugs from the surface so I tied on an Adams Parachute for some sight fishing; this was a lot of fun and worked well.
Few things compare with tossing a fly in front of a trout in a cold clear lake and watching it take it. After the excellent fishing at Helen we moved to the west a short piece to give Lightning Lake a try. When we got to Lighting Lake I borrowed a gold Jake's and it was "fish on" until we decided to head back to camp.
Day three: Back to Ledge Lake for some morning fishing, I tried everything and came up empty until I tried a purple woolly bugger (sparkle bugger) behind a bubble. Then a relaxing morning on the lake turned into a fish nearly every cast until a very nice brook trout relieved me of my fly and leader (I blamed this on a rigging mistake caused by a too small swivel).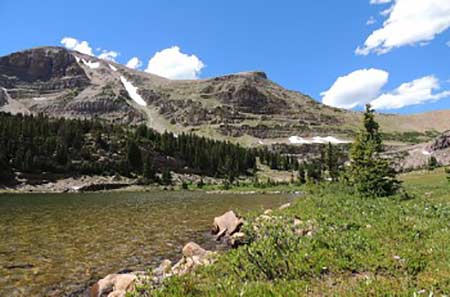 The view at Lightning Lake.
Later that day, after riding to the top of Dead Horse Pass to take is some more amazing scenery we dropped back into the Fall Creek Basin to fish Continent Lake. Here, I continued to experiment with the fly and bubble technique even though my new found gem was gone. I might mention that I didn't exactly bring an overly impressive selection of tackle do to the recent loss of my fishing bag. As a self proclaimed expert on well, pretty much everything, I must dispense a little parental advice at this juncture; if you ask your kids to put the fishing gear away it might be a good idea to tell them exactly where you want them to put it.
Okay, back to fishing. After trying BOTH of my lures, the borrowed Jake's and a few dry flies, I tied on a prince nymph with a gold bead head (behind a bubble) and began catching fish with reckless abandon. Maybe I am exaggerating a bit, but this setup consistently produced fish including some nice brook and cutthroat. I was fishing on the east end of the lake and was picking fish up off the rocky bottom in only a few feet of water. The other guys were doing well with spinners in the deeper water off the north bank but I stuck to the shallows.
After leaving Continent Lake we headed back to camp in anticipation of a coming storm where we ducked out of the rain for awhile. The rain put a damper on our plans to fish Phinney and Anderson Lakes just east of camp, but a little rain in the high country is to be expected.
I once spent six days bow hunting in the Uintas with nary a break in the clouds. Maybe my brother has a point, or maybe not. The important thing is to plan for everything you think might happen and pack no more than you absolutely need. (Sleeping bags and raingear WILL be needed.)
If you're ready to find your own fishing adventure in the high country now is a good time to take a trip into the High Uintas Wilderness Area. Check this page for more info on the High Uintas Wilderness Area. And for stocking information, check the DWR fish stocking website information. Thanks for reading and happy fishing!