When a plan comes together
Training dogs, hunting ptarmigan and beginning the Upland Game Slam
By Jason Robinson
DWR upland game coordinator
I love it when a plan comes together. I had two big goals going into upland game season this year: first, to share with folks my excitement about Utah's new Upland Game Slam program, and second, to train two breeds of dogs to hunt with me simultaneously. Crystal Ross recently wrote a blog explaining the slams and mentioned that I would be participating and writing a follow-up.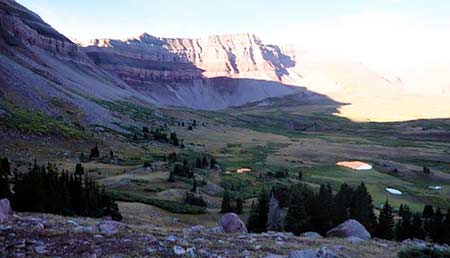 Ptarmigan habitat in the Uinta Mountains.
The Slam concept is a great way for upland game hunters to set goals and accomplish them while — at the same time — generating funds to help Utah upland game species. As an avid upland game hunter, I have been very excited about the slam. It took a lot of planning and cooperation to get it off the ground this first year (thanks to our sponsors), and we really encourage hunters to participate.
Here's how the plan to complete my first slam came together.
Quite a few years ago, while hunting with my black lab, I had an idea. Why not hunt both a lab and a pointer together? A pointer to cover large amounts of area and locate birds, and a lab to retrieve any (and hopefully all) birds shot.
For the past 18 months, I've worked on bringing this idea to fruition. I have been training my yellow lab, Gauge, and my brittany, Trigger, to hunt with me together. Gauge hunts very close, usually within 30 yards, and Trigger hunts out much further (50–200 yards). Gauge is trained to whoa (stop instantly) to Trigger when he is on point.
You may wonder why I've spent all this time training two different breeds to hunt together. The answer is simple: to maximize birds in the bag and to achieve the most versatile hunting pack possible. The versatility is critical for hunting all the different species of upland game in Utah. I love variety (which will help with the Upland Game GRAND Slam as well). I firmly believe variety is the spice of life.
This was the first hunt after completing their training, and the true test of my two-breed training plan.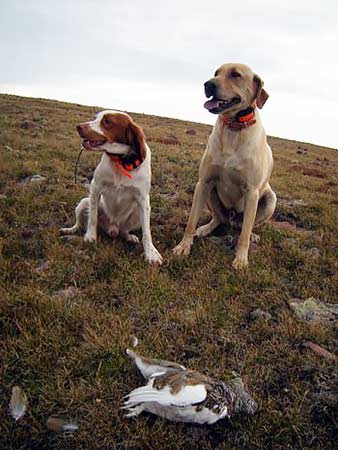 Trigger and Gauge with one of their ptarmigan.
I decided to chase white-tailed ptarmigan for my first slam because it's the first season to open and, in my opinion, the most challenging upland species in Utah. White-tailed ptarmigan are one of three species of ptarmigan native to the alpine tundra of Colorado. Fifty-seven were introduced into the Uinta Mountains in 1976 by DWR. The birds have done very well since that original release.
These birds live their entire life in the alpine tundra. For Utah, this means staying above 11,000 feet elevation.
The second stage of preparation for the hunt, after the dog training, began with the assembly of a bunch of gear. I decided to hunt solo, although my wife and our 3-year-old boy were staying in a nearby hotel on a mini vacation splashing around in the pool. Believe it or not, my wife was a little upset she wasn't joining me on the hunt.
I decided to hunt solo because I can cover a lot of ground by myself, and second, I really didn't know if my training plan was going to work. I didn't want someone to go to all the trouble of getting to ptarmigan habitat and then have my dogs blow it for them.
So off I went for the 12,000-foot peaks of the Uinta Mountains. What a beautiful place to hunt!
My trek started at 7 a.m. After more than four hours of hiking, our training was put to the test. Trigger was 147 yards to my right. Up wind, straight ahead of me, I saw a flying ptarmigan. I quickly took Gauge to where Trigger was located. Both dogs were birdie at the sight. I was sure Trigger had flushed one or more ptarmigan.
I started working the dogs towards the location I thought I saw the bird fly. All at once, Trigger went on point, 100 yards ahead of me. I told Gauge to heel next to me as we approached Trigger. I could see about 15 ptarmigan standing, hiding up wind of Trigger. As Gauge and I approached, the birds erupted — white and gray blurs. I fired two shots; each one harvested a bird.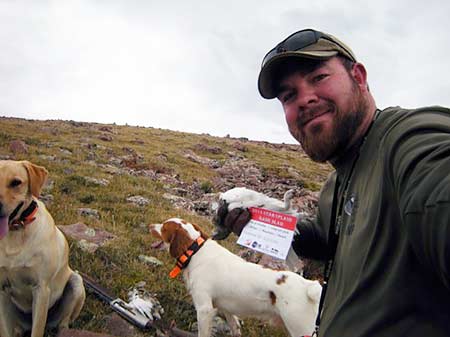 Jason's selfie with the dogs and their first white-tailed ptarmigan.
Gauge brought one back instantly. Trigger, trained to break point after the shot, was working the area. He found the second bird and brought it back to me.
I took a little time out to enjoy the moment. Euphoria, 12,000 feet above it all, alone with my dogs. Life is good.
I decided to find some birds a second time. We circled downwind of where the birds flew. Once again, Trigger went on point about 200 yards from where they first flushed. I approached Trigger with Gauge at heel. A single bird flew up, one shot fired, and the bird went down. Gauge retrieved immediately.
I could not be happier with Trigger and Gauge's performance. I love watching my dogs work and experience new adventures with me. I accomplished my first Utah Upland Game Slam: the First Fur or Feather Slam.
Even though this story is short, the amount of time, effort and planning was immense. Many folks were involved in planning and implementing the Upland Game Slams. I have spent a lot of time and effort training my dogs and planning this hunt. That day, Trigger covered 19 miles, Gauge covered 12 and I covered eight. My plan came together and it was a success.
I encourage you to join in on the Upland Game Slam fun, help Utah upland game and go have your own adventures!