Eight New Year's resolutions for anglers
New ways to enjoy fishing during the coming year
By Crystal Ross
DWR social media coordinator
Christmas is behind us and we're looking ahead to 2015. We thought of some resolutions for the fishermen and women in Utah.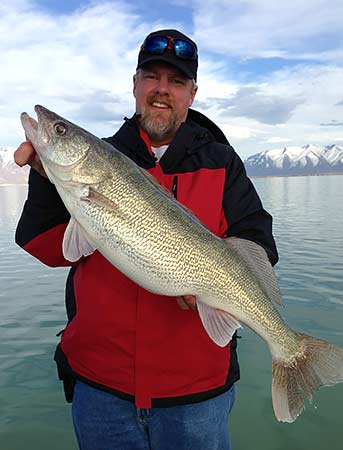 Learn to catch walleye in 2015!
Teach a child to fish. So you love to fish? Pass on the passion by showing a youngster how great it is to feel that tug on the fishing pole. Community ponds are the perfect place for this.
Fish for something new. Utah is home to an abundance of fish species. Consider targeting something you've never caught. Maybe you're ready for the challenge of walleye, or a big tiger muskie.
Try tying your own flies. Here's an opportunity to be creative and economical. Tying flies is a good skill to learn — especially during bad-weather days.
Enter tournaments. Make it a family affair! Pack up your gear, head outdoors, catch big fish and win big prizes. There's a whole heap of fishing contests in Utah — especially in the wintertime.
Visit at least 5 of Utah's Blue Ribbon fisheries. Anglers come to Utah from all over to visit some of our exquisite waters. You're lucky enough to live here; why not check out a few you've never seen?
Take more pictures of your catch. Back up your fantastic fish stories with lots of good photos. Your friends and family will want to see them, and you'll likely want to look back at those memories. You can also send them to us on Facebook and we'll consider sharing them there.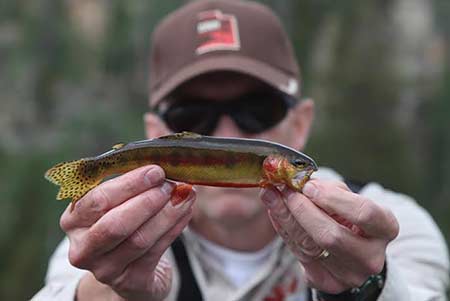 You can catch golden trout in the Uintas.
Help conserve our fisheries. Make it a point to improve Utah's waters by preventing the spread of invasive mussels. You can also participate in the Burbot Bash at Flaming Gorge.
Feed your family. Keeping the fish you catch — up to your legal limit — is the key to providing fish with the food they need to grow. So keep your catch and cook it up for the fam! (Need recipes? Check out our board on Pinterest.)
These are attainable, right? What would you add to the list?