National Bison Day means more in Utah
Utah's Henry Mountains hold one of the country's few remaining free-ranging bison herds.
By Morgan Jacobsen
DWR Southeast Region outreach manager
When Dr. William Goetzman introduced a starter herd of 18 bison into southeastern Utah's San Rafael Desert in 1941, it's unlikely he understood the impact his effort would have generations later.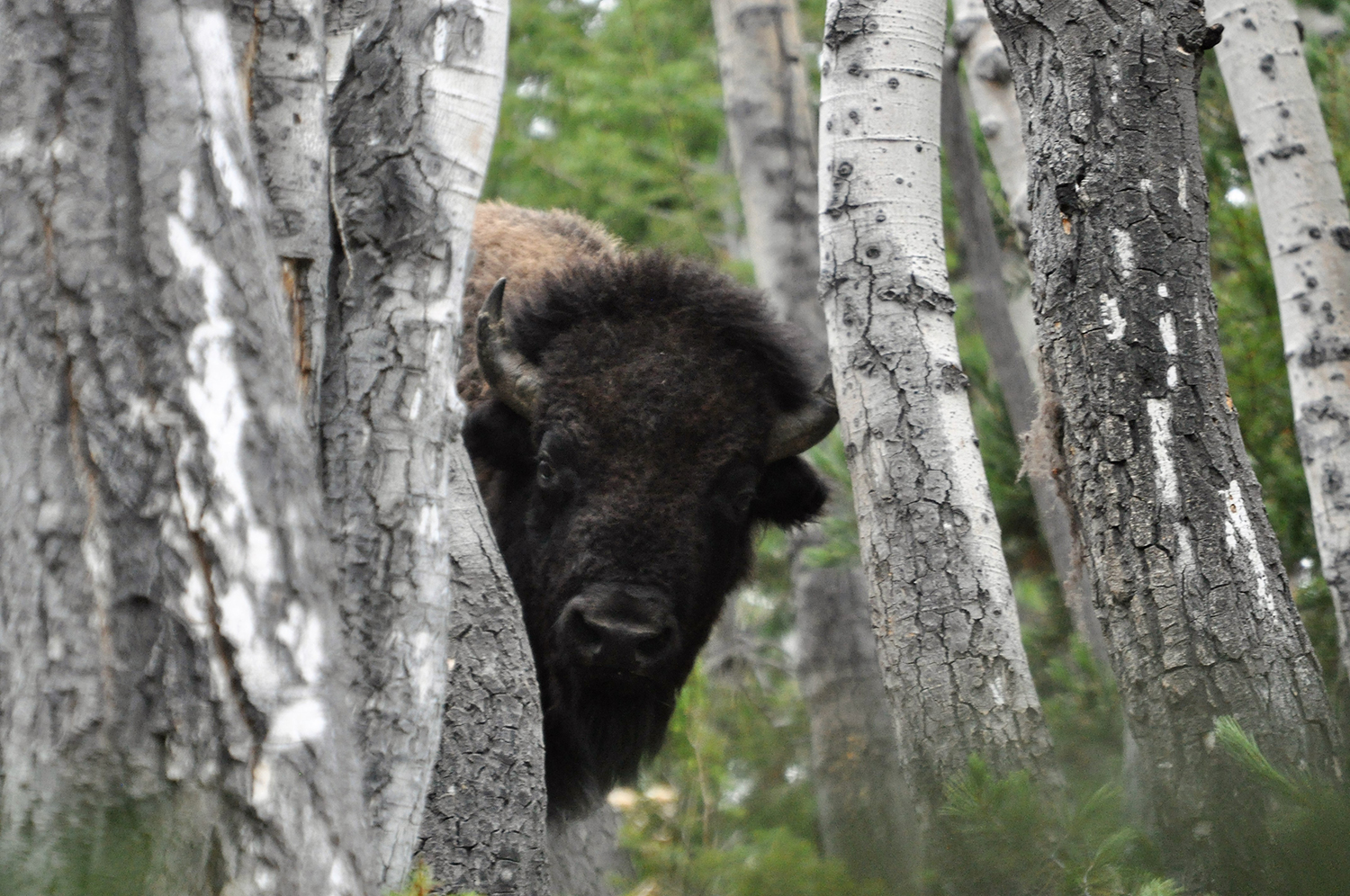 One of the genetically pure, free-ranging bison in the Henry Mountains.
Perhaps Goetzman, who earned the moniker "Buffalo Bill" as chairman of the Carbon-Emery Wildlife Federation, could imagine only a dream of what existed in the early 19th century: 30 million bison traversing a fenceless wilderness of plains, rivers and mountain ranges in an exodus of extraordinary grandeur. It's a landscape that would become an icon in Charles M. Russell paintings, a scene from older times that lives fondly in the imaginations of sportsmen everywhere.
But in Utah, the reality of wild, free-ranging bison and the opportunity to hunt them are far from extinct.
Goetzman worked in cooperation with the Utah State Department of Fish and Game (now the Utah Division of Wildlife Resources), the United States Division of Grazing and local stockmen to transplant the small sample of bison from Yellowstone National Park to Utah. Not long after its introduction, the herd began to multiply and occupy the Henry Mountains.
Today the Henry Mountain bison herd is 325 animals strong. It's one of only six free-ranging bison herds on public land in the country and is one of only two herds that maintain a status of being both disease free and genetically pure.[1] And since its introduction 75 years ago, the herd has afforded nearly 2,800 hunters the coveted opportunity to pursue a keystone game species in a truly wild and challenging setting.
No longer is this thriving herd the product of Goetzman's efforts alone, but of extensive collaboration today between state wildlife managers, federal and state land management agencies, sportsmen, and stockmen.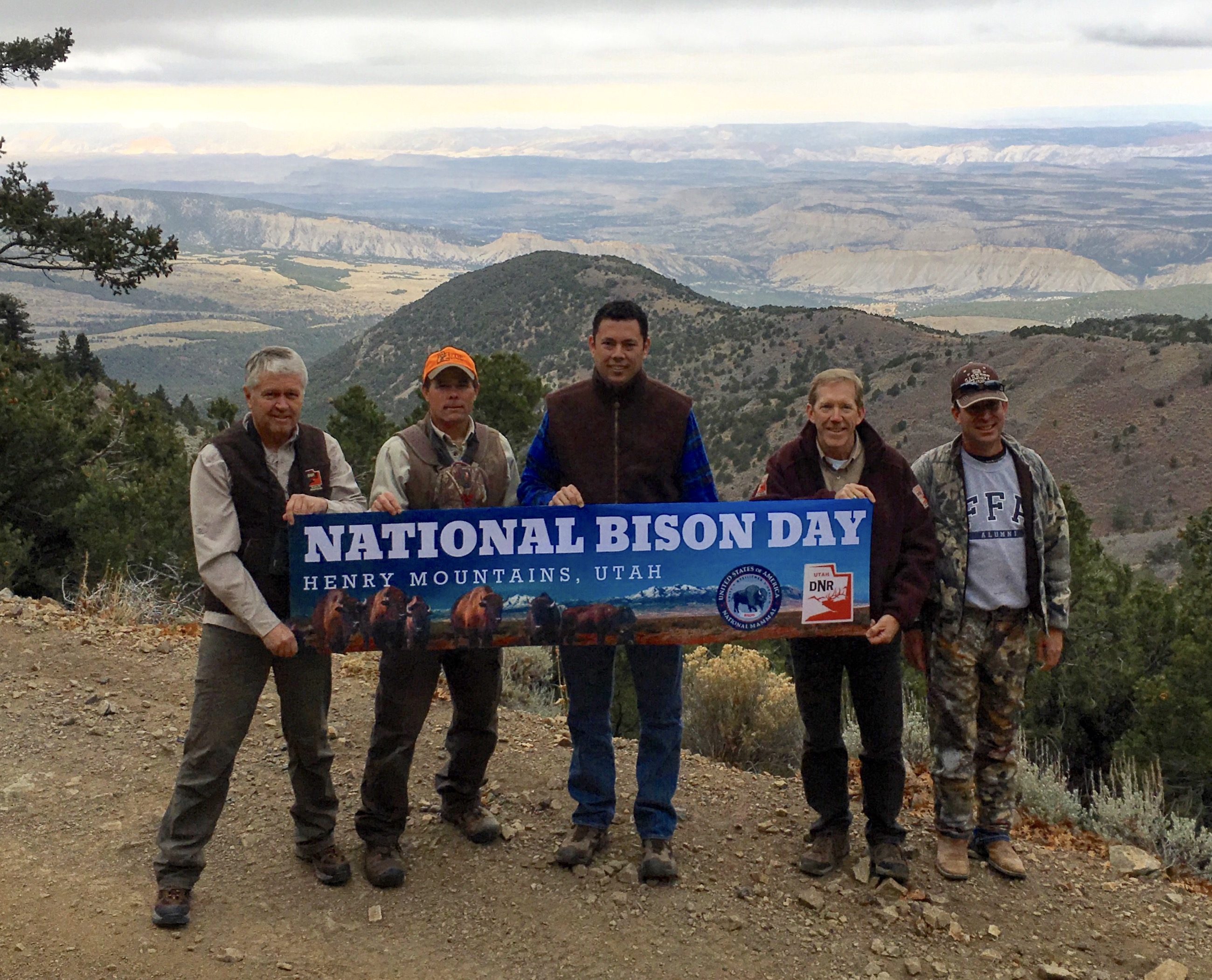 Bill Bates, Wade Paskett, Jason Chaffetz, Greg Sheehan and Wade Garrett in the Henry Mountains.
"It's incredible. Utah's really one of the few places where a person can get a once-in-a-lifetime permit to hunt a trophy bison in such a wild situation. It's a tough hunt, and sportsmen love it," said Bill Bates, wildlife section chief for the DWR. "We're really lucky that they did what they did. It's pretty incredible what turned out from a pretty simple act.
"This is really a model for us all to learn how to work together," he said.
This year, Utah's free-ranging bison population, which also includes a herd of 200 animals on the Book Cliffs, was recognized by Congress while establishing the North American bison as the national mammal. The National Bison Legacy Act was signed by President Barack Obama in April. Utah Rep. Jason Chaffetz spoke in support of the act and pointed to the Henry Mountain herd as the standard for cooperative bison management.
In September, the U.S. Senate designated Nov. 5 as the fourth annual National Bison Day to celebrate the "historical, cultural, and economic significance of the North American bison to the heritage of the United States." [2]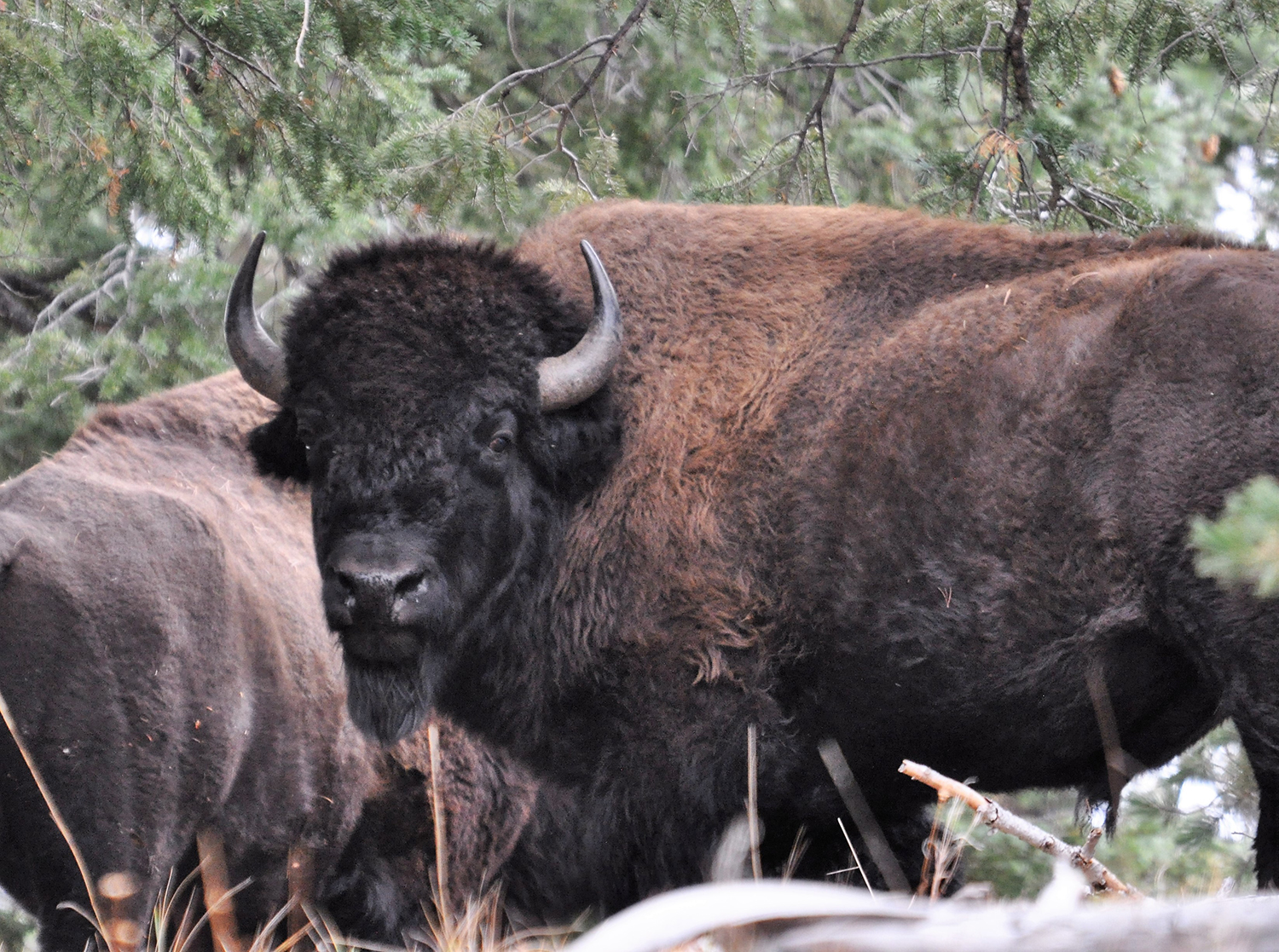 A bison on the Henry Mountains.
In recognition of this year's National Bison Day, I and other representatives of the DWR traveled to the Henry Mountains with Chaffetz. It was a cool November morning, and the mountain peaks pierced the low-hanging clouds, like pillars supporting a gray ceiling over the floor of the San Rafael Desert. The bison were there, and we approached in quiet excitement. We watched and listened as five bulls left their pinyon juniper loft and crashed their way through a pocket of quaking aspens below.
Later, I asked Chaffetz what he thought of the Henry Mountains and the wild bison. For him, it was a taste of what wildlife managers and sportsmen feel for such places, where every impression can feel like an unforgettable first.
And we realized coming down the mountain that when it comes to National Bison Day, Utah has more reasons to celebrate than perhaps any other state.
"This is a gem in Utah," Chaffetz said. "When you see a bison and you see the strength that it represents, it's a really good symbol for the strength of the United States of America, and it's got a special place, I think, in everybody's heart. We've got to continue to manage this herd so it lasts for generations."
[1] B. Bates, K. Hersey (2016). Lessons Learned from Bison Restoration Efforts in Utah on Western Rangelands. Rangelands, Vol. 38 (Issue 5), pages 256-265. http://www.sciencedirect.com/science/article/pii/S019005281630058X

[2] S.Res. 572 – 114th Congress: A resolution designating November 5, 2016, as National Bison Day. www.GovTrack.us. 2016. November 10, 2016. https://www.govtrack.us/congress/bills/114/sres572