How the purchase of a historic power plant will improve a fish hatchery
Mitigating for destruction of part of a nationally listed historic property
By Justina Parsons-Bernstein
Heritage, interpretation and ADA resources manager for Utah State Parks
Over the winter of 2014–15, the Utah Division of Wildlife Resources (DWR) purchased the historic Big Springs Power Plant. This property is also known as the Fountain Green Hydroplant and is located adjacent to the Fountain Green Fish Hatchery.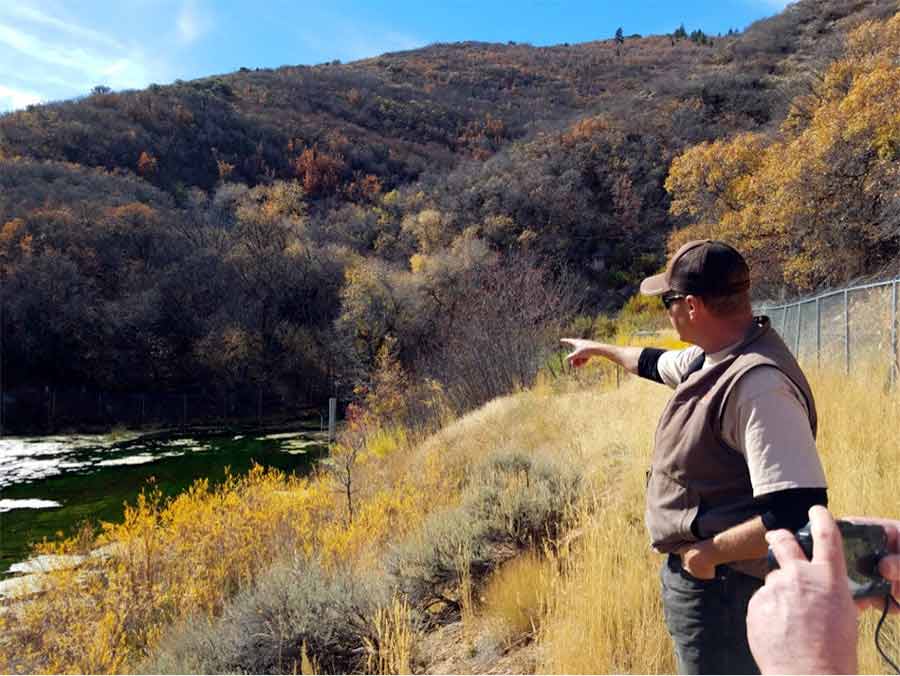 Hatchery supervisor Eddie Hanson shows DWR archaeologist Monson Shaver the historic reservoir associated with the Big Springs Power Plant.
Pacificorp decommissioned the power plant in 2014 because of increasing maintenance challenges. The parcel totals nearly an acre and includes water rights to the spring.
Why did the DWR buy a power plant?
The purchase of this power plant will aid the Division of Wildlife Resources in keeping a disease-free operation at the Fountain Green Fish Hatchery by switching from an open-reservoir water source to a covered and piped-at-the-source system.
Though these changes will help keep disease-causing contaminants out of hatchery waters, they come at the cost of destroying a 100-year-old dam. Big Springs Power Plant and its associated structures, including an earthern dam, were listed on the National Register of Historic Places in 1989.
Big Springs Power Company was formed in 1902 and its power-generating operations contributed to the development and spread of electrification in Utah and the West. Because the dam is a listed historic feature, DWR had to undertake mitigation steps to compensate for its destruction.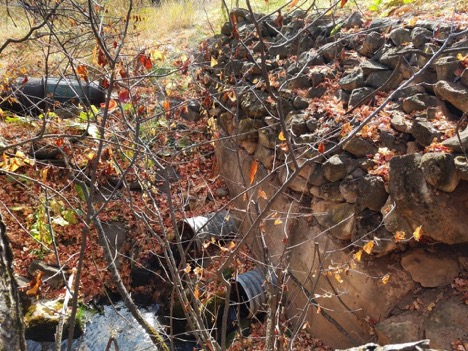 Hatchery supervisor The power plant earthen dam that was destroyed in Spring 2017 to make water security improvements for the hatchery.
Mitigation plan
The mitigation plan proposed by the Army Corps of Engineers and agreed to by DWR Archaeologist Monson Shaver included taking photos of the structure and its demolition, conducting oral histories of former plant employees and publishing accounts of the history of the plant and DWR mitigation efforts in the Division's blog and in an area newspaper.
Oral histories were obtained from Larry Gilgen, Big Springs Power Plant manager from 1973 to 1985, and Wayne Barnes, plant supervisor from 1985 to 2014. Both men gave interesting accounts of working at the hydro plant including:
the uniqueness of a plant powered by a distant spring and situated in a field
the relationship of reservoir water level to power output
the temperamental nature of the aged machinery
the delicious perk of having a supply of fresh watercress from the reservoir to munch on throughout the summer
The complete oral interviews and a compiled history of the Big Spring Power Plant are available upon request from the Utah Division of Wildlife Resources.