Now you can keep frogs in your pocket
Download the free Utah amphibians app.
By Chris Crockett
DWR aquatics biologist
You know the frogs that keep you up at night when your windows are open or you're out camping? With the help of Utah's Hogle Zoo, we've created a smart phone app that'll allow you to finally identify those noisy, secretive critters!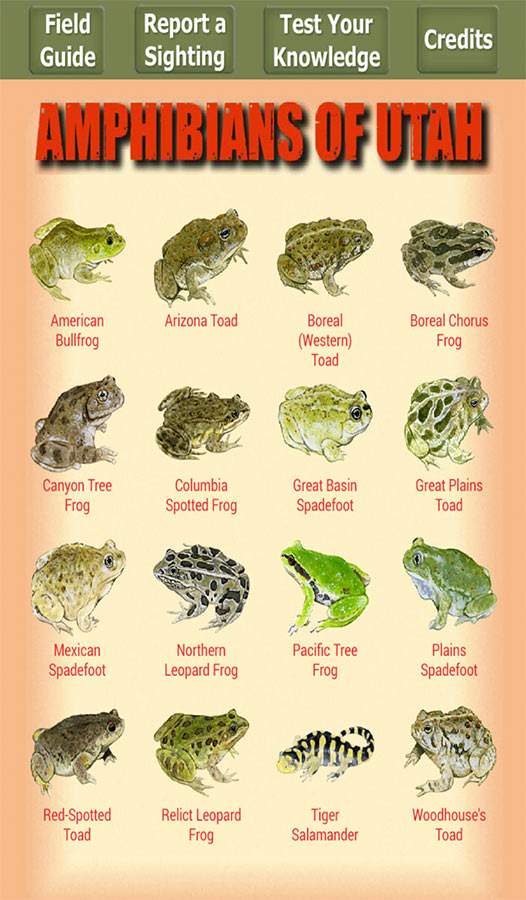 The Amphibians of Utah app is designed to be used like a traditional field guide and includes a home page for each of the state's 16 amphibian species with life history, calls and vocalizations, a map of where they can be found in Utah, and a bunch of photos of their different life stages (adult, tadpole, eggs).
There's a section for you to test your knowledge, too.
The app will also allow you to help us keep track of high-priority amphibian species. Using the Report a Sighting feature, you can submit pictures of amphibians you come across while you're out exploring the state.
DWR biologists will use your sighting information to do follow-up surveys for species like the boreal toad and Columbia spotted frog.
Amphibians are a critical part of the ecosystem, and we're excited that this app will allow you (frog lovers) to help us (frog studiers) protect their populations.
You can download the free app from the Amazon App Store or iTunes. For even more fun with frogs, follow us on Facebook. There you'll find volunteer opportunities, updates on in-state research and a whole heap of additional amphibian fun facts.
For more information regarding Citizen Science efforts or questions about the app, contact Chris Crockett at This email address is being protected from spambots. You need JavaScript enabled to view it..