The Amazing Trace: protecting wildlife by using technology
How the Utah Wildlife Migration Initiative's geofencing and monitoring applications help bighorn sheep, mule deer and other species
By Jessie Shapiro
Wildlife Migration Initiative GIS Specialist
Alert!: Between 2022-06-20 16:00:00 and 2022-06-20 20:00:00 Bighorn Sheep BS20M0011 has left Antelope Island geofence.
Receiving an email or text alert like this triggers an immediate response from our nearby wildlife biologists. When a radio-collared animal such as the bighorn sheep in this example goes outside of a specified area, we can promptly go out into the field using the pinpointed location and assess the situation. Depending on the circumstances, we might need to redirect animals moving too close to domestic livestock — which can expose wildlife to diseases and other hazards — or move them away from potential human-wildlife conflicts.
This is just one way that geofencing technology is used by the Utah Wildlife Migration Initiative. With this nearly real-time information, we're also able to identify barriers to wildlife migration, monitor access to food resources, track and mitigate disease transmission, investigate causes of death and more.
What is geofencing and how does it work?
Very simply, geofencing is a virtual perimeter that can be based upon any set of predetermined geographical boundaries. You may be familiar with geofencing in a few ways, such as smart home technology that automatically turns off the lights when you leave your house, or locally targeted advertising on social media if you have your location settings on while using an app on your mobile device.
Similarly, we've built a geofencing feature into our wildlife tracking system that sends notifications to biologists and managers when a GPS-collared animal exits or enters a specified geographic boundary. This virtual fencing technology combines a high level of location accuracy, real-time data uploading and automated alerts for individual animals we've fitted with GPS collars. For herd animals like bighorn sheep, mule deer or elk, a representative number of collared animals can also indicate the probable movements of larger herd groups.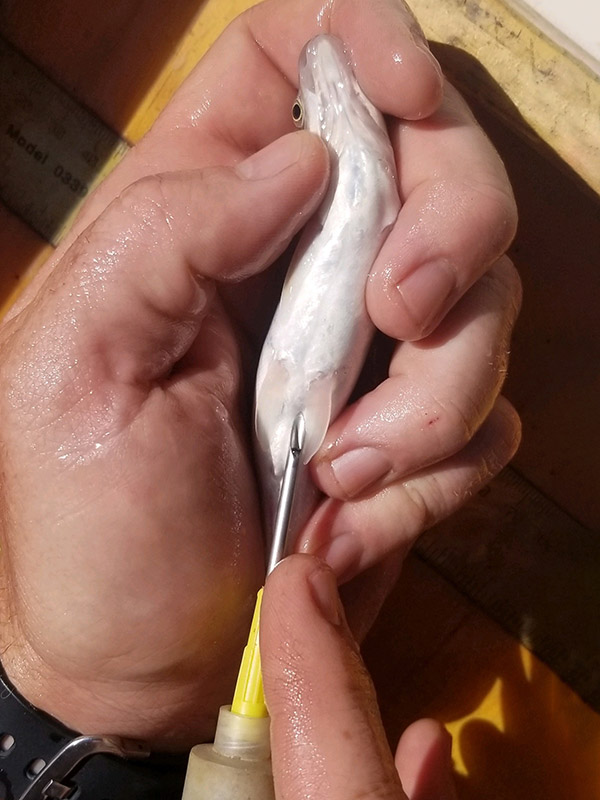 The GPS tracking devices that are fit onto our wildlife — whether radio collars for large animals or tiny passive integrated transponder tags for fish and smaller species — are linked to a wildlife tracking system made possible by utilizing cloud services. For GPS collars, the devices can record locations multiple times throughout the day. Rather than storing and analyzing the tracking data over a computer's hard drive (which can limit the amount of information we can store), we use cloud computing technology, which simply means over the internet.
Using the cloud to store our data and run analytics was a big shift for the WMI. It improves speed and performance, maintains the security needs of our sensitive tracking data and expands on our tracking features.
Tracking bighorn sheep herds in response to changing environmental conditions
In the example at the beginning of this post, we tracked a bighorn sheep that was moving out of their usual range on Antelope Island. Why does this matter? The increasingly low water levels of the Great Salt Lake provide opportunities for more bighorn sheep movement over a larger area. In turn, this creates a higher risk of pathogens — bacteria, viruses or other microorganisms that can cause disease — being spread on either the north or south ends of Antelope Island. These types of alerts help us reduce the risk of potential pathogen transmission and maintain a healthy bighorn sheep herd on the island.
For bighorn sheep, disease transfer from domestic sheep is a serious concern because these types of harmful pathogens have contributed to much of the state's bighorn population decline.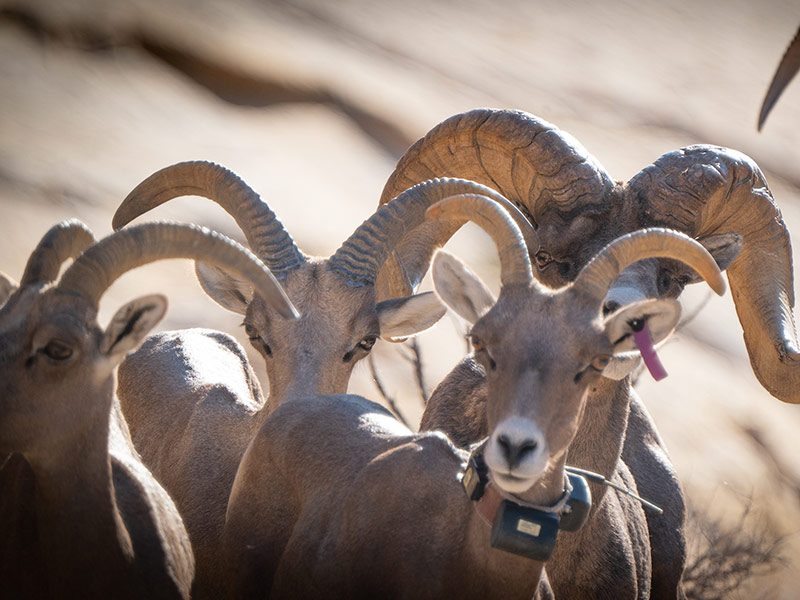 When a bighorn sheep crosses a geofence boundary, our biologists are notified immediately and mobilize a team to respond to the situation within the hour. They are then able to chase the bighorn sheep away before it comes close to intermingling with domestic livestock.
Alert!: Mule Deer MD19M0025 has entered mortality mode on 2020-02-25 @ 1:00 p.m.
As well as alerting us to wildlife movement, GPS tracking technology can also give us immediate information to identify the cause of death or serious injury for animals.
Wildlife carcasess can decompose rapidly depending on weather conditions and temperature, making it harder to figure out the cause of death. Therefore, being able to get to the site of a mortality alert as quickly as possible helps us more accurately determine how the animal died, identify what factors may have led to the event and get the best samples for any needed diagnostics.
The alert message above indicated a collared mule deer had made little movement in the past 12 hours and was likely deceased. Most of my days as a GIS specialist are spent quietly tracking wildlife behind a computer, so I took this mortality alert as an opportunity to get out of the office and tag along with our local biologist on the alert investigation.
Using a GPS tracking device, we were able to locate the collared deer very accurately. Approaching the site cautiously, we assessed the position of the carcass, looked for signs of predators and documented the surrounding area.
Little was left of the carcass from scavenging, making it challenging to determine the cause of death. We retrieved a tooth sample, collected some tissue swabs and evaluated the marrow condition from the femur bone, which was a soft pink to red with good texture indicating that the deer was a generally healthy animal when alive.
Common sources of mule deer mortality in Utah include predation, malnutrition, hunter harvest, vehicle collisions, fence entanglement and pregnancy complications. Our suspicion for this particular mule deer was likely coyote predation, but the lab results would later help us fill in the blanks.
Evaluating mortalities effectively helps wildlife management efforts like tracking disease outbreaks or providing new insights into wildlife survival in Utah. With the help of our research partners at Brigham Young University, in most cases we can dispatch a team within the day to investigate an alert.
What's next?
The cloud technology we use for the WMI has opened the door to new and scalable applications and notification systems to understand our wildlife tracking data better. And our alert system has great potential to mitigate human-wildlife conflicts to protect our wildlife. This is a unique solution that can be integrated into the management of many species populations that come into conflict with or are disturbed by human activities.
Learn more