Cutthroat trout, conservation and wildlife crime stopping
One DWR employee's path from fisheries work at Bear Lake to conservation officer at Strawberry Reservoir, with plenty of cutthroat trout along the way
McKay Braley
DWR Conservation Officer
Utah Division of Wildlife Resources conservation officers have a wide variety of backgrounds and experiences. McKay Braley — who has been with the DWR since 2015 — shares how his passion for outdoors work led from a summer job with the Bear Lake aquatics program to a career as a DWR conservation officer in central Utah.
A foundation in community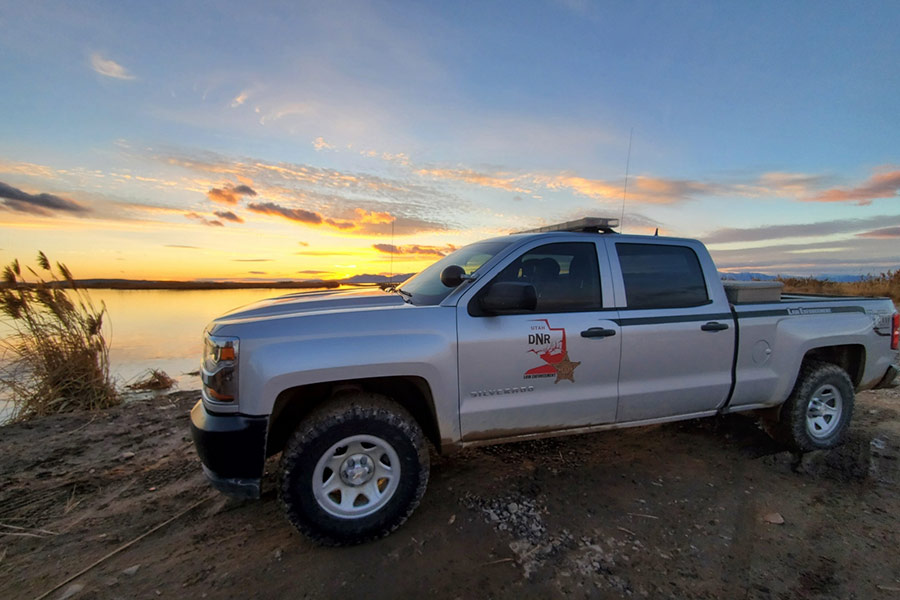 As a kid, I wanted to be a marine biologist and I've always loved learning about wildlife and the environment. My mom was a single mother, and she was a cop for the first five or six years of my life. She later became a grade-school teacher.
Because my mom was a single parent, I was raised by a village of sorts. My mom had friends she worked with who became adoptive aunts and uncles. I think I was always destined for a job in public service because I grew up with so many examples of people serving the community around me.
When I was in my teens, I met my girlfriend — who would later become my wife — and she introduced me to the world of hunting when I was 16 or 17. Around the same time, I met some game wardens at Bear Lake, which sparked an interest in that kind of career. After going on some ride-alongs with conservation officers, I knew this was what I wanted to do.
Learn about job openings
Interested in becoming a conservation officer? Subscribe to our email lists to be notified of open officer positions.
Bear Lake beginnings
In 2015, I was a junior studying environmental science at the University of Utah, and I applied for seasonal jobs all across the state. Luckily, I was selected to work as a technician for the Utah Division of Wildlife Resources at Bear Lake.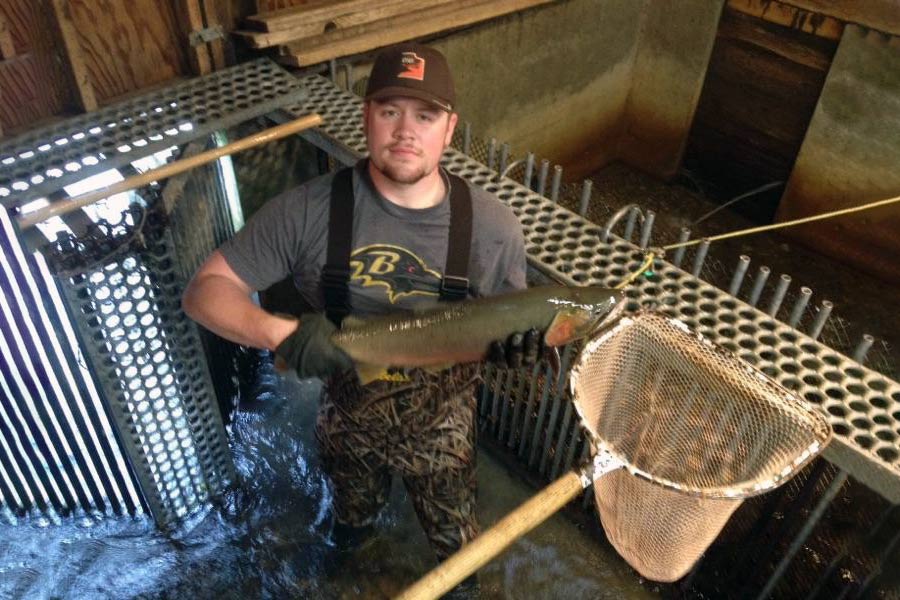 For two summers, I lived in a DWR-owned cabin and all of my work revolved around native Bear Lake cutthroat trout. We performed gillnet surveys to collect biological information about the health and population of cutthroat trout and other fish in the lake. And we posted special regulation signs around the lake to remind anglers of the seasonal angling closures for all tributaries flowing into Bear Lake. (Those closures are in place during the spring and summer to protect the spawning cutthroat trout population.)
I also assisted DWR biologists in collecting cutthroat trout eggs, which support the stocked Bear Lake cutthroat trout populations around the state.
Spawning season — from mid-April to mid-June — is especially busy for DWR aquatics staff. Each day of that stretch, when the cutthroat trout swam up Swan Creek to spawn, I put on waders and netted trout in the Swan Creek trap facility. We sorted them into male and female holding pens, and then once a week, we would anesthetize the fish and manually collect eggs and milt from them. Afterward, the fish were given time to recover and then returned to the lake.
Fertilized eggs go to a quarantine facility until they begin to develop (known as "eye-up") and are checked for disease. Once cleared at the quarantine facility, they are transferred to hatcheries across the state. This process ensures that Utah always has a viable supply of Bear Lake cutthroat trout that can be stocked in other waterbodies such as Strawberry Reservoir.
Bear Lake
To this day, some of the biggest cutthroat trout I have ever seen were during my time at the Bear Lake facility. Cutthroat trout measuring over 30 inches and 10-plus pounds were common.
During this time, I gained a sincere appreciation for the work of DWR biologists, especially the biologists who work in fisheries. Being covered in fish slime and smelling like fish almost every night is not the most glamorous part of the job, but the work itself is very rewarding.
A career shift to conservation officer
During my second year at Bear Lake, I started applying for an available conservation officer position and was fortunately accepted to serve the state of Utah.
All conservation officers complete the state's Peace Officer Standards and Training program, just like recruits for the Utah Highway Patrol, counties and local municipalities. While going through the police academy, I considered which areas of the state I might want to patrol. Some of the positions that were open at the time were Salt Lake City, Vernal, Heber and Strawberry.
After some deliberation with my wife, I decided Strawberry would fit our growing family the best.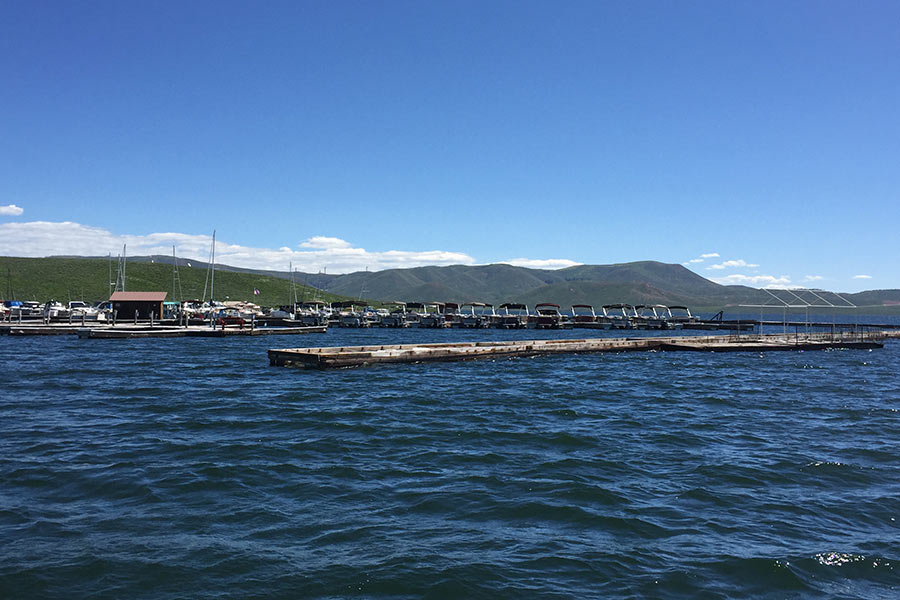 Strawberry Reservoir
From all across the state, people come to Strawberry Reservoir to fish for kokanee salmon and trout. It's a very complex fishery, and the regulations in place at Strawberry — and for other Utah waterbodies — work to support the health of the fishery and provide a great angler experience.
As I was first being introduced to the area by another conservation officer, I asked about the cutthroat trout slot limit at Strawberry. I knew the regulation stated that anglers could not possess cutthroat trout measuring 15 to 22 inches, but I didn't know why that rule was in place. The officer explained that the Utah chub had been introduced to the reservoir illegally with the intent to use live chub as baitfish. Utah chubs quickly started to outcompete rainbow trout and kokanee salmon in the reservoir, and the DWR developed a treatment plan to remove chubs.
In 1990, the reservoir was chemically treated in an attempt to remove Utah chubs, but it didn't work as well as the fisheries managers hoped. Suppressing the chub population by stocking a natural predator — Bear Lake cutthroat trout — was another part of the plan. After years of study, biologists confirmed that cutthroat trout measuring 15 to 22 inches ate the most chub. So, it was in the best interest of the reservoir to restrict the possession of cutthroat trout of that particular size. In other words, the slot-limit law is in place to help keep Strawberry a great place to fish!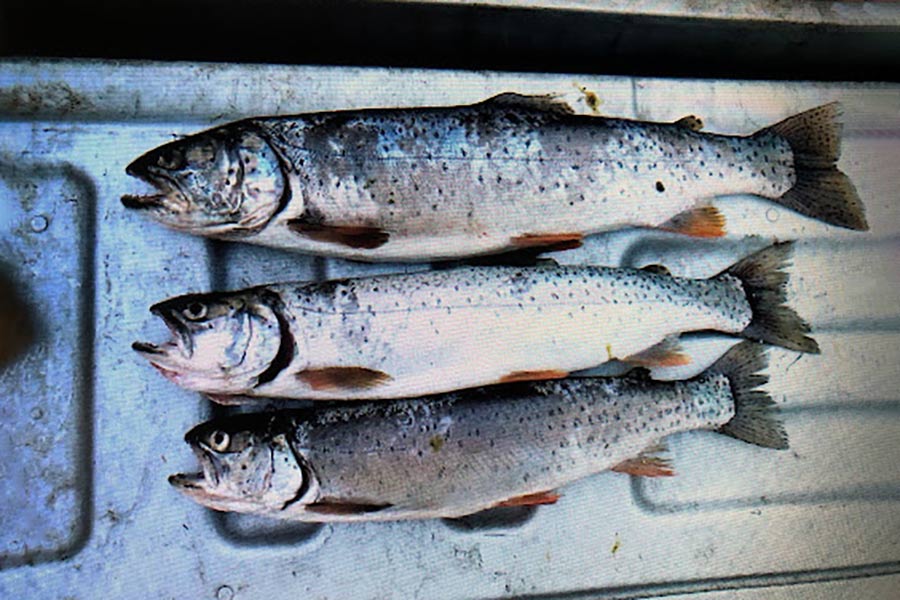 Slot-limit cutthroat trout confiscated at Strawberry Reservoir
As the other officer explained this history, we decided to check on anglers ice fishing at the Strawberry Ladders. Ironically, in one of the first contacts we made that day, I discovered an individual who had caught and kept a slot-limit cutthroat trout. I've since realized that a big part of my work at Strawberry is checking for slot-limit trout.
I've never been one to believe in fate or anything of the sort, but I do think it's one heck of a coincidence that my career started in a completely different part of the state but that I'm still responsible for the same species of wildlife. I enjoy these fish so much that they're my favorite kind of fish to cast a line for in my free time, and I even got a tattoo of one.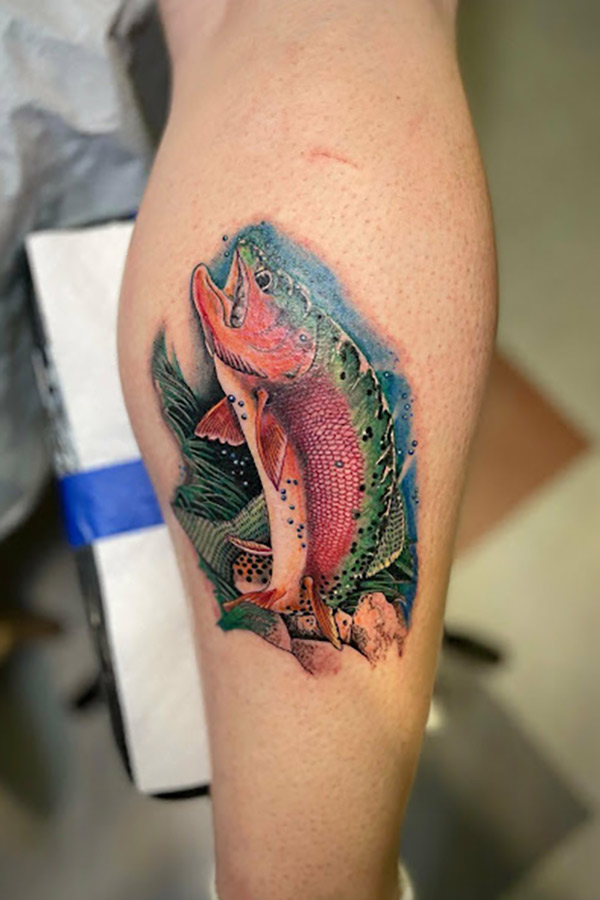 Photo courtesy of Johny X Art
Conservation and community
I enjoy almost every aspect of this career. I never liked calling it a job because, in my view, a job is something you have to do to make a living. A career is something that you enjoy, and I enjoy having new challenges every day in Utah's outdoors.
I think my favorite part of being a conservation officer is talking to people. I am a very social person, and I look forward to contact with people in the field. I genuinely want to know how people are doing when they are out hunting, fishing and recreating.
This career allows me the opportunity to be proactive with the hunting and fishing community. I'm not always responding to calls. Much of the time, I'm out and about talking to the old veteran who has hunted the Wasatch Mountains for years who wants to tell me a story about the "biggest buck he ever saw." Or meeting a first-time angler who I can share tips with for a successful fishing trip at Strawberry Reservoir.
I've met so many law-abiding people who are willing to reach out when they see something wrong or illegal. And I think I can safely speak for all our officers in saying we're grateful for the help.
Report wildlife crimes
If you witness an in-progress wildlife violation — or you're aware of a previously committed wildlife crime — please contact DWR conservation officers as soon as possible. Your four contact options are listed below in order of urgency: