How to save a condor
Hunters play a key role in this ongoing effort.
By Keith Day
DWR Wildlife Biologist
If you've ever visited or hunted in Utah's Zion country, there's a good chance you've seen a California condor. It may have been soaring high overhead or even below you, as you peered down into a red-rock canyon. If so, you know the excitement of seeing one of the world's largest and most endangered birds.
Some would say condors are ugly and maybe they're right. Beauty is in the eye of the beholder, after all. But there is something memorable and impressive about seeing this huge black bird — with a 9- to 10-foot wingspan — soaring in the clear blue skies above southwestern Utah's world-renowned canyons.
A return to Utah
How condors ended up back in Utah (the last records that mention them are from the 1880s) is a rather long, complicated story that I will not revisit here. In brief, it started with releasing captive-raised birds into the wild in northern Arizona in 1996.
It took a while, but the condors eventually realized Utah was just as suitable as Arizona (how could they not?!), and they started spending more and more time in the areas surrounding Zion National Park.
This was good, mostly. Unfortunately, the move to Utah also put condors in danger. Condors, as you know, are a type of vulture. They survive by eating the remains of dead animals they find on the landscape. This includes animals that were shot and lost during hunts and/or the gut piles left by successful hunters. These sources of food are also sources of the very toxic heavy metal lead.
After a while, it became evident that ingested lead was killing condors. In fact, it was the primary cause of death of these unique birds.
Over the years, biologists have been able to devise ways to "train" condors to avoid other dangerous situations. They are conditioned to avoid perching on power lines. They are chased away from cabins and other buildings. But how do you stop an animal that survives by eating dead animals from eating dead animals? Vegetarianism was an unlikely solution!
Help from hunters
Getting lead out of the environment seemed the best option. Because the lead that condors consume comes primarily from ammunition, hunters seemed to hold the solution. Hunters have stepped up in the past; surely, they would be willing to again?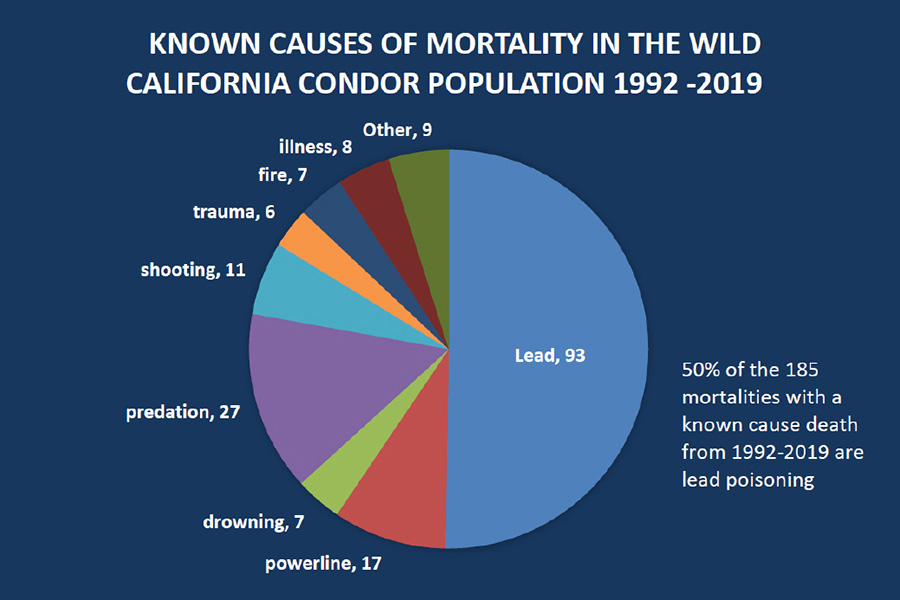 Because it's in many of the decaying animals they consume, lead poses the most serious threat to condors' survival.
Arizona Game and Fish started a non-lead ammunition program with their hunters in 2005, offering hunters free non-lead ammunition or, if you hunted with lead ammunition, a prize drawing for bringing a lead-contaminated gut pile in from the field.
Our Utah DWR started a non-lead program in 2010 that offered hunters a $25 rebate for purchasing non-lead ammunition to use on their Zion Unit hunts. In 2012, we instead began offering free non-lead ammunition to Zion Unit hunters. Since then, more than 22,000 hunters have received a coupon for free non-lead ammunition to use on their Zion Unit hunt.
Zion hunters: Thank you for being supportive of our non-lead program. For the last several years, right around 80% of you report having used non-lead ammunition or bringing a gut pile in from the field. That's substantial progress over the past 10 years.
Nevertheless, there is more to do. Lead poisoning is still the leading cause of death for the Arizona-Utah condors. The really smart scientists predict that, if 85–90% of you will use non-lead or bring in gut piles, the condors should make it. And you still have a chance to win a great prize!
New process to get free ammo coupons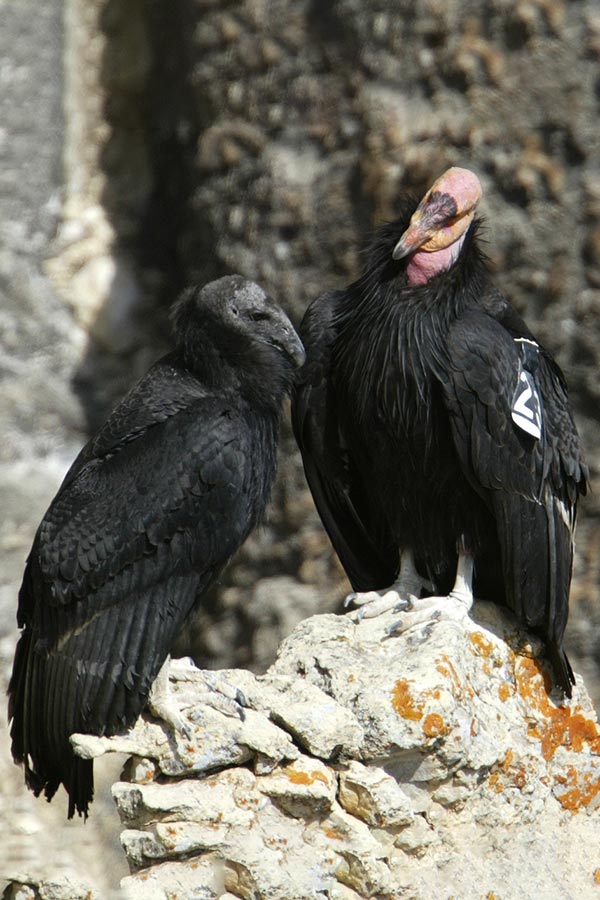 It's only in recent years that condors in the Arizona-Utah population have successfully reproduced in the wild.
Photo: Chris Parish, Peregrine Fund
The non-lead program for 2020 is already underway, but you will notice a big change. (For an old guy like me — born long ago, in a previous century — change can be scary and difficult.) We hope that the changes we have instituted this year will not be that way for our hunters.
Coupons will no longer be automatically mailed directly to hunters who have Zion Unit tags. Instead, you will receive an email from us (many already have) telling you that a special offer for the coupon is waiting for you online. The process is simple:
Follow the instructions/link in the e-mail to go to the DWR license-sales web page.
Once there, sign in with your date of birth and Customer ID number.
Click on the "Get Licenses" button and look for the "Special Offer — non-lead coupon" notice and add it to your cart, and then submit the order. There is no cost to you — it's completely free!
Once we receive your order, we will mail you a personalized coupon you can use to get your free box of non-lead ammunition from one of the four approved vendors. (Please use only one of these vendors.)
More details about redeeming your coupon are available on our Hunters Helping Condors web page. Important: The demand for all types of ammunition is extremely high this year, and we encourage you to redeem your coupon as soon as possible. If you don't have the ammunition in time for your hunt, please be sure to pack out your gut pile, so you have a chance at a prize in this year's drawing.
When we started this program, there were only 72 California condors in the Arizona-Utah population. There are now 98. And although this increase includes the birth of three chicks in Utah — one each in 2017, 2019 and 2020 — it is primarily due to continued releases of captive-raised birds.
Lead poisoning is still the biggest obstacle these birds must overcome in order to be self-sustaining, and hunters still have a significant role to play in conquering this issue. Let's help condors over this final hurdle, so we can continue to see them in the skies of southern Utah.