4 Utah rivers that offer great fishing in August
SALT LAKE CITY — During late summer, the heat can sometimes slow the fishing, but definitely don't pack up your fishing pole just yet. The great snowpack from last winter means that Utah's streams and rivers will offer some excellent fishing later into the summer this year and are definitely worth checking out this August.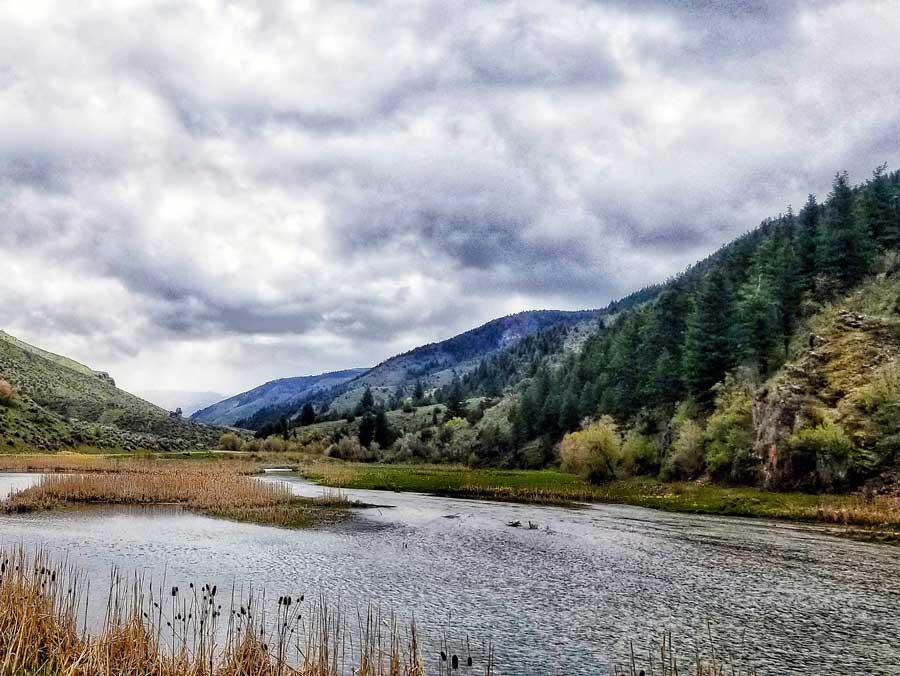 Located in northern Utah, between Hyrum and Hardware Ranch, the Blacksmith Fork River is a nice, small stream that is great for fishing.
While lakes and rivers can both provide awesome fishing, many anglers prefer to fish in a stream or river. Even if you don't necessarily fall into that category, but you love to fish for trout, catfish and carp — or you'd like to try a new fishing experience — you can find some great opportunities this month in rivers and streams across Utah.
"I recommend stream fishing this time of year because the water flows make this a good time to get out and fish streams," Utah Division of Wildlife Resources sportfish coordinator Randy Oplinger said. "We had a large snow run-off this year, which made the rivers and streams run really high. Our streams are now at a level that is easier to wade in. However, anglers should always be very cautious around running water and make sure they have a personal floatation device."
Where should you fish on a river?
Because water is always moving in a river or stream, fish have to work harder and constantly swim into the current so they aren't carried downstream. However, the current also carries insects and other food to where the fish are. So when you are looking for fish in a stream or river, you want to target places where there are breaks in the current (like behind a rock). In those places, the fish don't have to be constantly swimming, but they are still near a swift current that provides easy access to food.
Undercut banks, eddies, sunken trees, rocks and overhanging trees and bushes are all great spots to fish on a river because they provide food and protection for the fish.
"Another spot in rivers that fish like are called 'seams,'" Oplinger said. "These are areas where two currents of different speeds meet. The fish sit in the slower current and then move into the swifter current to feed. Fish will often stay near the bank because there are small breaks in the current there, too."
A lot of the same techniques you use in lakes and reservoirs will also work in streams. Fly fishing works particularly well in streams, as does fishing with lures (like spinner baits).
Here are four rivers that offer great fishing right now:
Logan River
As its name suggests, the Logan River can be found near the city of Logan, along Highway 89 in Logan Canyon. This area tends to have successful fishing for cutthroat and brown trout during the hot summer months. The brown trout typically travel to lower elevations in Logan Canyon, and you can find more cutthroat trout as you move upstream. In fact, this area has one of the highest cutthroat trout densities documented and is a great place to catch cutthroat trout (Bear River subspecies) for the Utah Cutthroat Slam.
There are also three small reservoirs located along the lower section of the Logan River that are stocked with rainbow trout, providing another awesome fishing opportunity in this area.
Jordan River
The Jordan River is a whopping 51 miles long and is located in the Salt Lake Valley. It is a great spot for fishing because it's close to Salt Lake and provides easy access to fishing for people living along the Wasatch Front. However, despite its proximity, this water isn't heavily fished and provides great opportunities for catfish, bullhead, carp, white bass and walleye. It is an ideal spot for anyone who likes bait or lure fishing and would like to catch something besides trout.
Blacksmith Fork River
Also located in northern Utah, between Hyrum and Hardware Ranch, the Blacksmith Fork River is a nice, small stream that is easy to wade. It is not heavily fished and is managed so anglers can catch a lot of fish. It is also a good spot to catch a cutthroat trout (Bear River subspecies) for the Utah Cutthroat Slam or a hard-fighting brown trout.
Sixth Water Creek
Sixth Water Creek is located about an hour east of Spanish Fork and offers a great spot to catch brown trout. You can also catch Bonneville cutthroat trout here for the Utah Cutthroat Slam. Accessing the best fishing involves a little hiking in some scenic areas, which allows you to escape the crowds and reach some cooler temperatures. This water also offers good catch rates and is less crowded.
So whether you like to fish small streams, wade in large rivers, or reel in your catch from a river bank, you have a lot of options in Utah. Check the new, interactive Fish Utah map to find other great rivers and streams to fish as summer comes to a close.