DWR K9s help track runaway juveniles and detect illegally caught fish
SALT LAKE CITY — Although they recently finished training, two new Utah Division of Wildlife Resources K9 conservation officers are already hard at work. Last weekend, the officers successfully assisted other agencies with searches and caught people illegally fishing.
Southern Utah
DWR Conservation Officer Josh Carver and his K9, a chocolate Labrador retriever named Carlo, were asked to assist the Iron County Sheriff's Office and the Brian Head Marshal's Office in a search for two male juveniles who ran away from a treatment facility on July 7 near Brian Head. Carver and Carlo quickly responded to the scene, where Carlo began tracking the scent.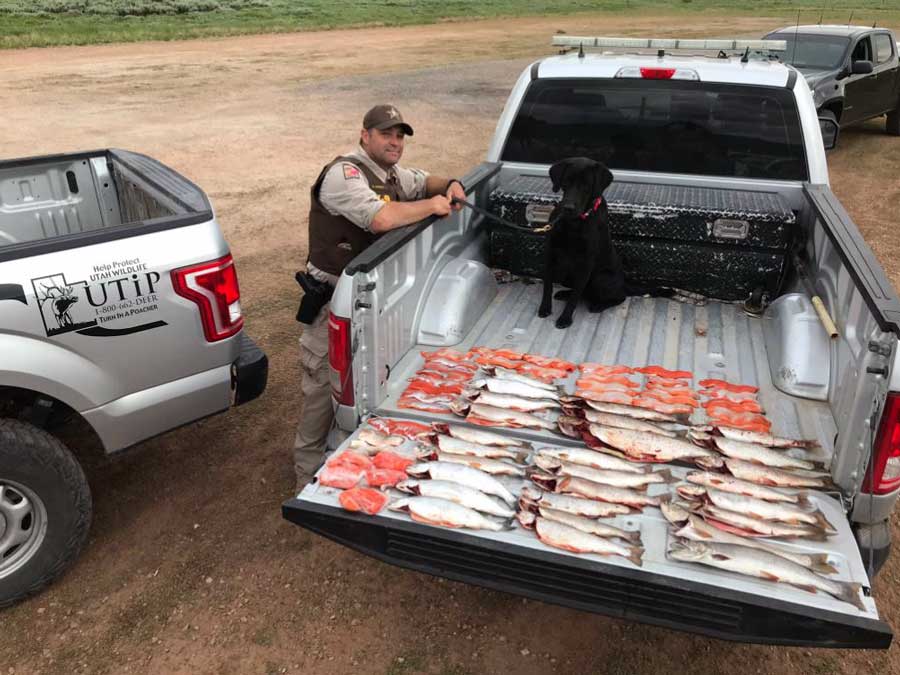 Conservation Officer Matt Burgess and his black Lab, K9 Cruz, assisted in a vehicle checkpoint near Strawberry Reservoir to check licenses, fish sizes and limits, and general compliance with other laws.
"When we arrived, the boys had about a two-hour head start," Carver said. "I sent Carlo on the last known location of the boys, and he began tracking like a mad man. We dropped down a mountain, then ended up on a dirt road. As I got to the road, I thought the tracks and odor just disappeared. Carlo, however, went across the road and continued to track. It was awesome!"
The pair tracked the juveniles' scent for about 4 miles, eventually coming to an old abandoned school bus where Carver located a set of tracks that matched the shoe and size of one of the boys. However, Carver called off their search when it got dark. The Iron County Search and Rescue teams continued searching until about 1:30 a.m.
The next morning, search teams discovered several homes in Brian Head had been burglarized, according to the Brian Head Marshal's Office, and Carver and Carlo were again called in to help locate the juveniles. They tracked for about 6 miles before being notified by officials that a sighting of the boys had been reported.
"As soon as I got Carlo out of the truck, he hit the scent and we just started moving," Carver said. "We tracked about a half mile until he stopped and dug up a knife and keys. Then he headed another 20 yards and located a jacket in the trees. We tracked every single step they took. When I lost their tracks, Carlo kept tracking, and about 10 minutes later, I would find a footprint."
Carlo and Carver located the boys hiding in some brush along State Route 143.
"Their parents had flown in and were looking for the boys with the program director and staff, and they saw Carlo find the boys," Carver said. "Later, they came over and hugged Carlo and thanked him for finding the boys. Then I took him back to the truck, and he drank water for 10 minutes. He sat in the cool air conditioning and just rested with a big smile on his face."
"In rural Utah, we work with many other small law enforcement agencies," DWR Lt. Paul Washburn said. They are great to assist us whenever we need it, and we like to return the favor as often as we can. It is great to see Officer Carver and K9 Carlo's hard work pay off in a case like this where we are able to assist another agency with our specialized resources."
Northern Utah
At the same time the southern Utah search was happening, Conservation Officer Matt Burgess and his black Lab, K9 Cruz, were assisting in a vehicle checkpoint at the opposite end of the state, near Strawberry Reservoir. During the checkpoint, they checked licenses, fish sizes and limits, and general compliance with other laws.
Along with 14 other DWR conservation officers, they stopped 254 vehicles, issued 30 citations and seized 47 fish that were taken illegally. The conservation officers then donated the fish to the food bank in Heber City.
"Cruz was instrumental in finding fish and was able to locate their odor on one of the vehicle door handles during a stop," Burgess said. "It's always amazing watching him work and seeing how instrumental he is in helping us do our jobs to protect Utah's wildlife."