Want to catch a big fish? Here are 3 Utah lakes to check out
SALT LAKE CITY — Your fishing line suddenly gives a distinct tug. "Did I snag it on something while reeling it in?" you ask yourself. But the line jerks again, and that can only mean one thing: There is a fish on your line!
In general, June is an excellent time to go fishing in Utah.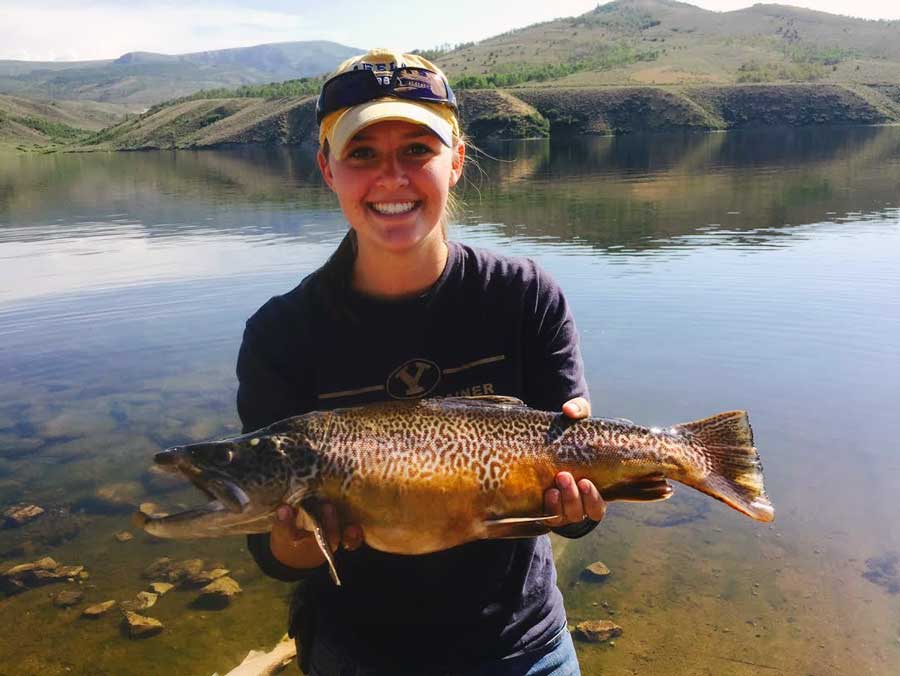 In general, June is an excellent time to go fishing in Utah.
"It's a great time to catch fish because water temperatures are often perfect for the fish in June," said Randy Oplinger, Utah Division of Wildlife Resources sportfish coordinator. "These optimal temperatures mean that the fish are active, hungry and looking to take an angler's bait, lures or flies."
Summer is a great time to get outdoors and introduce someone to a fun, relaxing hobby like fishing. But if you want to add a little extra excitement into your relaxation, try fishing in an area where you have better odds of catching a big fish.
"These waterbodies are what we call 'quality' waters and provide a nice balance between good fish size and the numbers caught," Oplinger said. "These lakes and reservoirs have the right water conditions for good trout growth, and we take advantage of those conditions to manage these waters for larger fish."
Here are three Utah waterbodies where you have a good chance of catching a big fish and where you can have success without owning a lot of expensive fishing gear or a boat.
Currant Creek Reservoir (Northeastern Utah)
Currant Creek Reservoir is located about 40 miles northeast of Heber City and is designated as a Blue Ribbon Fishery. A U.S. Forest Service campground with available restrooms is also located at the reservoir. It is about 35 minutes northeast of Strawberry Reservoir and has comparable sized fish and is often less crowded, making it a good nearby option for anglers along the Wasatch Front.
The reservoir is stocked with Colorado River cutthroat trout and is a spot where you can catch them to complete the Utah Cutthroat Slam or the Western Native Trout Challenge. It also offers tiger trout and rainbow trout.
Some 17-inch rainbow trout were stocked at Currant Creek Reservoir in the fall of 2018, and anglers regularly catch 14- to 18-inch fish there.
You can have success fishing from the shoreline or from a boat at Currant Creek, and at the other two waterbodies listed below.
"These waters provide good fishing to anyone, regardless of the equipment that they own," Oplinger said. "Shore fishing is good at all three waters, so you don't have to invest in a boat to be successful. Also, the fish in these waters are willing to take a variety of baits, lures and flies, so you don't have to have a lot of tackle to catch fish at these waters. There is a good chance that the equipment that you already own will be good enough to land some larger fish at these waters."
Navajo Lake (Southern Utah)
Located about 45 minutes southeast of Cedar City, Navajo Lake is known as one of the best splake fisheries in Utah. You can also find tiger trout and rainbow trout in its depths. You should be able to catch a lot of fish in the 16- to 18-inch range, with some at 20 inches long.
Splake fishing at Navajo Lake is traditionally "red hot" when the ice does melt, so keep an eye on the fishing reports for ice condition updates.
While shore fishing is great for rainbow trout and tiger trout after the ice melts, in the late summer, you may have more success using a boat while fishing for splake. Due to its high elevation, the lake is still currently almost completely covered with ice, and the snow is still prohibiting vehicle access. But with the temperatures warming up, fishery biologists are hopeful that hike-in access will be possible by the end of this week.
Strawberry Reservoir (Central Utah)
Strawberry Reservoir is one of the most popular and productive fisheries in Utah. It provides ideal conditions for fish, resulting in fast growth. And located only about 90 minutes from Salt Lake City, it provides a close getaway for an afternoon of great fishing.
You can expect to catch cutthroat trout, rainbow trout and kokanee salmon there. Cutthroat trout up to 22 inches are a fairly common catch at Strawberry, and you can also regularly catch 15-inch rainbow trout.
If you fish from the shoreline, you are more likely to catch rainbow and cutthroat trout, but you will need a boat to catch kokanee.
"Kokanee fishing has been very good at Strawberry for the past couple of years," Oplinger said.
Fishing tips for these waters
Patience.While you may be hoping to catch larger fish at these waters, you may catch some smaller fish as well. So be patient during your experience and don't get frustrated if you don't catch the size you are hoping for. Remember to have fun and that catching larger fish takes patience.
Don't only use large lures. Many anglers tend to only use large lures when they want to catch larger fish, thinking that only large fish will be able to take a large lure. While there is some truth to that, don't ignore your smaller lures and flies — some of the biggest fish have been caught on small lures.
Because rivers are running high and fast this spring and there are high water levels at the lakes and reservoirs, anglers should be very cautious in and around the water. If going out on the water via a boat or float tube, anglers must have a personal floatation device.