Tips for catching catfish at community ponds
OGDEN — You won't have to travel far to get into a tussle with a fun fish this summer. Twice in June, thousands of channel catfish — 14 to 15 inches long and weighing about a pound and a half each — will be stocked in community ponds in northern Utah.
Along with smallmouth bass and wipers, channel catfish are one of the hardest fighting fish — pound for pound — in Utah.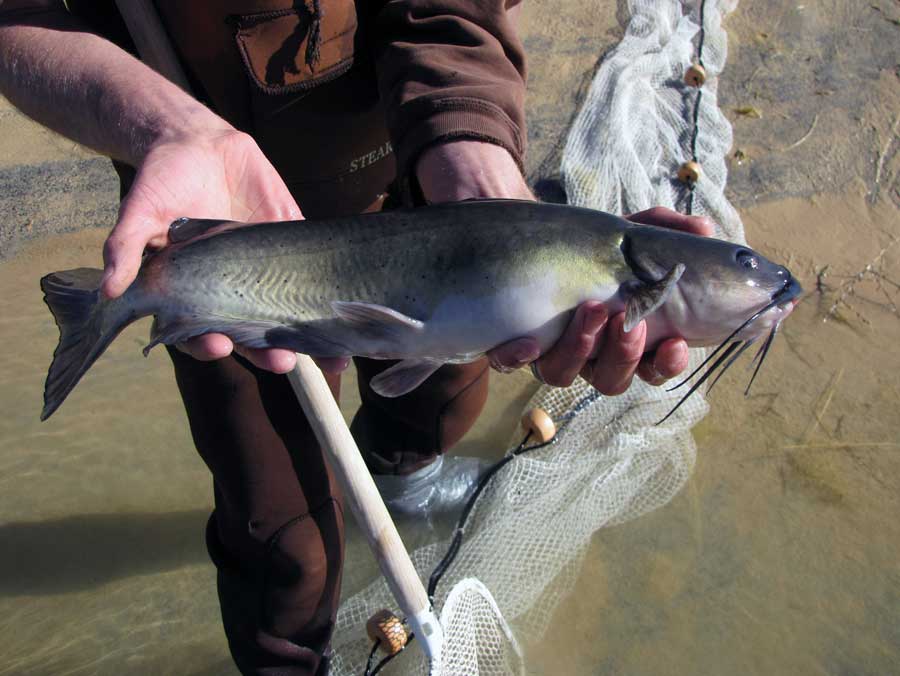 Channel catfish provide a fun fishing opportunity in the summer.
"Get one of these cats on the end of your line, and you'll have a fun fight on your hands," Chris Penne, regional aquatics manager for the Utah Division of Wildlife Resources, said.
The dates could change, but right now, community ponds in northern Utah are scheduled to receive between 3,500 and 5,000 pounds of channel catfish on June 6 and another 3,500 to 5,000 pounds on June 20. Channel catfish provide a fun fishing opportunity in the summer.
"By June, the water at most of the community ponds is too warm for trout," Penne said. "Channel catfish do really well in warmer water, though. That's why we switch to stocking catfish in the summer."
You can locate the community pond nearest you on the map available on the DWR website.
Here are some fishing tips that should put a channel catfish on the end of your line at the community ponds this summer.
Time of day
Fish whenever you can, but just as the sun is coming up and right before it sets in the evening are the best times to fish for catfish.
"Catfish have great eyesight, but their sense of smell, taste and touch is even better," Penne said. "They can find and track prey effectively, even at night."
Equipment
In addition to a rod and reel, the following tackle is all you need to catch catfish:
8-pound or heavier test line
¼-ounce or ½-ounce egg sinker
Snap swivel
Size 6 or size 4 baitholder hook
Tying the rig
To tie the rig, do the following:
Start by cutting about 18 inches of line off the end of your fishing line. Place that piece of line aside. You'll need it in a minute or two!
Next, slide the egg sinker on your main line, and then tie the snap swivel to the end of the line. The swivel will prevent the egg sinker from sliding off the line.
Now, take the 18-inch piece of fishing line you cut earlier, and tie it to the other end of the swivel. After it's tied to the swivel, tie a hook to the other end of the line. You've just created a slip sinker rig. It's time to catch catfish!
Bait
Nightcrawlers work great for catfish. Since catfish have a great sense of smell, though, using a bait that has a stronger smell can help draw catfish in. Stink baits and cheese baits are among the baits catfish anglers often use. Raw shrimp is one of Penne's personal favorites.
"Raw shrimp stays on a hook really well, and it retains its scent for a long time," he said. "But no matter which bait you use, ball it up on your hook. If you're using a nightcrawler, thread it on the hook several times. You want to make sure a catfish can't strip it off the hook."
Tactics
Once your bait is on the hook, cast it out, let it drift to the bottom, and then reel it back.
"The reason you want to reel your first cast back is to make sure there aren't any snags in the area you're fishing," Penne said. "If the rig gets snagged, move around a bit and find an area that has a cleaner bottom."
Once you've found an area with a clean bottom, cast the rig out, let it drift to the bottom, and then reel your line in until it's tight. Once it's tight, stop reeling, and rest your rod on a rock, a tree branch, your tackle box or any item that allows your rod to rest securely.
After setting your rod down, grab the line in the middle of the rod and pull the line down slightly. Pulling the line down a bit will put just enough slack in the line that catfish can pick your bait up without feeling any resistance.
After pulling some line down, sit back, relax and watch your line closely. If the line starts to tighten, a catfish has likely picked your bait up. Pick your fishing rod up and then set the hook by pulling back on the rod slightly. Then, have fun fighting your catfish.
Patience
Since smell draws catfish to bait, it might take a while for a catfish to find it. Penne recommends leaving your bait in place for at least 15 minutes. If a catfish hasn't taken your bait within 15 minutes, reel the bait in and either cast it in a different direction or move to a new spot.
Handling catfish
Long pliers are a great tool that will help you remove a hook from a catfish's mouth. Catfish have sharp spines on their backs. You can learn how to handle a catfish safely here.
Graduating to other waters
Once you've gotten comfortable catching catfish, even bigger cats are waiting for you at others waters in northern Utah. Willard Bay Reservoir and the Benson Marina area at Cutler Reservoir are great places to catch channel catfish. Pineview Reservoir has a good population of black bullhead catfish, a cousin to channel cats. And, if you don't mind traveling a little farther, Utah Lake in Utah County is a catfishing hotspot.