4 local spots where you can catch a lot of fish quickly
SALT LAKE CITY — Many people make some of their favorite memories while fishing — whether that includes spending quality time with family and friends, enjoying Utah's scenic outdoors or getting a great story of finally catching your favorite type of fish.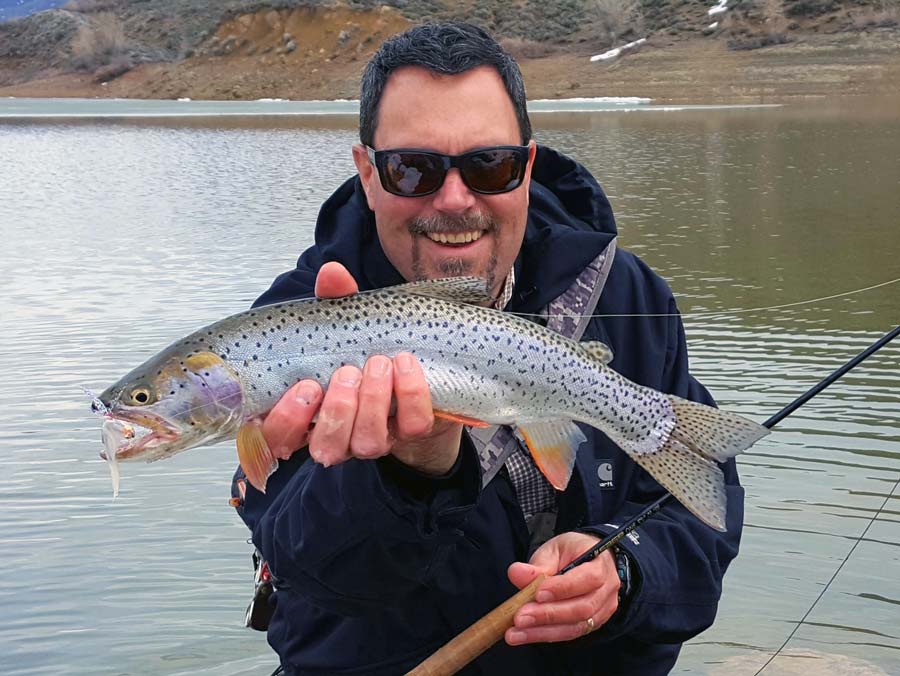 Anglers have caught several large fish at Lost Creek in the past couple of years.
May is a great time to head out with your fishing pole because the ice has melted off most of the reservoirs, and the water is starting to warm up.
"Warmer water makes fish more active, which causes them to eat more and makes them more likely to take an angler's bait or lure," Utah Division of Wildlife Resources sportfish coordinator Randy Oplinger said. "May is a great time to fish because it is typically a month when you can catch a lot of fish."
If you are itching to get out on the water and want to catch a lot of fish, here are a few fun local spots that have large populations of fish managed for high catch rates.
Echo Reservoir
Located in Utah's newest state park, Echo Reservoir offers rainbow trout and yellow perch. The rainbow trout population is really healthy, and fishing has been great in recent weeks. Yellow perch provide a tasty meal, and they're very easy to catch during the spring. Echo is also more accessible now that it is a state park, making it the perfect time to visit this scenic fishery.
Generally, the best time to fish is an hour or two after sunrise or an hour or two before sunset. However, you can still catch a decent number of fish outside that window, so don't shy away from fishing if you can't go during the "prime times."
Location: 22 miles north of Park City
Jordanelle Reservoir
In recent years, the fishery at Jordanelle State Park has seen exciting changes in management and fish species. As part of those changes, larger rainbow trout have been stocked.
"The changes seem to be working well, and we've seen angling really improve over the past couple of years at Jordanelle," Oplinger said.
Along with rainbow trout, Jordanelle also offers yellow perch, smallmouth bass and kokanee salmon. They are a little less plentiful than the trout, but May is a good time to fish for them. You should see success fishing from shore and by boat.
Jordanelle State Park also offers great camping and hiking.
Location: About 10 miles north of Heber City
Lost Creek Reservoir
One thing that makes Lost Creek unique is that not only does it have a lot of fish, but several large fish have been caught there in the past couple of years. It offers healthy rainbow and cutthroat trout populations and is a great place to target those two species.
"There are nice sized fish in the other waterbodies as well, but an especially large number have been caught at Lost Creek," Oplinger said.
Location: 10 miles northeast of Croydon, Morgan County
Starvation Reservoir
Located within the newly renamed Fred Hayes State Park, Starvation Reservoir is a prime spot to fish for rainbow trout, walleye and smallmouth bass right now. You can also catch yellow perch and kokanee salmon. DWR is asking anglers to keep any smaller walleye that they catch at this waterbody. Not only are they a tasty fish, but thinning the number of small walleye will also help the fishery.
Using a boat is the best option if you're trying to catch walleye and smallmouth bass, but you can have success fishing by shore or boat for rainbow trout.
Location: About 4 miles northwest of Duchesne
Even if you are going fishing for the first time or have little experience, you can still expect to catch a lot of fish at these spots during May.
"All of these waters provide the opportunity to catch rainbow trout, which is a great species for inexperienced anglers. Rainbows will take a wide variety of baits and lures and can be easily caught both from shore and by boat," Oplinger said.