Treatment will remove illegally released goldfish
Goldfish dumping threatens Utah fishery.
PAYSON — In mid-October, biologists with the Division of Wildlife Resources will use rotenone to remove goldfish that were placed illegally in Maple Lake.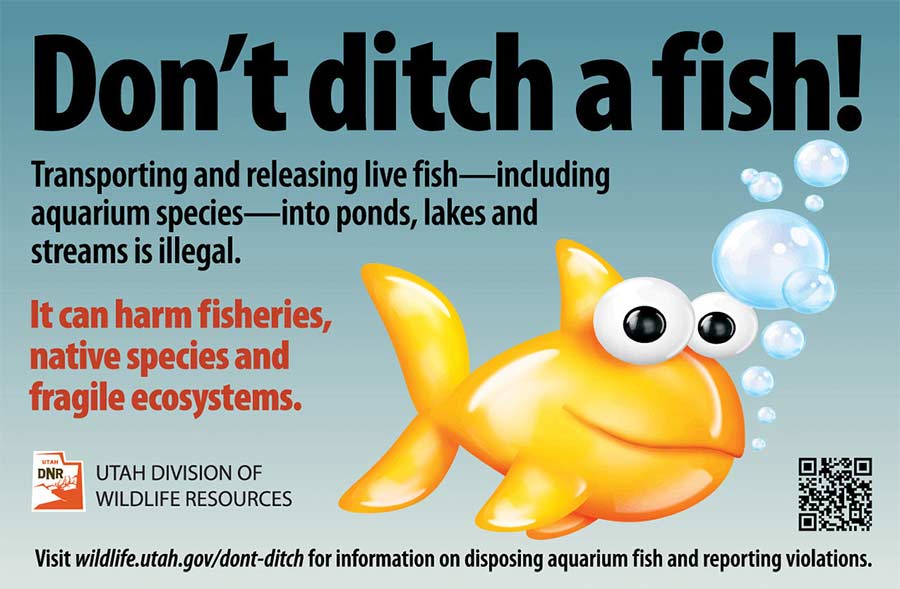 The lake is in Payson Canyon. Chris Crockett, regional aquatics manager for the DWR, says the goldfish — that were once the pets of those who placed them in the lake — have multiplied over the past few years. The goldfish population has reached the point that it's competing with trout in the lake for food.
"And that's not all," Crockett says. "The goldfish are eating the native plants and reducing the lake's water quality by stirring up sediment. None of those things are good for the health of the lake."
Rotenone treatment
Biologists plan to treat the lake with rotenone (a substance derived from the roots of a plant in the bean family) in mid-October. The U.S. Environmental Protection Agency has approved the use of rotenone to control and sample fish populations in lakes, ponds and streams. Utah has used it many times to control invasive species and to restore native and threatened species.
"We don't anticipate any impacts to downstream fisheries or water quality," Crockett says. "We'll restock the lake with trout in spring 2019."
The water level at Maple Lake is being drawn down to increase the effectiveness of the treatment and allow water users to inspect the dam at the lake.
Public access
Right now, there is no public access to Maple Lake due to a forest fire in Payson Canyon. And the Maple Lake campground is closed for the season.
If public access reopens this month, access for recreational activities, including wading, swimming, boating and fishing, will be prohibited while the rotenone is being applied and for 14 days after the lake is treated. For more information, call the DWR office in Springville at 801-491-5678.