DWR successfully hatching, raising tiger muskies using unique new method
Salt Lake City — For many years, Utah Division of Wildlife Resources hatcheries used the typical method of attempting to collect eggs from female northern pike in captivity in order to produce and raise tiger muskies, with limited success. DWR biologists decided to attempt a unique new method — and two years of testing shows that it is working, allowing Utah to now raise its own tiger muskies.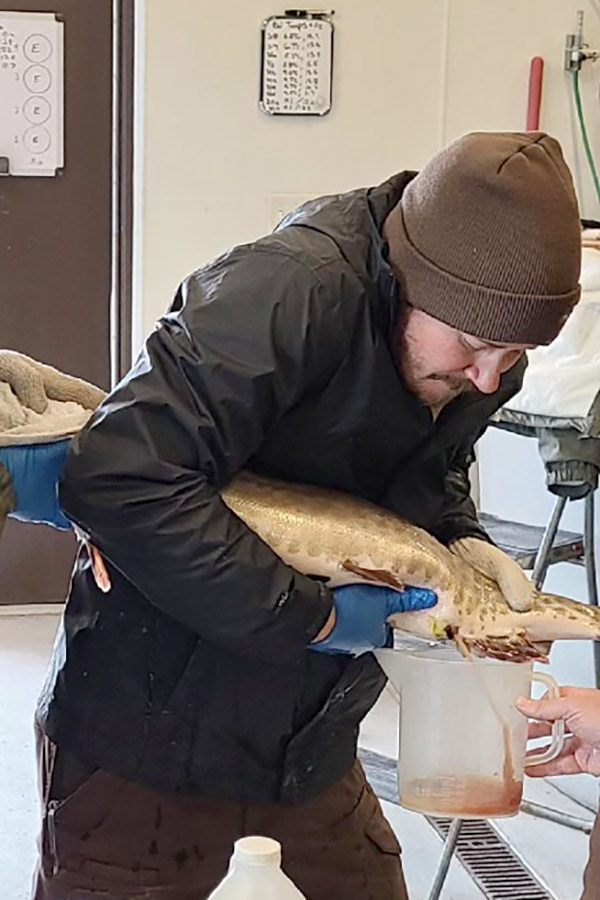 Extracting eggs from a female muskellunge
Tiger muskies are a non-native predator fish that are a cross between a northern pike and a muskellunge. They can grow to be quite large and they fight hard, which can make them a fun species for anglers to catch. As a predator species, tiger muskies can also be a valuable tool for fisheries managers because they can help control nuisance fish populations in specific waterbodies. Tiger muskies have been stocked in Utah since 1988.
Typically, hatchery managers spawn tiger muskies using eggs from female northern pike and milt (or fish sperm) from male muskellunge. However, fisheries managers were not having success getting northern pike females in hatcheries to produce eggs that they could use to spawn and raise new tiger muskies. In spring 2021, biologists decided to instead try taking the eggs from a female muskellunge to cross it with the milt from a male northern pike.
"Using a captive brood of fish is the most effective and efficient way to produce the numbers and sizes of tiger muskies needed to meet our management needs," DWR Aquatics Section Assistant Chief Craig Walker said. "Because the northern pike females held at our Lee Kay Fish Hatchery have yet to produce viable eggs for spawning, the female muskellunge cross was the only logical captive brood production option for us to use. However, previous observations suggested that tiger muskies produced using the muskellunge female cross could not be raised in captivity, due to an increase in cannibalism for the young fish in the hatchery tanks. Testing that this anecdotal idea was more myth than fact was a critical first step in the development of this new method."
Hatchery managers got a broodstock of female muskellunge that were kept in the Lee Kay Fish Hatchery and were able to successfully extract eggs from them. Those eggs were then crossed with milt from male northern pike that were caught in Recapture Reservoir and transported to Lee Kay Fish Hatchery to also be used as a broodstock for these efforts.
Since 2021, the DWR has successfully produced, raised and stocked over 85,000 tiger muskies as a result of the new female muskellunge cross method. Where previously tiger muskies were donated from other states, these fish were all hatched and raised in-state in the Fountain Green Hatchery.
"This has been a very exciting milestone for our fisheries and hatchery managers involved in this effort," Walker said. "The fact that we can now successfully raise our own tiger muskie with this new method will help us be more self-sufficient and cost effective with our tiger muskie management. Next year will be the first year that the female muskellunge cross offspring will be produced using a completely captive brood in our hatcheries, which also saves time and money from not having to catch these fish each year to collect eggs and milt. And not only are we producing our own tiger muskies, but we have also seen some good survival from the ones that we raised and stocked."
While the tiger muskie currently being produced in hatcheries are using eggs from female muskellunge, DWR hatchery managers are still keeping a broodstock of female northern pike, as well. These particular female northern pike were hatched and raised in the hatchery, and biologists are hopeful that they will be better at producing eggs, as opposed to the female northern pike brought in from the wild.
"In the event that these captive northern pike females also produce viable eggs, we would likely explore the use of both crosses to hatch and raise tiger muskies, in order to continue to meet the growing demand for this popular fish species," Walker said.
Tiger muskie populations are thriving at several waterbodies across Utah, including:
Cottonwood Reservoir
Joes Valley Reservoir
Newton Reservoir
Pineview Reservoir
Scofield Reservoir
Yuba Reservoir
Tiger muskies have also recently been stocked in a few high mountain lakes, including Donkey Lake in the Boulder Mountains, as well as Brown Duck Lake, Angel Lake, Dry Fork Twin and Lakeshore Lake in the Uinta Mountains.