New nursery pond for roundtail chub created in Moab to help increase fish populations
Salt Lake City — Roundtail chub are a native fish species found only in the Colorado, Green and San Juan rivers and their tributaries. These fish are currently considered a species of greatest conservation need, but due to ongoing efforts, their populations have increased in recent years. The Utah Division of Wildlife Resources recently partnered with Moab City to create a nursery pond to continue to grow the population of this species.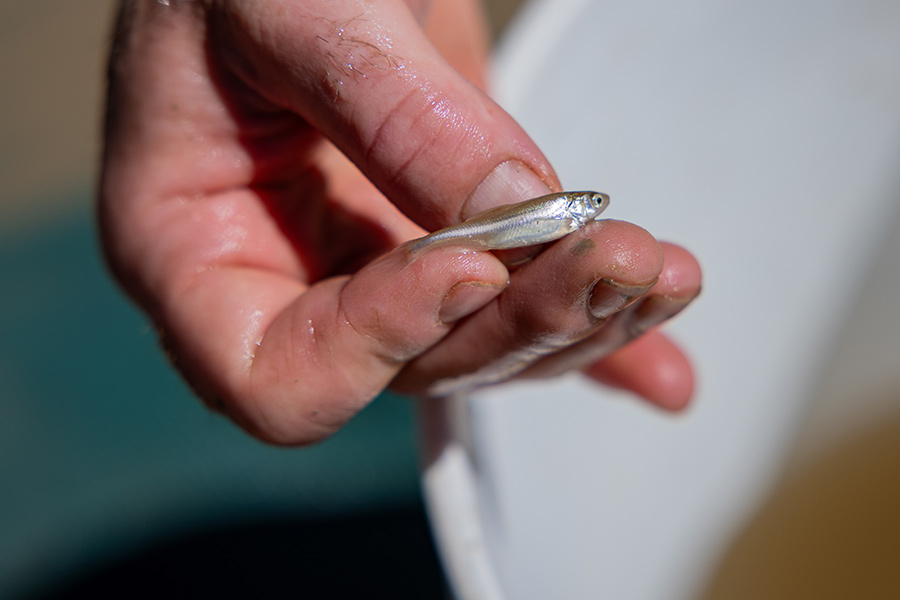 Thirty-one roundtail chub were stocked into the new nursery pond — Old City Park Pond in Moab — on Sept. 11. The fish were netted in the Dolores River and tested for disease before being transported and stocked into the pond. This is the second nursery pond for roundtail chub in Utah, with the first being Cottonwood Pond in Emery County.
"The purpose of this nursery is to grow and then restock roundtail chub back into the river systems to help increase their populations throughout the Colorado River Basin," DWR Native Aquatics Biologist Tyler Arnold said. "The fish at this nursery, in particular, will help with efforts to supplement the roundtail population in the Dolores River. This pond was an ideal location for the nursery, due to its location and water conditions, which should contribute to the successful growth and reproduction of these fish. It was a great collaboration with Moab City, and we are so grateful for their support of native fish conservation."
Roundtail chub are one of the larger minnow species that are native to the Colorado River system. They get their name from the round shape of where their caudal fin and body connect. In the early summer while they are spawning, roundtail chub can exhibit a vibrant orange belly.
Roundtail chub populations began to decline due to several factors, including dams and diversions that fragmented their natural habitat areas in multiple rivers. Other factors included changes in the river flows, warmer water temperatures in the rivers after the dams were installed and the introduction of invasive predator fish. The DWR and partners have worked on a variety of projects to improve the habitat for roundtail chub and other native fish species on many of the smaller streams in the Colorado River Basin, which is where roundtail chub spawn and the younger fish grow. Biologists have also worked to remove many of the large predatory invasive fish in these rivers and tributaries, including northern pike, channel catfish, smallmouth bass and walleye.
Because of these ongoing conservation efforts and the recent increases in roundtail chub populations, these fish were actually reclassified as a sportfish last year, and anglers can now fish for and gain a greater appreciation for this species. However, there are specific regulations on where the fish can be caught and kept. Anglers can find those details in the 2023 Utah Fishing Guidebook.
"Being able to work with a unique species that gets people out to explore further into the American West — and to see what makes this area special — is definitely a treat," Arnold said. "It is really exciting to see the conservation success of this species and to be able to help their populations continue to recover. Efforts like this new nursery pond will help keep this species from being listed under the Endangered Species Act and will allow more people to get to enjoy them."
Anglers cannot fish at the Old City Park Pond. The roundtail chub currently in the nursery pond will tentatively be stocked into other rivers in 2025.