DWR proposes changes to spearfishing, other fish-related rules
Salt Lake City — The Utah Division of Wildlife Resources is proposing a few changes to the state's fishing-related rules, including those for spearfishing and private fish ponds. The public is invited to give their feedback on these proposed changes in several upcoming public meetings and online.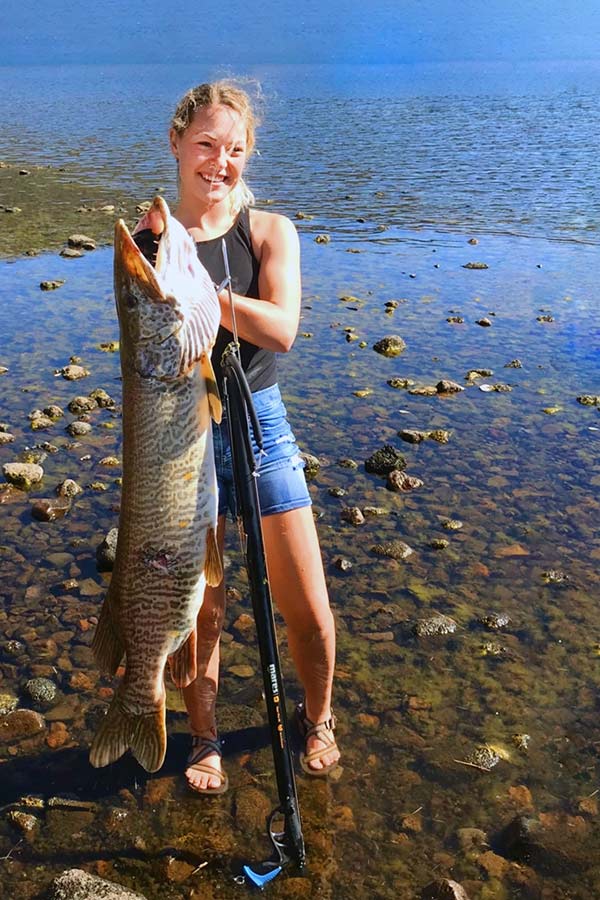 After receiving feedback from local spear anglers who wanted additional spearfishing opportunities, the DWR surveyed anglers and also evaluated some waterbodies around Utah that needed increased harvest of specific fish species. As a result, the DWR is recommending the following changes to spearfishing in Utah:
Clarifying that spear anglers are allowed to use underwater scuba equipment while spearfishing.
Allowing spearfishing for Utah chub at all waterbodies that currently allow fishing.
Allowing spearfishing for northern pike and white bass in Utah Lake, with no limit on either species for spearfishing. Northern pike were illegally introduced and have impacts on June suckers, a threatened fish species found only in Utah Lake and its tributaries. White bass are plentiful at Utah Lake and will provide another opportunity for spear anglers.
Allowing spearfishing for northern pike in the Jordan River (with no harvest limit while spearfishing) to help remove the illegally introduced species.
Allowing spearfishing for northern pike in all Utah Lake tributaries west of I-15 — except for the Provo River and the newly created Provo River Delta — in an effort to protect the June suckers that spawn there. This would include American Fork Creek, Beer Creek, Dry Creek, Hobble Creek, Spanish Fork River, Spring Creek and Spring Run Creek. There would be no harvest limit while spearfishing for northern pike in these areas.
Allowing spearfishing for common carp at Jordanelle Reservoir.
Allowing spearfishing for smallmouth bass at Quail Creek Reservoir.
"These proposed changes provide additional opportunities and will help address illegal fish introductions since spear anglers can target specific species," DWR Sportfish Coordinator Randy Oplinger said. "By removing the harvest limit on some of these specific species, spear anglers can help reduce problematic illegal fish in these waterbodies."
Previously, the rule guiding fish use in private ponds and aquaponics facilities in Utah was complicated and confusing.
"This recommended update to the rule will help reduce the complexity and simplify the language to make it easier to understand," Oplinger said.
Part of the proposed rule change will also allow certain fish species to be stocked into private ponds that are screened and off channel, outside the Virgin River drainage, without requiring a certificate of registration. These stockable fish will include sterile salmonid species (i.e., trout, salmon, char, whitefish and grayling), tiger muskie, wiper, triploid (meaning they are completely sterile) bluegill, sterile black crappie and sterile yellow perch. These are all sterile fish species, which means that they cannot reproduce. If they somehow escaped their enclosure (or private pond), they couldn't create reproducing populations in other nearby waterbodies and potentially impact native fish.
Other proposed changes include:
Allowing white sturgeon in an aquaponics facility without a certificate of registration, provided that the other rules are also met.
Requiring a certificate of registration to have a golden shiner in a private pond or aquaponics facility (previously, a certificate of registration was not required).
Requiring private fish producers to provide their customers a letter issued by the DWR certifying that the fish are sterile.
Clarifying in the rule that it is illegal to release fish into other waterbodies and can result in a class A misdemeanor.
Give feedback
The public meetings for the recommendations can either be viewed virtually or attended in person. You can view the biologist's presentations before the meetings and share your feedback about them on the DWR website. The presentations are also available on the DWR YouTube channel, but comments can only be submitted through the forms on the DWR website.
The public comment period opened on Aug. 15 for each of the five Regional Advisory Council meetings and for the Utah Wildlife Board meeting. Public comments submitted within the online-comment timeframes listed below will be shared with the RAC and wildlife board members at each respective meeting. Members of the public can choose to either watch the meetings online or attend them in person. If you wish to comment during the meeting, you must attend in person — online comments will only be accepted until the deadlines listed below.
The meetings will be held on the following dates and times: