150 gallons of used oil illegally dumped on wildlife management area
Wasatch County — On Nov. 8, 2019, a concerned citizen reported finding 150 gallons of used oil that had been illegally dumped on the Wildcat Wildlife Management Area (WMA). The oil was primarily contained in 20 5-gallon buckets and one 50-gallon drum, although some residue had also leaked onto the ground.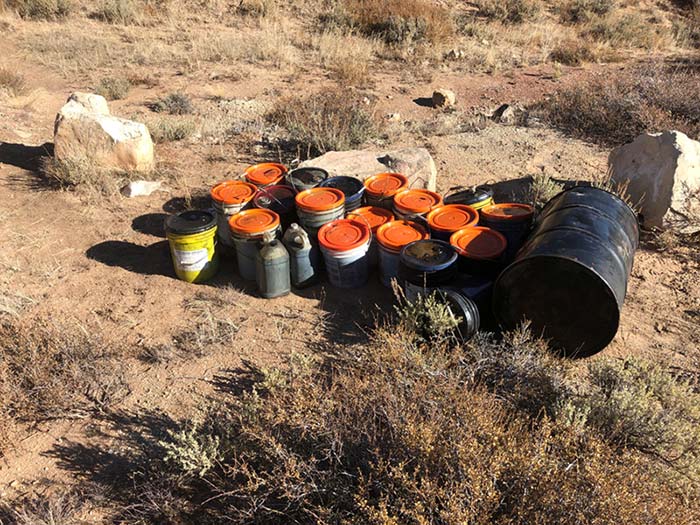 In November 2019, these oil-filled containers were unlawfully dumped on the Wildcat Wildlife Management Area in eastern Wasatch County.
The dump site was located within 100 yards of an active water source that drains into the Currant Creek watershed.
The Wildcat WMA is still recovering from the 2018 Dollar Ridge Fire. The illegal placement of the oil on the WMA posed an additional threat to wildlife habitat and the species that depend upon it.
DWR officers are currently investigating and pursuing leads in the case. If you have any information about the illegal dumping of this oil, please contact the UTIP hotline at 1-800-662-3337, or call your local conservation officer.
Rewards are available for information leading to the successful prosecution of those responsible, and requests for confidentiality will be honored.
Officer Jake Greenwood


This email address is being protected from spambots. You need JavaScript enabled to view it.


435-322-0599
Additional contact:
Sgt. Bryan Clyde


This email address is being protected from spambots. You need JavaScript enabled to view it.


435-790-4630