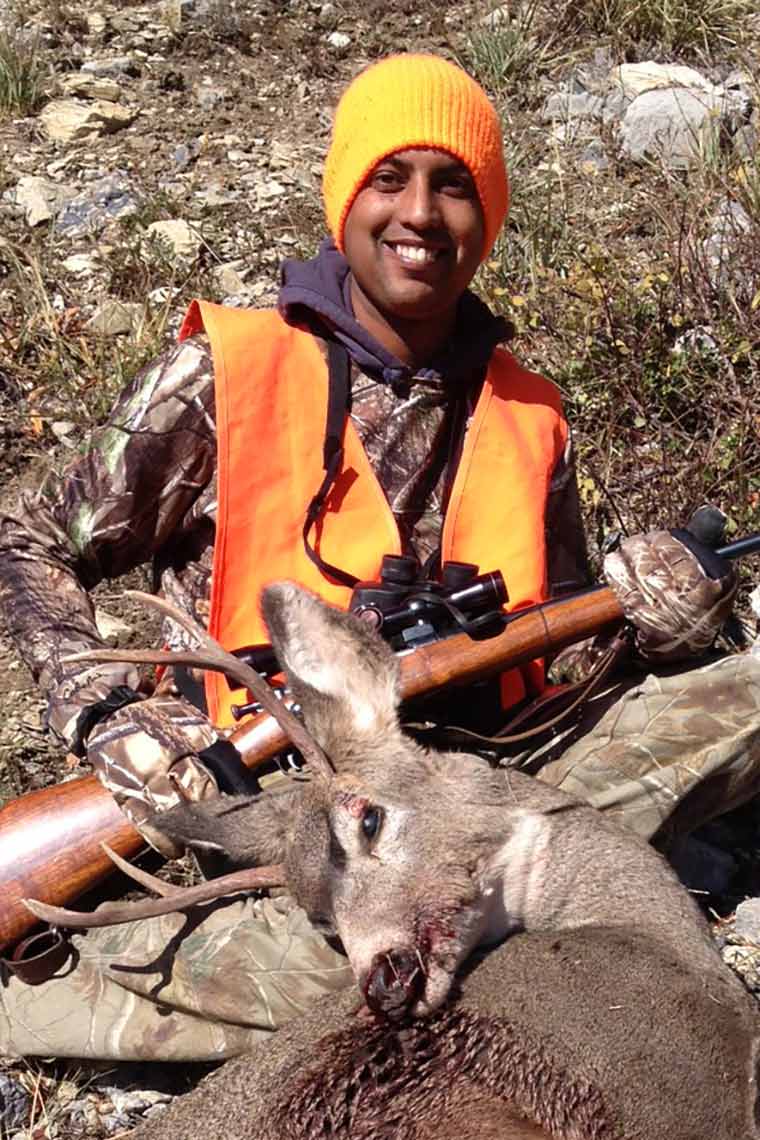 Luke Simon
A scientist from India who fell in love with big game hunting in Utah
Tell us about yourself.
My journey to Utah started on the other side of the world, and it wasn't an easy trek. However, I gave my best every step of the way.
I was born and brought up in a small village in the countryside of southern India, in the state of Tamilnadu. My home was surrounded by farmlands and next to the Mudumalai National Park, a wildlife sanctuary for tigers and Asian elephants. Life is not easy in India, and it's even more challenging in remote areas of the country. Until just recently, we didn't have electricity, telephone, running water or internet. I had to travel three hours a day to the nearest schools to learn English. However, on the bright side, I spent most of my free time outdoors foraging, fishing and small game hunting.
I've always been fascinated with science, and I pursued a bachelor's degree in biology at the University of Madras. I went on to complete a master's in molecular biology in India, and my doctorate in medicine at Queen's University in Belfast, UK.
In 2011, I joined the University of Utah School of Medicine research team for my postdoctoral fellowship. I fell in love with the state and the many opportunities presented. Being outdoors here brought back memories of my childhood in the forests of India, and it feels like I get the best of both worlds living in Utah.
How did you get into hunting?
Hunting and fishing are lifelong passions of mine. I went fishing in India, but it was impossible to pursue big game hunting there. (Personal firearms are prohibited, and any form of big game hunting is illegal.) The most I could do was trapping small game animals like rabbits, squirrels, partridge, etc. And I was extensively involved in another form of hunt: beehive hunting. I would track the beehives and sustainably harvest honey without harming the bees.
When I moved to Utah, I realized that I could hunt big game animals like deer and elk. But I didn't know where to start, and I had never shot a gun. I took classes to get my hunter education certificate, and asked my coworker, Ki, if he could introduce me to big game hunting.
We applied for buck tags on the Cache, North unit, and each drew a tag. I still remember my first day of that hunt: We got up very early in the morning, drove down a long dirt road and started hiking around 4:30 a.m. so we could be set up at our hunting spot at the break of dawn. I was exhausted by the steep hike and nervous, but at the same time I was excited to be on my first big game hunt. A few hours later, I saw a mule deer walking toward me, and I used my binoculars to check if it was a buck. As soon as I saw the antlers, my heart started to pound and I was telling myself, "This is really happening!" I had to take a deep breath to calm down, took the safety off the rifle, aimed and shot the buck at approximately 70 yards. It was a small buck with 2 and 3 points, yet it was my first deer.
This was the start of my big game hunting adventures. Since then, I have harvested three buck mule deer and eight elk. I became hooked on big game hunting in Utah!
Why do you hunt?
Hunting and fishing are my way of life. I grew up depending on natural resources, and foraging based upon seasonal availability.
I've always preferred to do some form of outdoor recreational activity during the weekends and work holidays. I love hiking, camping and backpacking, so it was very easy for me to add hunting and fishing to those trips, and to make my time off from work into a fun experience with friends. Utah is one of the best places for outdoor activities, and hunting and fishing areas are easily accessible within a 30-minute drive from Salt Lake City.
When I started hunting in Utah 10 years ago, it was extremely challenging because there were a number of factors new to me that could influence hunting results. For example, after my first successful buck hunt, the next few years had early snowfall, which made the animals migrate in a different pattern. I had several unsuccessful hunting experiences, but I had a mindset to learn from my failures and never give up. Soon, my rifle hunts became very successful and easier, so I started choosing archery and muzzleloader hunts to make the experience more challenging.
Also, when I started big game hunting, I realized that I needed to be fit to hike, and especially to carry the meat back to my car. Every year, I set a personal goal to achieve my physical fitness before the start of hunting season. The best part of hunting is that I am able to harvest and save the best organic meat as a reward for my healthy lifestyle.
Hunting is a connection with nature, and for me, being outdoors helps me to decompress from the stress of day-to-day life. It is well documented that spending time in nature helps with mental health issues such as depression and anxiety. This concept may vary from one person to another, but I can say for myself that my spirit is rejuvenated when I connect with nature.
What is your favorite hunt you've been on?
I can talk about all of my successful big game hunts as if they were yesterday, but one of my most memorable hunts was during the general-season elk hunt in 2016. I was hunting the Uinta National Forest near Mirror Lake with an any-bull tag and a control cow tag. Hiking up a ridge, I heard a couple of elk bugle on the other side. After a 45-minute hike, I got closer to the top of the ridge and noticed some cow elk in a saddle a few hundred yards away. I slowly inched toward the herd, expecting to see the bugling elk near the cows.
Little did I know, the herd was moving toward me. I started to hear noise in the brush and rocks moving, and I could feel the herd getting closer to me, but I couldn't see the elk through the pine trees and brush. There was an opening in front of me, but I didn't want to cross it because I thought the elk may notice my presence. So, I sat down at the base of a pine tree.
Soon, the bull in the herd started to make some grunting noises and I thought the elk figured out I was there. By then I was able to see a few cow elk about 20 yards in front of me, and realized that there were two herds meeting exactly where I was sitting. Both bulls started to grunt at one another, which turned into a bugling contest, and then the bulls started to battle each other right in front of me in the open area. It was like I was watching something on TV, but everything shook as the bulls bugled and clashed with each other. My heart was pounding, and I had goosebumps all over my body. The contest lasted for about five or six minutes, and then one bull gave up and backed out.
I didn't take a shot on that hunt, but this event helped me to respect the majestic Rocky Mountain elk and shaped me into the hunter that I am today.
What are some tips you would offer someone who is interested in learning to hunt?
If you are planning to begin hunting in Utah, you are at one of the best places to get started. Like all skills, hunting is something you must grow into to be successful, which also means it takes commitment, time, patience and effort. I started big game hunting a decade ago, and if I could go back in time and change things I would come up with a big list.
I wouldn't consider myself an expert in hunting, but there were a few things that helped me and could potentially help someone else.
You have to start somewhere: My first step was to enroll in a hunter education course at the Lee Kay Public Shooting Range. It is possible to take the class online and find a center to complete the written and shooting tests. However, I would strongly recommend the in-person class to get familiar with the center where you'll take the shooting test.
Ask for help: I was fortunate to have a coworker who took me on my first buck hunt, and I was able to build on this experience to continue big game hunting on my own. Also, there are several hunting events organized by conservation groups to promote hunting for beginners. I attended a free shotgun clinic organized by the DWR, which included a shotgun shooting class and pheasant hunt opportunities with volunteer hunters.
Start small: If you want to go hunting for the first time, start with a simple duck hunt at Farmington Bay. Duck hunting is always a blast, and you can invite your friends to go with you.
Learn from mistakes: If you are just starting to hunt, you are bound to make some mistakes that result in failure. The biggest lesson I have learned throughout my hunting and fishing experiences is to keep trying, change my approach based on my failures and that patience is the key to success.
Be positive: When I started out, I watched a lot of TV shows (I still do) and had big dreams of harvesting trophy animals and netting the largest fish. The reality is different, and those fantasies mostly ended in disappointments. So, I had to develop a positive attitude to be content with what I harvest, which helped me to better appreciate the hunt.
Be prepared: I learned this lesson the hard way. During the hunting season, fall weather changes fast in Utah. Bright blue skies in the morning can turn into a blizzard and freezing temperatures by the end of the day. I now keep extra food and water, a warm jacket and a sleeping bag in my car.
Most of all: Start hunting and make hunting a fun experience!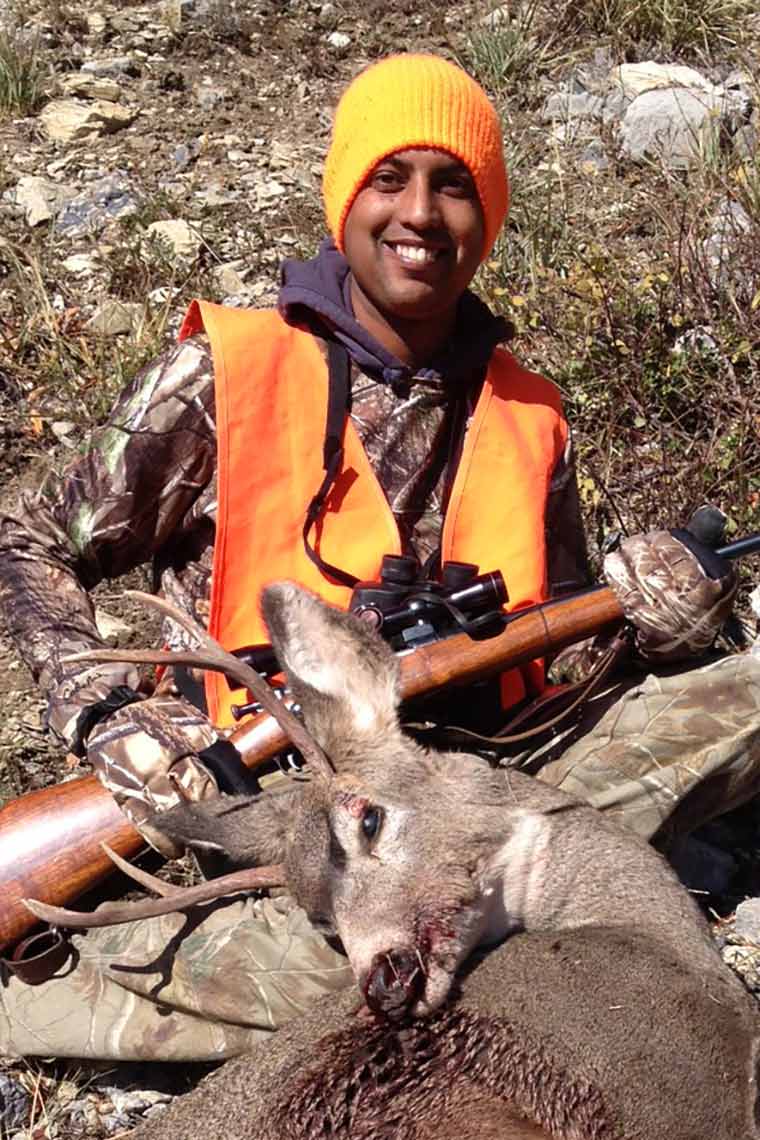 Why I'm a Hunter