Methods
Study Area
Because of the size of the GSL ecosystem, the original organizing group of the GSL Waterbird Survey decided to concentrate the survey efforts for the five-year study on the known areas of waterbird concentration within the GSL ecosystem. In general, this area included the GSL surface, shoreline, and associated wetlands, including the three major delta regions and nearby wetland complexes that drain into the GSL. Within this focus area, we identified sites to be surveyed in all the primary habitats, which included open water, shoreline, managed and unmanaged wetlands, and points of fresh/salt water interface (Figure 1). Most of the survey areas occurred near the east side, and north and south ends of the lake. There were a few survey areas that were placed on the west side and at the extreme north and south ends of the lake to cover more xeric environments. Of the four regions of the lake proper, only the North Arm was left unsurveyed.
Figure 1. Great Salt Lake Waterbird Survey areas classified by habitat type.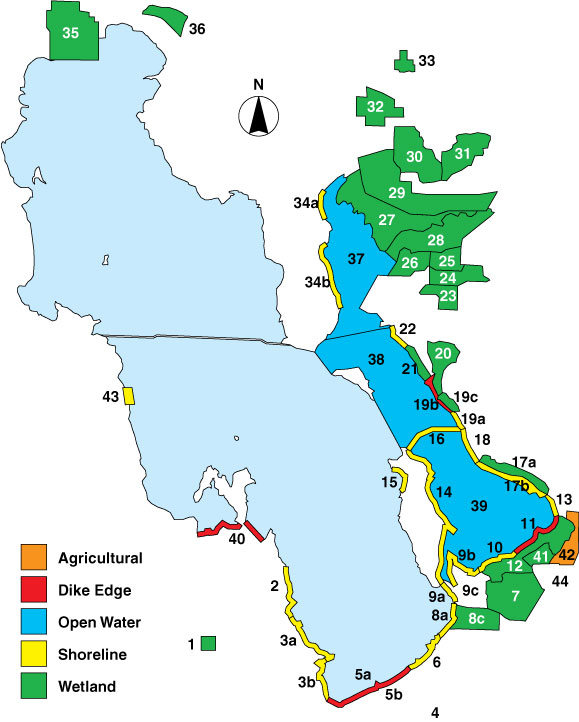 Actual survey sites included all the primary wetlands, and all of the shoreline on the east side of the lake from Stansbury Island on the south to and including the east side of Promontory Point on the north end (Figure 1, Table 2). Open water was surveyed at Farmington Bay, Bear River Bay, and Ogden Bay west to a geo-referenced line between Antelope and Fremont islands. An estimated 73% of important wetlands, largely within duck clubs, was not covered by this effort because of limited access and man power.
Organizers of actual survey sites took into consideration land ownership, potential access, proximity to other survey areas, habitat type(s), the ability to recruit surveyors, specialized equipment needs and other logistical factors. The selection of actual survey routes and area sizes was largely predicated on the capacity to survey the area in four-hours or less. Survey areas were mapped and assigned a survey area name and number. Eventually, each survey was developed into a survey polygon and geo-referenced for purposes of assessing relative avian population. Over the five-year study period, five new survey areas were included into the project.
Table 2. Summary of GSL Waterbird Survey areas.
Area Number

Area Name

Years
Surveyed

Survey Technique

Mode of Travel

Site Description

1

Timpie Springs WMA

1997-2001

TC

Driving

State managed wetland

2

Stansbury Island North

1999-2001

AR

Airplane

Private Shoreline

3a

Stansbury Island South - N

1997-2001

TC w/PS

ATV/Walking

Shoreline

3b

Stansbury Island South - S

1997-2001

TC w/PS

ATV/Walking

Shoreline

4

Interstate 80 South

Not Surveyed

5a

Interstate 80 North - N

1997-2001

TC w/PS (semi-circular plots)

Driving

Shoreline

5b

Interstate 80 North - S

1997-2001

TC

Driving

Wetland-flooded area

6

Saltair

1997-2001

TC w/PS

Walking

Shoreline

7

Associated Duck Club

1997-2001

TC

Driving/Walking

Private duck club

8a

Kennecott - Lakeside

1997-2001

TC w/PS

Walking

Shoreline

8c

Kennecott - ISSR

1997-2001

TC

Walking

Privately managed wetland

9a

Audubon Lakeside

1997-2001

TC w/PS

ATV/Walking

Shoreline

9b

Audubon North

1997-2001

TC w/PS

ATV/Walking

Shoreline

9c

Audubon Interior

2001

TC w/AC

ATV/Walking

Privately managed wetland

10

Crystal Lakeside

1997-2001

TC

Airboat

Marsh

11

Farmington Bay Lakeside

1997-2001

TC w/PS

Driving

Shoreline

12

Farmington Bay WMA

1997-2001

TC w/AC

Driving

State managed wetland

13

West Farmington

1997-2001

TC w/PS

Walking

Shoreline

14

Antelope Island East

1997-2001

TC

Driving

Island shoreline

15

Antelope Island West

1997-2001

TC w/PS

Walking

Island shoreline

16

Antelope Island Causeway

1997-2001

TC

Driving

Road to island

17a

West Kaysville - Interior

1997-2001

TC

Airboat

Marsh

17b

West Kaysville - Shore

1997-2001

TC w/PS ('97), TC ('98-'01)

ATV/Walking/airboat

Shoreline

18

West Layton

1997-2001

TC w/PS

Walking

Shoreline

19a

Howard Slough WMA - Shore

1997-2001

TC w/PS

Walking

Shoreline

19b

Howard Slough WMA - Dike

1997-2001

TC

Driving

Diked shoreline

19c

Howard Slough WMA - Pond

1997-2001

TC w/AC ('97), TC ('98-'01)

Driving/Walking

State managed wetland

20

Ogden Bay WMA

1997-2001

TC w/AC

Driving

State managed wetland

21

Ogden Bay Lakeside

1997-2001

TC

Airboat

Marsh

22

Ogden Bay North

1998-2001

TC

Airboat

Shoreline

23

Rainbow

1998-2001

TC

Driving

Private duck club

24

South Harold

1998-2001

TC

Driving

State managed wetland

25

Harold Crane WMA

1997-2001

TC w/AC

Driving

State managed wetland

26

West Harold Crane Mud Bar

Not Surveyed

27

South Bear River

1997-2001

TC

Airboat

Federal managed wetland

28

Willard Spur

1997-2001

TC ('97), AR ('97-'01)

Airboat/Airplane

Federal managed wetland

29

Bear River Refuge

1997-2001

TC

Driving

Federal managed wetland

30

Bear River Club

1997-2001

TC

Driving/Walking

Private duck club

31

Chesapeake

Not Surveyed

32

Public Shooting Grounds WMA

1997-2001

TC w/AC

Driving

State managed wetland

33

Salt Creek WMA

1997-2001

TC w/AC

Driving

State managed wetland

34a

East Promontory - N

1997-2001

TC w/PS

Walking

Shoreline

34b

East Promontory - S

1997-2001

TC

Driving

Shoreline

35

Locomotive Springs WMA

1997, 2001

TC w/AC

Driving

State managed wetland

36

Salt Wells Flat WHA

1997-2001

TC w/PS & AC

ATV/Walking

Federal shoreline, wetland, mudflat

37

Bear River Bay

1997-2001

AR

Airplane

Open water

38

Ogden Bay

1997-2001

AR

Airplane

Open water

39

Farmington Bay

1997-2001

AR

Airplane

Open water

40

Magcorp

1998-2001

TC

Driving

Two lakeside ponds

41

New State Duck Club

1999, 2001

TC

Motorized Boat

Private duck club

42

East Farmington Bay

1999-2001

TC

Driving

Agricultural, urban, industrial lands

43

Deardens Knoll

1999-2001

TC w/PS

Driving

US Airforce/BLM public land

44

Jordan River

1999-2000

AR

Airplane

Private agricultural land